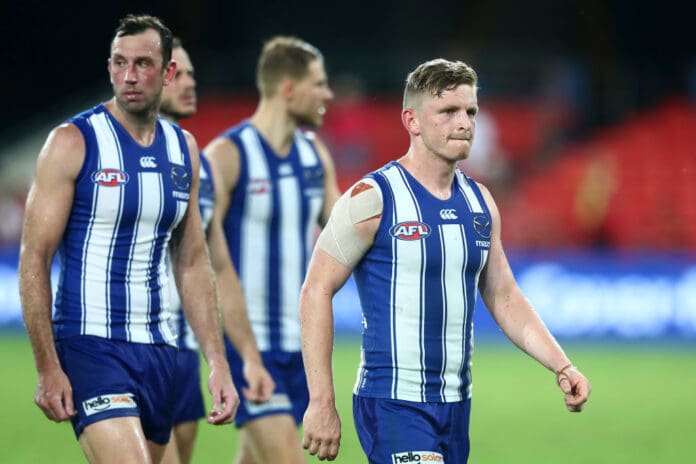 North Melbourne captain Jack Ziebell has backed senior coach David Noble's Round 3 post-game spray despite the reported emotional reactions of some players.
It is understood Noble recently apologised to the Kangaroos playing group about the way he addressed them after the Brisbane Lions prevailed by 108 points at the Gabba.
Asked on SEN's Whateley about Noble's post-match address, Ziebell supported the motive behind his coach's spray.
"He might've reflected upon that and thought that maybe it was a little bit too much, but my recollection is, to be honest, is he didn't need to [apologise]," Ziebell said on Tuesday.
"His message was fair, it was direct, [our] performance wasn't up to standard.
"We've got higher expectations of ourselves and the way we want to play and the way we carry ourselves and I don't think we lived up to that on that night.
"That was it, from my point of view."
Ziebell was bewildered at the fact it had been made into a larger issue.
"I'm a little bit bemused to think that this has made such big news, to be honest, off the back of what's occurred," he said.
The veteran Roo went on to commend Noble's persona and again back his coach's choice to berate the players post-game.
"I think [Noble's] character is something that we all love about him," Ziebell said.
"I personally don't think he needed to apologise, I think he did what was fair and reasonable after the game."
Asked repeatedly about Noble's behaviour towards the playing group, the 247-gamer once again went to bat for his coach, praising the culture Noble has built during his short time at Arden Street.
"The environment at our footy club over the last 18 months has been outstanding.
"[Noble has] created such a supportive, encouraging, learning environment for our group that has been really fantastic to work in.
"I'm actually a bit blown away that [Noble's spray] has been blown out the way it has [been]."
The Kangaroos, now 1-7 and sitting in 17th position on the ladder, will look to right the ship when they host Port Adelaide in Hobart on Saturday.