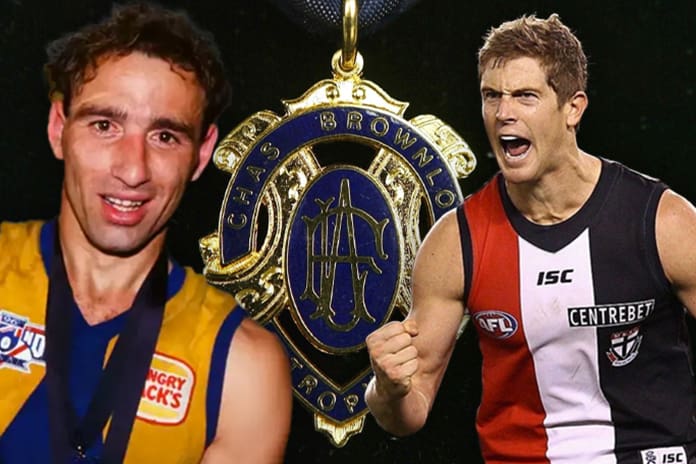 The Brownlow Medal has always been a highlighted honour for some of the AFL's most decorated careers, with many of the game's greatest even going on to claim 'Charlie' on multiple occasions.
But how would the Brownlow Medal history books read if players were only able to win the esteemed honour just once?
With this exercise, we looked to limit each Brownlow medallist to one place atop the podium in their careers, seeing the next highest polling player claim the award should it be their first.
So should a player have won the Brownlow Medal a second time, that year's medal goes to whoever came second, or further if those in the chasing pack had already taken the award home before.
For example, Greg Williams won his second Brownlow in 1994 after first claiming the honour in 1986. Therefore, the next best polling player, Peter Matera, wins the 1994 Brownlow.
This opens up new winners to emerge and even future medallists to claim the competition's top gong several years prior to their actual illustrious campaigns.
The new order sees 26 players claim their first Brownlow Medal, including the likes of Graham Farmer, John Nicholls, Peter Hudson, Scott West and Joel Selwood.
If AFL players were could only win the Brownlow Medal once... 
Year
Winner
1924
1925
Colin Watson
1926
1927
Syd Coventry
1928
Leo Dwyer, Jack Baggott, Charles Chapman
1929
Albert Collier
1930

Harry Collier, Allan Hopkins, Stan Judkins

1931
1932
George Moloney, Bill Faul
1933
1934
Dick Reynolds
1935
Keith Forbes
1936
Denis Ryan
1937
Herbie Matthews
Dick Reynolds
1938
Stan Spinks
Dick Reynolds
1939
Marcus Whelan
1940
Des Fothergill

Herbie Matthews, Des Fothergill

1941
Norman Ware
1946
Don Cordner
1947
Bert Deacon
1948
Bill Morris
1949
1950
Allan Ruthven
1951
Bernie Smith
1952

Roy Wright, Bill Hutchison

1953
Bob Rose
Bill Hutchison
1954
Neil Mann
Roy Wright
1955
Fred Goldsmith
1956
Peter Box
1957
Brian Gleeson
1958
Neil Roberts
1959

Verdun Howell, Bob Skilton

1960
John Schultz
1961
John James
1962
Alistair Lord
1963
Graham Farmer, Darrel Baldock
Bob Skilton
1964
Gordon Collis
1965

Noel Teasdale, Ian Stewart

1966
John Nicholls
Ian Stewart
1967
Ross Smith
1968
Denis Marshal
Bob Skilton
1969
Kevin Murray
1970
Peter Bedford
1971
Barry Davis, Peter Hudson, John McIntosh
Ian Stewart
1972
Len Thompson
1973
Keith Greig
1974
Gary Hardeman
Keith Greig
1975
Gary Dempsey
1976
Graham Moss
1977
1978
Malcolm Blight
1979
Peter Moore
1980
1981

Bernie Quinlan, Barry Round

1982
Brian Wilson
1983
1984
David Cloke
Peter Moore
1985
Brad Hardie
1986

Robert DiPierdomenico, Greg Williams

1987

John Platten, Tony Lockett

1988
Gerard Healy
1989
Paul Couch
1990
Tony Liberatore
1991
Jim Stynes
1992
Scott Wynd
1993
1994
Peter Matera
Greg Wiliams
1995
Paul Kelly
1996
James Hird, Michael Voss"}" data-sheets-hyperlinkruns="{"1":0,"2":"https://www.zerohanger.com/afl/coaches/james-hird/"}{"1":10}{"1":12,"2":"https://www.zerohanger.com/afl/coaches/michael-voss/"}{"1":24}">
1997
Robert Harvey
1998
Nathan Buckley"}" data-sheets-hyperlink="https://www.zerohanger.com/afl/coaches/nathan-buckley/">
Robert Harvey
1999
Shane Crawford
2000
2001
2002
Simon Black
2003
Adam Goodes"}" data-sheets-hyperlink="https://www.zerohanger.com/afl/players/adam-goodes/" data-sheets-hyperlinkruns="{"1":15,"2":"https://www.zerohanger.com/afl/players/adam-goodes/"}{"1":26}">Adam Goodes

Mark Ricciuto, Adam Goodes, Nathan Buckley

2004
Chris Judd"}" data-sheets-hyperlink="https://www.zerohanger.com/afl/players/chris-judd/">
2005
Ben Cousins
2006
Scott West
2007
Jimmy Bartel"}" data-sheets-hyperlink="https://www.zerohanger.com/afl/players/jimmy-bartel/">
2008
Adam Cooney"}" data-sheets-hyperlink="https://www.zerohanger.com/afl/players/adam-cooney/">
2009
Gary Ablett Jr."}" data-sheets-hyperlink="https://www.zerohanger.com/afl/players/gary-ablett/" data-sheets-hyperlinkruns="{"1":0,"2":"https://www.zerohanger.com/afl/players/gary-ablett/"}{"1":11}"> Jr.
2010
Dane Swan"}" data-sheets-hyperlink="https://www.zerohanger.com/afl/players/dane-swan/">
2011
Nick Dal Santo"}" data-sheets-hyperlink="https://www.zerohanger.com/afl/players/nick-dal-santo/">
2012
Sam Mitchell, Trent Cotchin"}" data-sheets-hyperlinkruns="{"1":0,"2":"https://www.zerohanger.com/afl/players/sam-mitchell/"}{"1":12}{"1":14,"2":"https://www.zerohanger.com/afl/players/trent-cotchin/"}{"1":27}">

Sam Mitchell, Trent Cotchin

2013
Joel Selwood"}" data-sheets-hyperlink="https://www.zerohanger.com/afl/players/joel-selwood/">
Jr.
2014
Matt Priddis"}" data-sheets-hyperlink="https://www.zerohanger.com/afl/players/matt-priddis/">
2015
Nat Fyfe"}" data-sheets-hyperlink="https://www.zerohanger.com/afl/players/nathan-fyfe/">
2016
Patrick Dangerfield"}" data-sheets-hyperlink="https://www.zerohanger.com/afl/players/patrick-dangerfield/">
2017
Dustin Martin"}" data-sheets-hyperlink="https://www.zerohanger.com/afl/players/dustin-martin/">
2018
Tom Mitchell"}" data-sheets-hyperlink="https://www.zerohanger.com/afl/players/tom-mitchell/">
2019
Patrick Cripps, Lachie Neale"}" data-sheets-hyperlinkruns="{"1":0,"2":"https://www.zerohanger.com/afl/players/patrick-cripps/"}{"1":14}{"1":16,"2":"https://www.zerohanger.com/afl/players/lachie-neale/"}{"1":28}">Patrick Cripps, Lachie Neale
2020
Travis Boak"}" data-sheets-hyperlink="https://www.zerohanger.com/afl/players/travis-boak/">
2021
Ollie Wines"}" data-sheets-hyperlink="https://www.zerohanger.com/afl/players/oliver-wines/">
2022
Touk Miller
Patrick Cripps
2023
Marcus Bontempelli
Lachie Neale