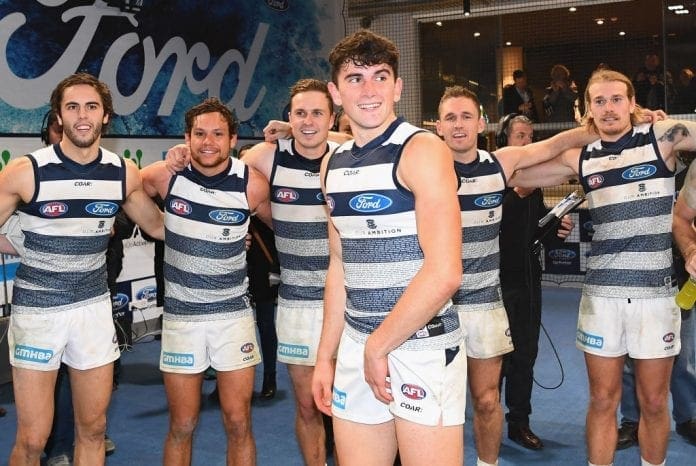 Geelong defender Mark O'Connor has detailed the decorated path to his 100th AFL game this week, as well as revealed superstar Patrick Dangerfield may be on the verge of a return to the field as soon as this Thursday night when his Cats face Port Adelaide.
O'Connor, who signed at Kardinia Park in 2016 after starring as a Gaelic footballer in Kerry, Ireland, had a number of suitors after impressing at the 2016 AFL Draft Combine.
99 games and a premiership triumph later, O'Connor represents another in a line of international AFL success stories.
Speaking on RSN Breakfast on Tuesday, O'Connor noted that he didn't originally believe he'd be staying in Australia for long when his career was only in its early stages.
"Initially, I thought it was just a bit more of a short-term stay for me," O'Connor started.
"I thought I'd gain some experience in a pressure environment (such as the AFL), obviously [taking part in] a pre-season and things like that.
"I thought I'd go home and get in better shape and get a better knowledge of how to get the best out of my body, but then as time went on I probably got different goals along the way, and kept sticking around (in Geelong) and, yeah, I'm still here, (my career path) kind of changed over the years."
O'Connor cited the significant lifestyle change and his pre-existing love for Gaelic football as his main internal challenges while living in Australia, adding that his image of Australian Rules football changed drastically over time after initially likening it to soccer.
"I wasn't sure I was ready for the lifestyle, I also loved the Gaelic football at home, and that's probably where I saw my pathway going," he continued.
"But as I said, as I became older, [that] pressure environment was probably something different to what I imagined, I probably imagined the soccer clubs and the politics going on there, the big transfers, that's probably what my image of it was, and that's obviously changed over time."
O'Connor, just 19 years of age when he departed Ireland for Australia in 2016, expressed gratitude for his host family's support, as well as those at Kardinia Park.
"It was difficult, but again, I found more support around me over here than I was expecting," he said.
"My host family I'm still very close with, they were fantastic and they played a massive part in me actually staying for a bit longer, so I'm still very close with them and helped massively, and obviously the club and the players have been fantastic, so, a mix of a few things."
Last year, the Irishman became one of few players to claim a premiership medallion before playing 100 league games.
"I'm massively grateful for everyone that I've met, just grateful for being at the club, really, it's a great organisation, last year we were lucky enough to win it, I'm very grateful for that.
"It was unreal, when we had a commanding lead we could enjoy it even more when we were playing, it was obviously a great day."
O'Connor also revealed an update on the status of injured superstar Patrick Dangerfield, who has been sidelined while rehabilitating a hamstring ailment, expressing optimism that Dangerfield could play this Thursday night against a red-hot Power outfit.
"Definitely think he's a chance, I'm not sure, it's hard to keep up to date with [what's being said] at all times around all players, but I think he's a chance," he said.
"[Port Adelaide have] been phenomenal, 'Power's probably an appropriate word for them at the minute, but, hopefully, we can go over there and perform, we obviously respect what they do because they're on a pretty strong run, aren't they? Hopefully, we can put it up to them."
Geelong GM of Football Simon Lloyd has since confirmed Dangerfield will be "strongly" contending for selection for Thursday night, noting he could have played against the Western Bulldogs last week if it were absolutely necessary.
"Pat Dangerfield, this week, he trained well over the weekend and got very close to playing against the Western Bulldogs," said Lloyd.
"We could've selected him but we decided to give him one more week to get some more football under his belt, and he should be strongly in contention for selection this week."
The Cats battle the Power this Thursday night at 7:40 PM AEST.