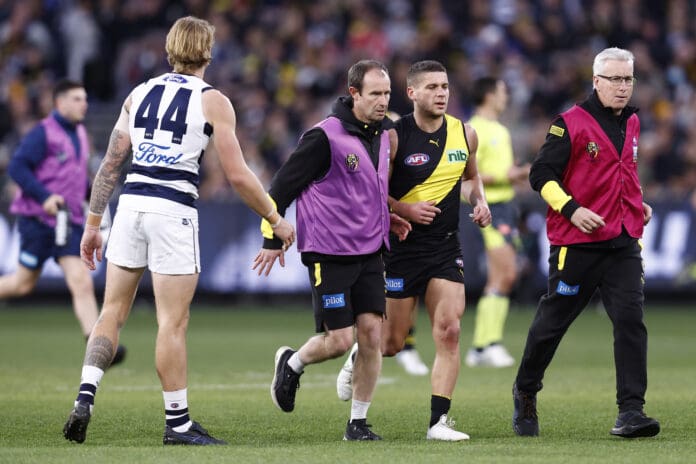 Richmond forward Jack Riewoldt has revealed that he believes play should have been stopped in the aftermath of Tom Stewart's collision with fellow Tiger Dion Prestia, an incident which left Prestia concussed and substituted from the game.
Despite Prestia being dazed and in the hands of trainers, play continued as the 29-year-old was helped from the ground, as Geelong went forward and scored a goal through Tyson Stengle.
Speaking on Fox Footy's AFL 360 on Tuesday night, Riewoldt said that he was concerned about the safety of his teammate and support staff as play continued after the collision.
"I was screaming at the umpires, I think there was probably a few of us saying 'stop the game' because clearly he was knocked out," Riewoldt said.
"I'm a bit flat about the minute-and-a-half of play after this; there were multiple times to stop the game. Blokes are kicking the ball over the top of him and the doctors. I thought that could've been handled a lot better.
"It's the duty of care ... you've got three medical people looking over a player that's knocked out in the vicinity of play in the protected zone - it could've nearly been 50 metres, he was in the protected zone - and we continued to play that game.
"From a safety point of view I really didn't like that."
Stewart was handed a four week ban from the tribunal on Tuesday night, sidelining him until Geelong's Round 20 match against the Western Bulldogs. The All Australian defender was booed by Richmond fans for the remainder of the narrow clash after the first term incident and was captured talking to Riewoldt after the siren.
"I didn't even know what had happened at that point, they booed him for the whole game but I didn't cotton on to what had actually happened," he said.
"No one remonstrated because it was past the ball and no one saw it. I just went up to him, I'd figured out something had happened with him, I said it is what it is.
"He's not a bad guy, I've had beers with him and I really like him, unfortunately he made a blunder and he'll serve the consequences.
"He puts his hand up, he's made a blue and he does what a good person does, he owns it and moves on."
Richmond have not provided an update on a timeline for Prestia's return, but the 29-year-old will automatically be unavailable for the Tiger's Round 16 match against the Eagles as he enters league concussion protocols.