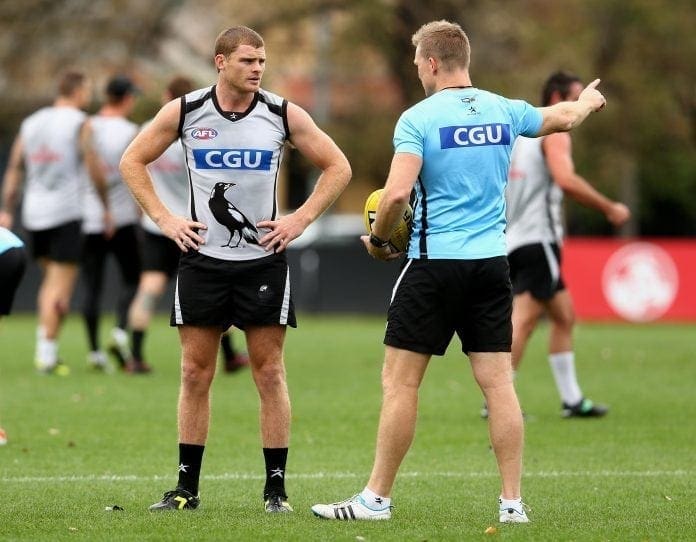 Giants veteran Heath Shaw has spoken out about his ugly departure from Collingwood, confirming that he and ex-coach Nathan Buckley no longer hold a relationship.
The former premiership Magpie was traded from the Holden Centre at the end of 2013 to GWS for hard-nosed midfielder Taylor Adams, and Shaw claims he was "pushed out" of the club.
"I was definitely pushed out and I didn't really want to go, didn't see myself ever leaving Collingwood but it was the best thing I ever did," Shaw said on Fox Footy's On the Mark.
"There wasn't relationships there with certain people, which is part of the reason why I had to go. And I think it was the best thing for me and the club.
"Have I mended those relationships? No, there's certain people that I won't and I don't want to."
Asked if one of those strained relationships was with Buckley, Shaw confirmed: "Yeah. I wouldn't ring him up and say hello and I don't know if I'd answer his call if he rang me.
"It's just something — you can't get along with everyone. I'm probably not his cup of tea and he's probably the same.
"No (it doesn't make me sad). Nah it doesn't, it doesn't. There would be people at Collingwood around the time that I was there that probably didn't like me and vice versa.
"It's just the way it is."
The 32-year old has taken a lot out of his move to the Giants and says it has helped shape his maturation as a person.
"It's gotten more and more as I've got older, that sort of deep thinker, a bit more emotional, a bit more caring," he said.
"I think if you're close to me then you understand that.
"When I played at Collingwood, you either hate Collingwood or you love Collingwood. I think I'm sort of the same — you either hate me or you love me.
"As I've got older I've sort of matured bit — I wouldn't say a heap, but a bit — and I do genuinely care for people and I care for the club and I want to see this club succeed, I want to see players succeed."
Shaw has been one of the Giants' best pickups since the club joined the league in 2012, and the dual All-Australian has a strong appreciation for his time there.
"The Giants people up here — they're great," he said.
"They took me in, a semi-reject from Collingwood. I've been here for five years."