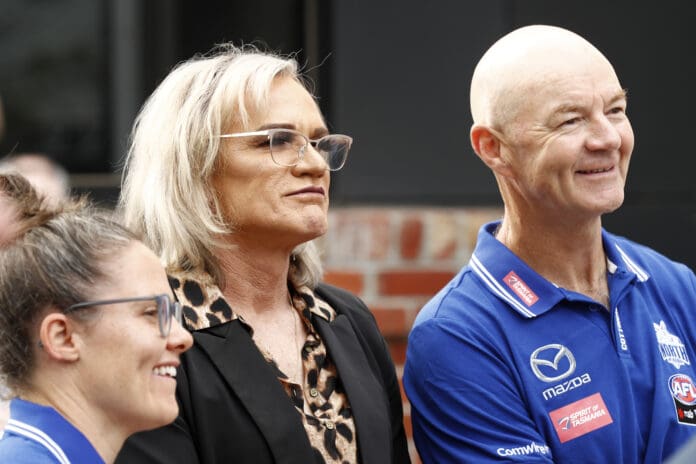 Former North Melbourne head coach Danielle Laidley has claimed that despite more than a decade elapsing since holding the reins at Arden Street, she still holds a coaching urge.
Laidley led the Roos into battle on 149 occasions between 2003 and 2009, tasting finals action on five occasions.
Since parting ways with the North, Laidley has battled demons and drug addiction ahead of her transition to becoming a woman in recent years.
But while the mechanics of a return to the coaches' box remain uncertain, the Western Australian told Triple M that an "itch" to tutor athletes was still prevalent in her life.
"I'm really enjoying the social aspect of the football family at the moment," Laidley told Xav, Michelle and Baz for Breakfast.
"Just keeping connected and reconnecting with people.
"But I still have an itch to coach. I enjoy coaching people, whatever that looks like."
With friends in the game, including West Coast coach Adam Simpson, Eagles assistant Daniel Pratt, Fremantle GM Peter Bell and current Kangaroos' AFLW steward Darren Crocker, avenues towards an elite-level post are available.
Still, Laidley delineated that her greatest passion came from the influence of simply being herself.
"I probably thought through my life that football was my calling. I was reasonable at it, but now, perhaps, there is some bigger-picture stuff where I can help or influence more people just by being myself. That's something I'm really passionate about."
Laidley's AFL coaching record across seven seasons stands at 75-2-75.
The former half-back tasted premiership success in 1996 and represented her state on two occasions.
Laidley donned the Eagles' blue and gold and the Kangaroos' bars a combined 151 times between 1987 and 1997.