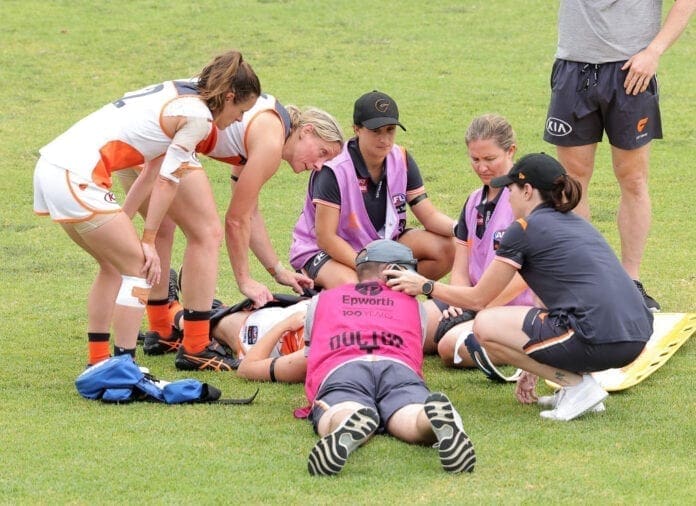 Irish duo Brid Stack and Cora Staunton have taken AFLW fans minds with their inspiring Irish story, but it was a neck injury which left Staunton feeling guilty.
Staunton played a big role in bringing Stack to Australia, convincing her that a shot at the AFLW was well worth the trip.
The pair had previously played against each other in Gaelic Football, where both Staunton and Stack were named all-stars in the league multiple times.
Staunton became the first international player on an AFLW list in 2017, before convincing Stack, five years her junior, to make the move.
However, that almost came to the worst possible result when a collision during a 2021 pre-season match saw Stack suffer a fractured vertebra.
Speaking to Womens.afl, Staunton admitted she felt guilt for the incident.
"I suppose even for me, when I reflected at the end of last season, you just don't realise the affect it has on you at the time. You just go from day to day, game to game, but for Bríd and her family, the first 24 hours and couple of weeks had a massive effect on them," Staunton told womens.afl.
"From my point of view, there was huge guilt attached to it. I was probably one of the main instigators of Bríd coming out (to Australia). I'd sold her the dream and it turned from a dream to a nightmare. Especially early days when she got injured and then next couple of hours, going to the hospital in Adelaide and things weren't looking good at all.
"The next two weeks were just supporting Carthach and making sure 'Oggy' was well looked after and making sure Bríd could recover as best she could. She attacked that straight away, when she got out of hospital, that's the type of character she is. Medically, I don't think they were ever going to let her back, but I know myself that you need some hope that you might get back.
"The two of us, along with her husband and Al (McConnell, GWS coach), did extra sessions in April, May and June before we went home, so you could really see she was getting her confidence back. The physical work is easy, it's trying to get yourself mentally right that's the challenge."
Stack debuted in the AFLW last weekend in what was Staunton's 31st game for the club, having played virtually every game for the Giants since she first was drafted.