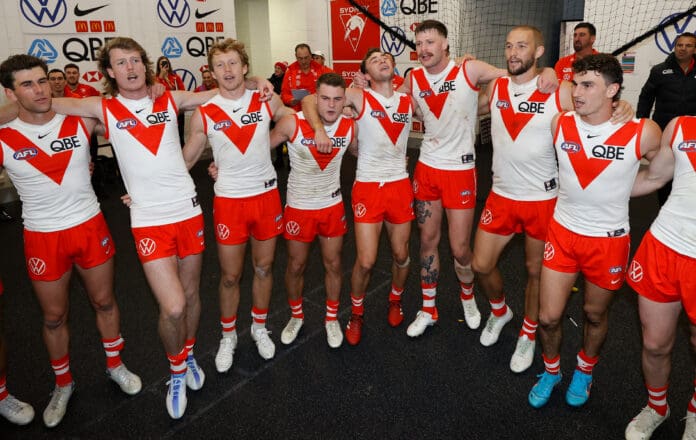 When the Sydney Swans finished 16th in 2020 it appeared as though they were entering an extended period of rebuild.
Now, just two years later, the Swans are set to feature in a Grand Final on the back of a culture that emphasises team success over individual accolades.
Presenters Mitch Keating and Jake Benoiton put their chances against an in-form Cats side in the season decider under the microscope on Zero Hanger TV this week.
The duo examined how Sydney's list has been developed into a Preliminary Final winning outfit and identified that the maximum has been extracted from almost every player on their list regardless of their trade or draft currency.
WATCH: 2022 AFL Grand Final - Who wins and why?
WATCH: How disciplined Swans can restrict runaway Cats
WATCH: Geelong's hot streak to culminate in glory?
Keating highlighted a bevy of former draftees that have become catalysts for Sydney's success this year with their rapid development.
"Chad Warner, Tom McCartin, James Rowbottom in the last four years or so [were] second round picks that any club could have had," he told Zero Hanger TV.
"They did really well with their drafting on top of any academy pick that they do get to bring into the club.
"It's been what's built their list to where they are now."
Benoiton then explained how the juxtaposition between Sydney's bargain recruiting strategy and Geelong's higher-profile approach is a demonstration of how impressive Sydney's player development has been.
"Look at where they [Geelong] recruited a lot of their players from, and it's absolutely no knock [on them], but they got Jeremy Cameron fresh out of a Grand Final, Patrick Dangerfield was pretty much in the best team in the competition and they went and got them," he stated.
"What Sydney have been able to do with Tom Hickey, he's now at his fourth club, was on the scrapheap really... he's just excelled continuously and he's become one of the best ruckmen in the competition.
"Paddy McCartin was delisted from St Kilda because he couldn't really get his concussions right, he just seemed lost to the game and couldn't even stick it at VFL level that year.
"They've turned him into an excellent intercept defender.
"Ryan Clarke, who at North Melbourne was very much a bit-part player, wasn't best 22 every week and now, given they've found a role for him... he's managed to lock himself a spot and he'll play in a Grand Final now.
"I've got a lot of respect for how they don't necessarily go to the top of the tree, they do their homework and they find the player that best suits what they need."
Benoiton and Keating picked Sydney's engine room of Rowbottom, Warner Callum Mills and Luke Parker as the players most likely to win the Norm Smith Medal if the Bloods break Geelong's 15-game winning streak.