Close to 1.2 million AFL fans are expected to purchase a club membership this year as the competition looks to put on another thrilling season.
Following last year's continued trend of setting a record-breaking total, tallying 1,190,671 sold memberships for 2022, the league is likely to see further growth this season.
But while memberships tallies are set to reach unchartered territory, pricing for some clubs is vastly different to others a month out from Round 1.
GWS are home to the priciest adult memberships, coming in at $315, while their junior fees sit at $129 - the second highest across the league.
Giants memberships will permit fans to attend home games at both GIANTS Stadium and Manuka Oval in Canberra.
The New South Wales club ranked second last for total memberships last year, tallying 32,614 members to land ahead of the Gold Coast Suns.
Fremantle are the second most expensive club for year-long memberships, with their four primary options averaging $191.50 between them.
Junior members are required to fork up $147 for a season home game membership - the most expensive in the AFL. Fremantle adult memberships cost $249 for the season, which ranks as the fourth highest, while concession and youth options are priced at $185.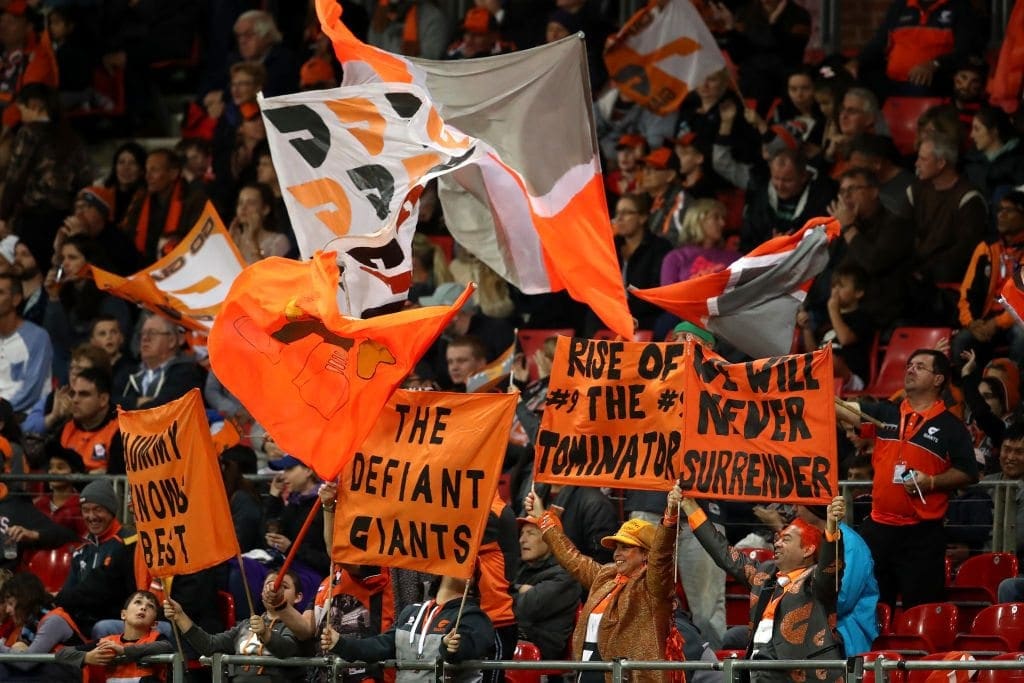 Adelaide ($186.67 average), Melbourne ($183.00) and Essendon ($168.00) round out the top five for most expensive memberships heading into the 2023 season.
West Coast, who will be looking to break their 2022 membership record of 102,897 this year, currently offer a $55 fee to join the club's membership waitlist for 2023, seeing them placed as an anomaly among this year's price list.
The best-value end of the ladder sees Brisbane's popular membership options average come in at $131.00, with their junior memberships valued at just $60 for the season - the equal lowest behind North Melbourne's bargain price of $40 for juniors.
The Lions are the only club to offer an adult membership under the $200 mark, while their concession and youth fares are among the lowest in the league.
The Western Bulldogs ($145.00 average), St Kilda ($146.00) and Richmond ($146.67) also rank among the best-value clubs for memberships in 2023.
2023 AFL club membership price ladder
| | | | | | |
| --- | --- | --- | --- | --- | --- |
| Team | Adult | Concession | Youth | Junior | Average Cost |
| GWS | $315.00 | $165.00 | - | $129.00 | $203.00 |
| Fremantle | $249.00 | $185.00 | $185.00 | $147.00 | $191.50 |
| Adelaide | $270.00 | $205.00 | - | $85.00 | $186.67 |
| Melbourne | $248.00 | $175.00 | $126.00 | - | $183.00 |
| Essendon | $259.00 | $181.00 | $138.00 | $94.00 | $168.00 |
| Sydney | $265.00 | $212.00 | $110.00 | $65.00 | $163.00 |
| Port Adelaide | $230.00 | $175.00 | - | $80.00 | $161.67 |
| Geelong | $245.00 | $165.00 | $130.00 | $95.00 | $158.75 |
| Collingwood | $225.00 | $165.00 | - | $85.00 | $158.33 |
| North Melbourne | $239.00 | $189.00 | - | $40.00 | $156.00 |
| Hawthorn | $220.00 | $160.00 | $120.00 | $120.00 | $155.00 |
| Gold Coast | $209.00 | $169.00 | $139.00 | $89.00 | $151.50 |
| Carlton | $225.00 | $160.00 | $130.00 | $90.00 | $151.25 |
| Richmond | $225.00 | $155.00 | - | $60.00 | $146.67 |
| St Kilda | $235.00 | $156.00 | $116.00 | $77.00 | $146.00 |
| Western Bulldogs | $205.00 | $155.00 | $75.00 | - | $145.00 |
| Brisbane | $199.00 | $160.00 | $105.00 | $60.00 | $131.00 |
| West Coast* | $55.00 | - | - | - | $55.00 |
*West Coast currently offering membership waitlist access only