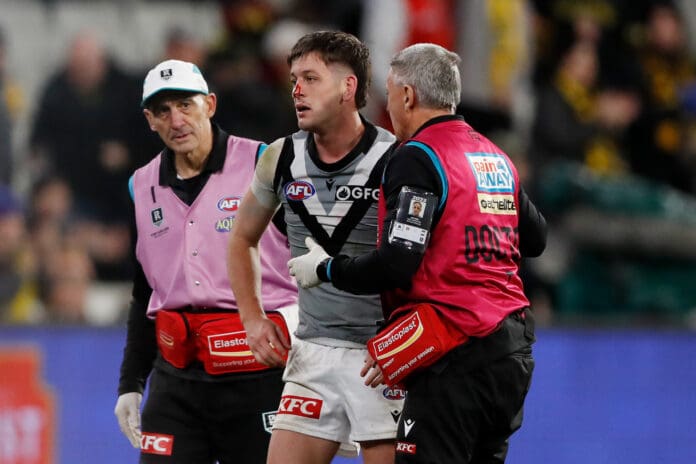 Power coach Ken Hinkley bristled fiercely when the integrity of Port Adelaide club doctor, Mark Fisher, was called into question following the heavy, head-on collision between Tom Jonas and Zak Butters on Thursday night.
With less than a quarter of an hour remaining in the then-tight contest, both the skipper and the livewire clashed heads on the broadcast side wing of the MCG whilst attempting to tackle Tigers utility, Liam Baker.
Having already utilised their medical sub, Martin Frederick, the pair were eventually bandaged up and sent back out for the dying embers of the Alberton side's seventh loss of the season.
Although a prevailing, and unprofessional, sentiment surrounding the validity of both Jonas' and Butters' respective concussion tests, Hinkley played a crossed bat when questioned about Fisher's due diligence.
"Are you questioning a doctor of 25 years' experience that he made a wrong decision?" Hinkley stated bluntly following the 12-point defeat.
"Do you think a doctor of 25 years would take a risk with concussion with the seriousness of injuries that go on now with concussion?"
Ouch 😳 pic.twitter.com/pQpHg3tNGp

— 7AFL (@7AFL) June 9, 2022
While Jonas and Butters each bleeding profusely after the collision before the paltry crowd of 21,757, the long-term Port steward stressed that flesh wounds were not necessarily a symptom of concussion.
"I gather there'd be some conversation around the collision but people get cuts in football and don't get concussion," Hinkley added.
The 55-year-old continued to call the line of questioning out, stating that Fisher had garnered "the utmost respect" from league officials across his quarter of a century at clubland.
"If anyone's got a challenge on that, and they feel more qualified
than (the Power doctor), feel free. But I think you want to be really, really sure that you're not trying to make some calls ... when you have no knowledge."

- Ken Hinkley on the Jonas-Butters collision pic.twitter.com/TkT988Q9DG

— 7AFL (@7AFL) June 9, 2022
"I've got a doctor who has been with our footy club for 25 years. The conservation between our doctor and our football manager during the game was these boys have got no issue with concussion," he delineated.
"If anyone has got a challenge on that and they feel more qualified than Mark Fisher who is a 25-year AFL doctor, feel free, but I think you want to be really sure that you're not trying to make calls from outside the fence when you've got no knowledge.
"We've got a very experienced doctor who has the utmost respect in the AFL."
Hinkley went on to colourfully claim that both the defender and the goalsneak would likely take their place in Port's senior side for their crucial clash against Sydney next Saturday night.
"Both boys were split open. Both boys were bleeding. Those are the facts," Hinkley said.
"I spoke to both boys in the rooms straight after the game, they weren't laying down or fainting, they were talking to me very clearly 'oh mate I'm going to have a big black eye, but I'm pretty good, everything is OK'. Both boys are tough players too."
Having failed at the preliminary hurdle in both of the past pair of season, Port Adelaide faces an uphill battle to return to the September action, with fixtures against the Swans, Suns, Dockers, Demons, Cats and Magpies still on the horizon.