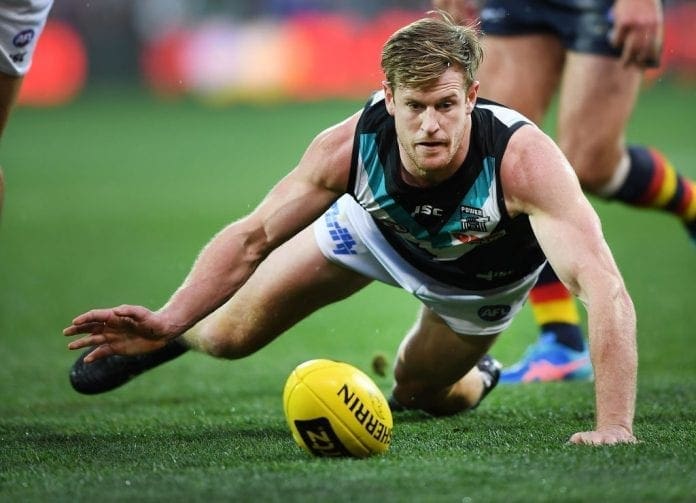 Port Adelaide coach Ken Hinkley believes the criticism of stars Ollie Wines and Tom Jonas has been unfair, as he reveals both have been battling injury.
Jonas was left out of Port's side to face the Bulldogs on Saturday, as it was revealed he has been managing a knee issue, while Wines will play as he battles a calf issue.
When speaking to reporters on Friday, Hinkley addressed the commentary around the pair, stating that Jonas wasn't dropped, but managed.
"Tom wasn't dropped, he's been managed. He's had a bit of a grumbly knee," Hinkley said.
"At this stage of his career, that's probably not an unusual thing that's going to happen.
"It's clear that he hasn't been absolutely in his best form but he's our captain and we respect that.
"He would never use (the knee issue) as an excuse but we need to sometimes protect him from himself because he's such a great person for our footy club."
Hinkley took aim at those who have been targeting Wines, who has been down on his usual lofty stats after battling a calf issue.
"If you're looking at pure numbers on the stats sheet, maybe it suggests that he's not getting 35 and 40," said Hinkley.
"He's still playing a role that's pretty significant to us that allows other people around him to play at a level that's really important to us."
"So I think 'just going' is probably a little bit unfair."
Wines is averaging 22.5 disposals this season, compared to 28.4 last year. However, the 28-year-old has still produced some impressive games this season, his best being a 29-disposal, one-goal, nine-mark effort in Port's win over Brisbane.
Hinkley was also cautious about being swept up in the excitement of Gather Round this weekend, particularly as a South Australian team, and is ensuring his team focuses on the bigger task at hand against the Bulldogs.
"I get that Gather round is a really exciting week and it's been fantastic for our state," Hinkley said.
"Every round has got the same consequence on it for us; four points that are really important."
"We're playing the Bulldogs, we're both fighting and desperate for a win, we've got great history against each other and it will be a tough, hard game that will go right to the wire."
Port Adelaide and the Western Bulldogs will battle it out tomorrow night at 7:50 pm (AEST) at Adelaide Oval in what should be an enticing game against a big crowd.