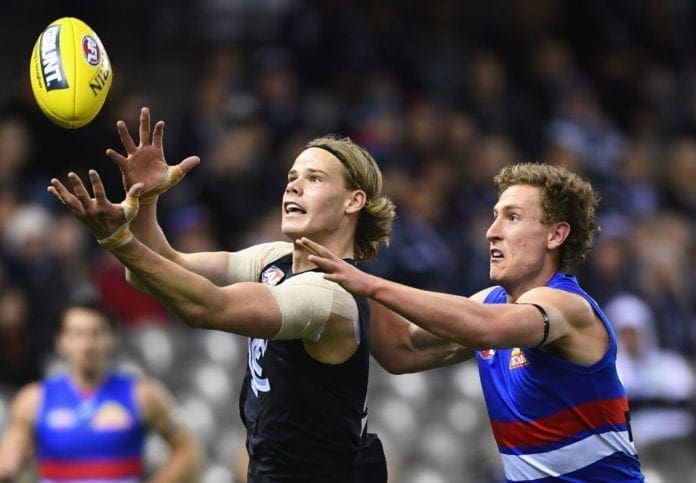 Carlton coach Michael Voss is confident young ruck Tom De Koning will be able to fill the void left by the injured Marc Pittonet.
Pittonet, who suffered a PCL knee injury in Carlton's Round 6 loss to Fremantle, is expected to spend 2-3 months on the sidelines.
SEE ALSO: "Freak of nature" - Gawn weighs in on PCL injuries from the weekend
In his place, 22-year-old De Koning will shoulder the ruck load with Jack Silvagni expected to back him up.
"We think (he's ready). Tom is a developing player and in some ways with Marc doing so well and we always saw that as potentially being Tom's position as he develops, so this just gives him a really good opportunity to be able to get stuck into his craft," Voss said on Sportsday.
"He'll get plenty of exposure. He got some last year when Pittonet was missing and he'll get more of it this year.
"He's certainly got some capability in that space and we're really invested in him being able to get himself better and still give our mids the first look."
Devoid of any other listed ruck prospects except De Koning and the uncapped Alex Mirkov, the Blues may look towards the mid-season draft to fill their stocks.
"We haven't really sat down and gone through that mid-season draft looks like," Voss said on the option.
"I mean, we were sitting here this time last week and we probably weren't thinking (adding another ruckman) was necessary.
"One week later you lose a couple of players and that scenario changes. That's something we'll have the chance to sit down (and work out).
"We think Mirkov is going great, he's developing his craft and we think he's still got a little way to go with that, but he's providing some real highlights for us and we certainly feel really confident in what he can do in the future."
With Harry McKay starring in the forward line, Voss ruled out using him in the ruck in Pittonet's place.
"No. Definitely not," Voss said when asked if the move was possible.
"I'd rather keep him up front kicking goals and we've obviously got him playing in some of the ruck stuff in the forward half so he does do that from time to time, but that's as far as I'm prepared to go with it."
Carlton head into Round 7 with a 4-2 tally after a blistering opening few rounds of the season, next facing North Melbourne at Marvel Stadium on Saturday night.