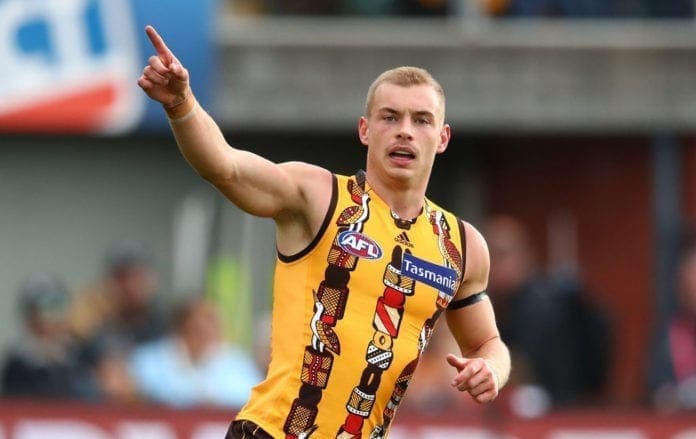 Hawthorn has extended its partnership with the Tasmanian Government for a further two years, ensuring the Hawks will continue to play multiple home games in the state each season until at least the end of 2025.
The agreement, which continues an expansive relationship, stipulates the Hawks will play four home games at UTAS Stadium in Launceston for each of the next three years.
Hawks president Andy Gowers expressed his pleasure at being able to continue the club's long-standing partnership with the Apple Isle.
"As a club, we are incredibly proud to be extending this partnership and continue to play in front of our passionate Tasmanian members and fans," Gowers said.
"Hawthorn's partnership with Tasmania remains among the longest-standing in the AFL, and we can't wait to return to Launceston. We highly value our long-standing relationship with the Tasmanian Government and community and continue to ensure Hawthorn matches in Tasmania generate significant direct and indirect economic impacts to the state, particularly in the transport, tourism and hospitality sectors."
Hawthorn CEO Justin Reeves matched Gowers' excitement and claimed the partnership's extension is "in support of" the state's desire for its own AFL franchise.
"To continue this partnership with the Tasmanian Government until at least the end of 2025 is fantastic for our loyal 10,000 strong Tasmanian members and fans and the thousands of Hawthorn members and fans that travel from around the country to Launceston for our matches" Reeves said.
"Having this commitment provides certainty for the club while the state continues to provide the highest AFL content and continue its pursuit of its own AFL team, which we have long said we are in support of."
The news of Hawthorn's announcement comes after North Melbourne publicised a strikingly similar deal in December to play 12 home games in Hobart spanning three seasons.
Discussions between the AFL and Tasmanian Government regarding a 19th AFL license continue.