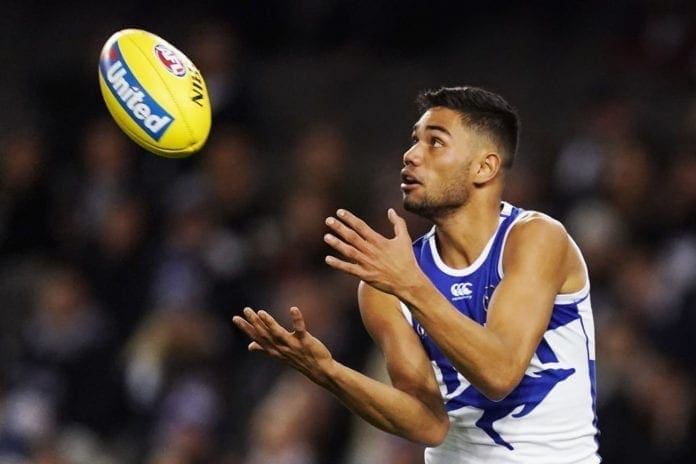 North Melbourne president Sonja Hood has penned a letter to club members following allegations made by multiple women to the AFL surrounding the alleged behaviour of North Melbourne player Tarryn Thomas.
In a report by The Herald Sun, the AFL Integrity Unit was made aware of allegations against Thomas that include harassment and threatening behaviour, with one woman reportedly hospitalised from an incident last year and subsequently provided with a psychologist by the league.
The AFL are understood to have begun cooperating with a family violence investigation unit following the incident.
Further allegations were made against Thomas by multiple women, with the 22-year-old allegedly telling a woman he wanted to beat her, sending threatening text messages and throwing a lamp at a woman in a hotel room.
News Corp's report states the AFL were alerted to Thomas' alleged behaviour and told one woman the North Melbourne player's actions were "not acceptable" last July.
It is understood that two women have been left disappointed in the AFL's handling of the matter.
"It's discouraging to see that the AFL and North Melbourne are aware how many women have (made allegations against Tarryn), yet it is still being overlooked," one victim told The Herald Sun. 
"It feels as though Tarryn is untouchable and the women he has affected have been silenced, due to fear and power imbalance. The women affected have been offered counselling sessions by the AFL which just feels like an attempt to keep us at bay by making us feel like they care and are supporting us so we are less inclined to speak up.
"Tarryn is being treated like he has committed a white-collar crime but there is nothing white-collar about threatening, intimidating, abusing, assaulting and stalking multiple women. This makes me feel like he is untouchable and on a pedestal and I question whether this would be the same had it been a different player or team".
Text messages between Thomas and one woman have also been reportedly uncovered, with Thomas allegedly telling the woman: "You're a f —king joke … keep talking sh-t … sh-t going to come around soon … your turn will come … sh-t is going to go down … I'm not a n---- to be f —ked with."
Further messages from another woman speaking on Thomas read: "I'm too scared … i know he's gonna kill me".
On Wednesday Hood wrote a letter in response to the allegations coming to light in the media, stating the club is taking the allegations "extremely seriously".
Hood revealed that the club have been aware of the allegation made last year, with Thomas required to undertake "training and education" to aid his behaviour.
"In light of the serious and confronting allegations against Tarryn Thomas that surfaced in the media on Tuesday night, it was important that I write to you this morning to outline the club's past and present actions on these matters," Hood's letter reads.
"We take any allegation of threats of violence against women extremely seriously. Respect of all people is fundamental to our club values.
"The club was aware of formal allegations made against Tarryn during 2022 that were investigated by the AFL's Integrity Unit. Tarryn and the club co-operated fully with those investigations.
"The advice provided by the AFL following these incidents was that Tarryn should undertake training and education to deal with his behavioural issues.
"The club has since built a significant and multi-layered program which includes respectful relationships education, working with psychologists, mentoring, peer support and community outreach for Tarryn to complete so he can meet North Melbourne's values and community expectations. He has started work on this program and we'll continue to support Tarryn as he completes this work.
"Should any further investigation arise from new information passed on to the AFL or the police, the club and Tarryn will co-operate fully, as we did in the wake of those initial allegations."
Thomas was charged by Victoria Police with one count of threatening to distribute an intimate image last month.
Hood stated that the club will not comment on the pending court case as they await the outcome.
"It's also important to acknowledge that Tarryn is still to face a matter before the courts and as such we won't be making any comment about that particular case," Hood said.
"Subject to any further investigations, the club will await the outcome of the court proceedings before confirming our next course of action.
"Finally, I know that this issue is challenging and confronting, and the club acknowledges the impact people will be feeling across the community by reading the media today. We are committed to supporting our people through this time and I want to reiterate that our whole club understands the significance of this matter."
Thomas has played 57 games for North Melbourne since joining the club through the 2018 National Draft.