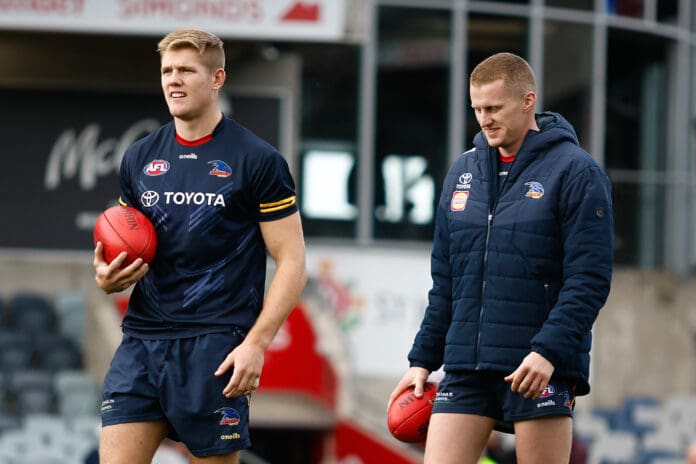 Adelaide senior coach Matthew Nicks has provided an update on injured defender Nick Murray, who was substituted out of the Crows' loss to Collingwood after suffering a hamstring injury on Sunday afternoon at the MCG.
Murray appeared to injure himself during the first quarter of proceedings, however, it wasn't until half-time that he was deemed unable to continue and substituted out of the game, with Ned McHenry ultimately replacing the defender to begin the second half.
Murray received treatment for the hamstring ailment during the first term, appearing somewhat affected from that point on as Collingwood was able to build a first-half lead.
It represented the third time this season that Murray has been subbed out of a game.
Speaking to the media post-game, Nicks detailed his defender's injury situation.
"'Muz' has had a bit of soreness in around the hammy, and then copped a knock today, and so that challenged him to be able to press and get the power he needed," Nicks started.
"We may have been able to [play him] in the third, but we weren't getting Nick at 100 percent or anywhere near close to that, so that was really a call we made for long term for him, but also, in the end, it injected Ned (McHenry) into the game, and we felt at that point that was the best move from both angles."
Asked about the extent of the injury, Nicks confirmed Murray would have scans, with the results of those determining the Crows' next steps with the backman.
"He'll have to have a scan, and we'll look into that a little more, but we're hoping that was more so a knock (than anything else)," said Nicks.
The situation left the Crows' tall defensive stocks undermanned on Sunday, with the mid-sized Mitchell Hinge and key defender Jordon Butts needing to pick up the slack in the second half, as Adelaide combated Pies Brody Mihocek, Jamie Elliott, and Ash Johnson.
The Crows are scheduled to return home and play North Melbourne at Adelaide Oval next Saturday afternoon.