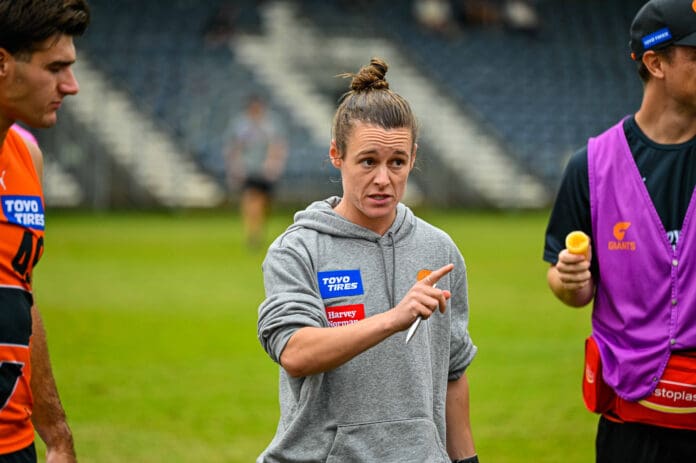 GWS has announced Alicia Eva will captain the Giants' AFLW side for a fifth-straight season, while a quartet of Giants join her in the club's leadership group.
Originally drafted to Collingwood, Eva was traded to GWS in 2018 where she had a breakout season, being named vice-captain, All-Australian, and the club's best and fairest winner.
Eva will lead alongside Alyce Parker and Pepa Randall once again, whilst the Giants have elevated Rebecca Beeson, Katherine Smith, Georgia Garnett, and Tarni Evans to the leadership group.
GWS head coach Cam Bernasconi was excited to see four new leaders emerge.
"It's really exciting that we've got four new players that have come into the mix," said Bernasconi.
"It just shows the growth and journey that we're on here.
"We're a young group but we have a really clear plan and vision and the process to get there is through our values. I think we have some really strong leaders to lead these values.
"We have a healthy, diverse leadership group. Everyone is a little bit different, but they just bring their strengths as a leader to support Alicia."
On Randall and Parker, Bernasconi stated they provide a great level of support.
"We're really lucky to have these two involved," said Bernasconi.
"They're two players who just get the absolute best out of themselves and they really let their footy do the talking on the field."
Garnett and Evans finished second and third, respectively, in the club's best and fairest last season, with their elevation to leadership status a just reward for their hard work.
"The reception that Tarni and Georgia got just shows how popular they are in this group," Bernasconi said.
"They are young players, but they are playing really good footy. Now they step forward a little bit more and take a bit more ownership and leadership.
"They don't need to change; they just need to continue to be themselves and they'll be great leaders."
GWS finished in 11th position on the ladder last season, a year that represented Bernasconi's first at the club.
The new AFLW season will kick off on the first weekend of September.