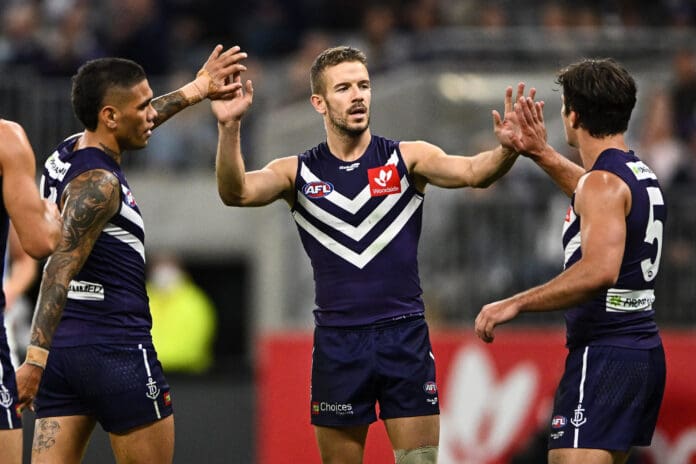 Fremantle forward Sam Switkowski has signed a one-year contract extension keeping him with the dockers until 2024. The extension is on top of his previous deal that kept him with Freo until 2023.
The small forward has not played since sustaining a back injury in Round 13 against the Hawks, but Switkowski has voiced his excitement at extending his stay at Freo and is keen to make a return to action as soon as possible.
"I've extended my contract until the end of 2024, which is awesome," Switkowski said.
"The injury is frustrating. I was pleased with my first 10 games of the season and was starting to get a bit of momentum and was getting some good form together and being a part of some winning games.
"I just have to work on getting back as soon as possible."
Fremantle's Head of Player Personnel David Walls stated that it was important to give the 25-year-old comfort and clarity on his position and value at the club while he recovers.
"We love what Sam does both on and off the field and we're looking forward to getting him back as he's integral to our forward line," Wall said.
"Champion Data rate him as elite and which illustrates that he's so important to us with what he brings - the pressure, ground ball and goal assists, and he's starting to hit the scoreboard himself."
Switkowski also voiced his excitement for the future of the club, which generated a lot of hope this season over a potential premiership charge after some impressive performances throughout the campaign.
"It's really fulfilling to reflect on where we've been over the last four or five years, especially since I've been at the Club," he said.
"There's hopefully a new challenge that this year with playing finals and seeing how far we can go. It's a real period of opportunity for us and I'm really excited to be a part of it."
Swtikowski was drafted at pick 73 in the 2017 NAB
AFL Draft
, and has played 42 games for the Dockers so far, kicking 27 goals since his debut in 2018.