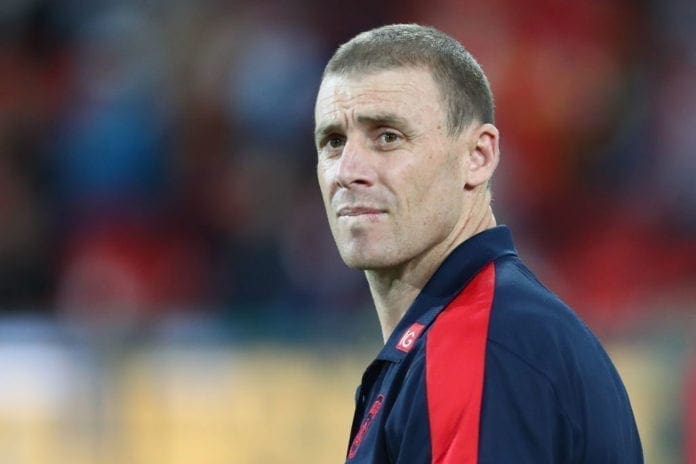 Melbourne coach Simon Goodwin was denied the opportunity to address the masses after the Demons snapped their premiership hoodoo, beating the Bulldogs by 80-points.
Goodwin's men obliterated the Dogs in the second half, kicking 16 goals to three after it seemed like the Bulldogs may be about to extend 57-years of heartache for Melbourne fans.
The 2021 AFL Coach of the year now has his hands on the ultimate prize after it seemed his time was up when Melbourne finished 17th in 2019. However, after being supported by the Melbourne board, Goodwin lead his team to the top of the mountain.
So when it was time to time to accept the premiership cup alongside skipper Max Gawn, Melbourne fans eagerly awaited the words from their coach. But they never came.
Perth Mayor Basil Zemplas was the master of ceremonies for the post-game presentations and he didn't offer Goodwin the chance to speak. Instead calling immediately for the lifting of the cup.
Goodwin jokingly said on Channel 9's Sunday Footy Show that he felt hard done by considering Gawn had been able to make a speech.
"I got shafted, didn't I?" Goodwin said.
"I didn't know what happened there, I had it all ready to go, I had the cheat notes and a few sponsors to single out."
Goodwin admitted he didn't have anything special planned for his speech but would have loved the opportunity to address the Melbourne fans who missed out on the opportunity to be there and share the moment.
"I just would've said to the supporters and everyone at home, this is us, this is who we are, and they should be so proud," Goodwin said.
"Hopefully all the supporters back home are enjoying it, I know they're in lockdown but speaking to a few I know they're sinking a few beers."
Zemplas had a bit of a torrid time of it as his city welcomed the AFL Grand Final for the first time.
He also stole the thunder of 2006 Norm Smith Medalist Andrew Embley who was there to present the Norm Smith Medal.
Basil also named the NormSmith medal winner not sure that was his job ?? Embley's job to name the medal or I may be wrong 🤷🏻‍♂️

— Brendan Fevola (@BrendanFevola25) September 25, 2021
Usually, the presenter of the medal will announce the winner. However, Zemplas took this honour upon himself when announcing Christian Petracca as the winner.
That came off the back of Zemplas calling for attending fans to applaud at the 20:21 minutes mark of the first quarter in a sign of solidarity for people around the country suffering from Covid lockdowns.
The idea was met with criticism from many in the states Zemplas had aimed to pay tribute to.