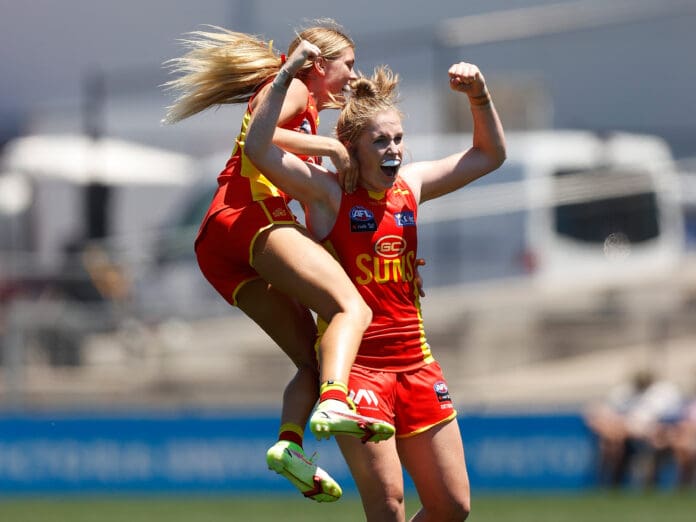 What do you get when Gold Coast and West Coast are asked to face off in Melbourne's West?
This setup may sound like a low-grade gag from a Christmas cracker, but the punchline to this riddle had heads spinning rather than eyes rolling.
Across the course of a scrappy arm-wrestle played out some distance from either Carrara or Cottesloe, both the Eagles and the Suns seemed content to squander their opportunities to end a pair of unwanted records.
That was before a strange, and seismic, turn of events across a final term that saw more than 60 per cent of the scoreboard's total tallied.
While only at the Round 2 marker of the sprint-like season, both Michael Prior and Cameron Joyce's sides would have been licking their lips at the prospect of playing one another, even if stringent border laws saw the clash shifted from Laithlain to Footscray.
For West Coast, a win over the 2021 wooden spooners would have provided them their first interstate win since joining the competition ahead of the 2020 season.
But even after creating a game-high lead late in the final stanza before hitting cruise control, it was the Suns that claimed both the points and the opportunity to sever ties with the many monkeys clinging to their back.
After dropping their Round 1 encounter against Greater Western Sydney last Sunday, Gold Coast saw their winless streak extended to 11.
Yet, after a power of work across the final seven-minutes and change of the contest played on neutral territory, the expansion side's five-goal break saw them sing their song for the first time since March of 2020.
Despite only two-points separating the sides from opposite ends of the continent as they broke from their three-quarter time huddles, the Eagles, by then driving without a handbrake against the breeze, snared the lead with consecutive majors to Mikayla Bowen, Kellie Gibson and Maddy Collier.
Still, with their foot coming off the accelerator with time left on the clock, Joyce's charges slammed home five-goals to end the opening leg of the Eagles' eastern safari in an all too familiar fashion.
Speaking after his side was shackled with their seventh straight loss away from home, Prior pointed out that the chance gone begging was not lost on his group.
"A similar thing happened to us last week in the last quarter, so we're going to have to look at that, look at personnel and where we're playing girls," the first-year head coach told Zero Hanger.
"The centre bounce was an issue for us in that last quarter again, so we need to make a few tweaks in there."
With West Coast set to remain in Victoria for the next month, respective clashes with Adelaide, St Kilda, Geelong and Collingwood will grant the westerners an ability to finally snaffle some joy on the road.
"We've got four games [in Melbourne] and we'd love to come away with a couple [of wins]," Prior continued.
"We saw today as a winnable game, but to Gold Coast's credit, they outplayed us in a lot of areas and they deserved the win they got today.
"We'd love to win away from Perth and as soon as we get one, we might get two pretty quickly."
Following his own collective's ability to rise to the occasion and slot their highest score during their brief history, Suns steward Joyce admitted that not even he could see his team's full-throttle finish coming.
But while Gold Coast were able to rejoice for the first time in almost two-years, Joyce explained that there were still aims to be achieved this summer.
"For us, it's [about] that continuous improvement," he delineated to Zero Hanger.
With No.1 draft choice Charlie Rowbottom providing a peerless 17 touch, 12 tackle performance, and VFLW recruit Tara Bohanna slotting a game-high three goals, recent additions from all angles were firing.
However, Joyce claimed that a holistic view of his group's growth would see further dividends paid sooner.
"We're really trying to develop our players, whether that's our older players or our younger players," he continued.
"We're trying to build a midfield that's sustainable over time and expose some girls to some opportunities in there.
"There's plenty for us to still work on and judge ourselves with for the remainder of the year."
Although the brief nature of each AFLW season means that coaches and players alike must shift their attention swiftly, the looming prospect of a date with reigning premiers Brisbane may see the Suns linger in the warmth of their win a little longer.
And while their first hurdle of winning outside of the west is still to be ticked off, the task of doing so won't be any easier for Prior and his eyrie, as they are set to lock talons with the red-hot Crows next weekend.
Irrespective of the fact that neither team from either coast was tipped to play finals this year, the final 460-seconds of Sunday's battle on Barkly Street are sure to be remembered by season's end.
But with an opportunity grabbed whilst another was simultaneously snuffed, it is also certain that the mood of each camp's recall will depend on whether they are facing the Pacific or Indian Ocean.
WEST COAST     0.0     2.0     2.2     5.3     (33)
GOLD COAST     0.2     1.4     2.4     7.4     (46)
GOALS
West Coast: McCarthy, Atkins, Bowen, Gibson, Collier
Gold Coast: Bohanna 3, Surman 2, Dupuy, Perkins
BEST
West Coast: Swanson, Hooker, Bowan, Smith, McCarthy, Gooch
Gold Coast: Rowbottom, Hampson, Bohanna, Surman, Stanton, Keaney
INJURIES
West Coast: Nil
Gold Coast: Nil
Reports: Nil