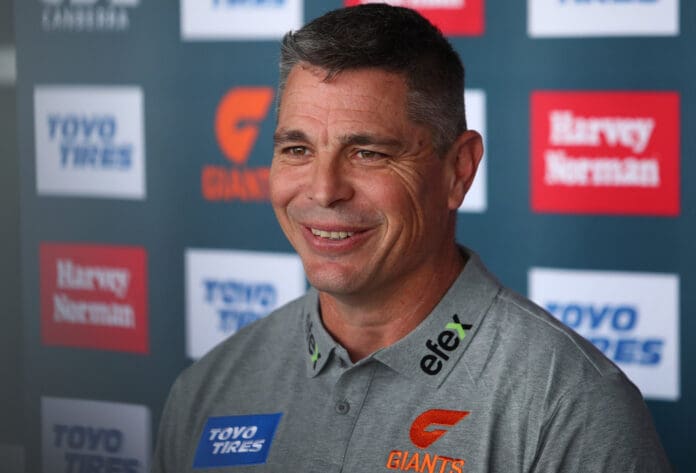 GWS head into Monday's draft with the number one pick after securing a strong hand of draft picks during the trade period, but apparently are yet to decide which player they will select.
The Giants have been linked to Aaron Cadman, who has been touted as a strong prospect for the number one pick throughout his draft year, and the young Victorian has embraced a potential move north to join the Sydney based club.
Despite their interest in the young forward, Giants coach Adam Kingsley has stated on SEN Breakfast the club is still "working through" their draft night plans.
"No, we don't know," Kingsley said.
"That's not quite true, we're still working through it, you know we've got a bit of time.
"There's no point in making a decision right now, we'll keep digging, we'll keep searching, keep discussing.
"We have ideas and we've narrowed it down to three guys, I suspect.
"But the reality is, we've still got a couple of days beforehand, we've got a couple of meetings to go on and whoever we pick is going to go on to be a terrific player for the club.
"We'll be excited wherever we land with that."
READ MORE: Top Western Australian prospects
The senior coach, who was appointed in August, now heads into his first draft in the top job possessing picks 1, 15, 18, 19, 31 and 57.
Despite losing talent during the trade period, with Tim Taranto and Jacob Hopper among some notable departures from the club, Kingsley is "comfortable" with the decisions made despite not having a specific player in mind to draft first up.
"We had a couple in mind, probably three in mind," Kingsley said.
"It was about, 'Let's eliminate the fact North Melbourne could take those guys, let's make sure we know who we're going to get'.
"Whoever we decide we want, we'll get, that was the plan and we felt we were really stocked with first-round picks and pick 19.
"We have three (first-round picks) this year, two next year, so we could really afford to do that we felt.
"I'm pretty comfortable with where we sit in the draft and we're going to bring in a lot of talent."