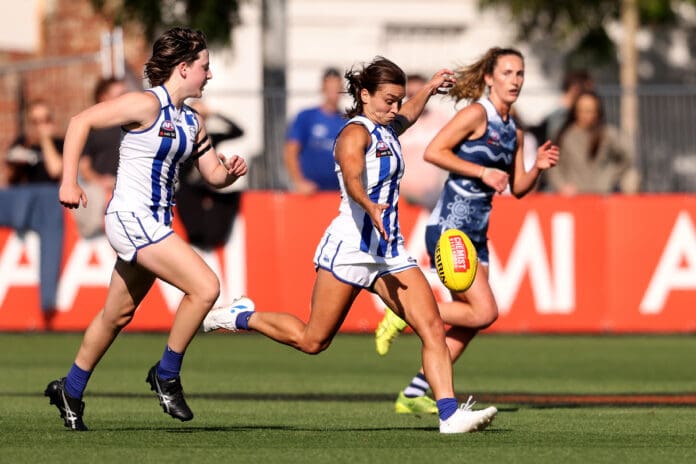 Burgeoning North Melbourne star Ashleigh Riddell has revealed that the "super shattering" experience of being overlooked in two AFLW Drafts was a driving force behind her current dominance.
Despite each and every club passing on the Eltham Panthers product ahead of the 2019 season, the 25-year-old expressed that her inexperience prior to the competition's inaugural campaign certainly played a part in the snub.
"The first year, I missed out on getting selected, but in my mind, I probably didn't deserve to get picked up. I wasn't really ready to come into AFLW and I don't think I would have made as great of an impact if I came in at that time," Riddell told Credit to the Girls podcast.
"Missing out [in] the second year was probably the hardest because I was invited to the draft and I was the only one in the room not selected. It was a bit of a challenging time after that."
However, a set meeting with a mentor the day after being left on the shelf saw any frustration fly out of the window.
"I caught up with Scott Gowans [ex-Kangaroos coach] the day after, and he actually found out that day that he [had] got the North Melbourne gig," Riddell continued.
"I was really fortunate to have a good chat with him and could see the light after talking to him and [understanding] the possibility that if I knuckled down and worked hard, I could be selected as a free-agent with North.
"I was a little bit daunted about going through that draft process again. So, with his backing and his faith in me, I was really fortunate to know early on that North were going to select me.
"I knew that that was just the beginning, and I didn't want to come in and just be a fringe player. I wanted to come in and make an impact for North, and hopefully, I have in the couple of seasons I've been playing."
Following the midfielder's Round 1 outing against Geelong last Saturday, there remained little need for these hopes, with Riddell both equalling and besting a pair of statistical milestones.
While the Roos' were tested at stages during their season opener, Riddell did as she pleased by finding the Sherrin on 35-occasions across the afternoon - a mark only ever met by Adelaide duo Ebony Marinoff and Anne Hatchard.
Still, it was the Melbourne Uni representative's 22 contested possessions that caught the eye of all and sundry.
Despite setting a new benchmark for her contemporaries to chase, and claiming a full set of coaches' votes from the clash, Riddell humbly explained that this reality was out of sync with her perceptions.
"I'd be interested to actually watch it back...it didn't feel like I had that much of the ball," she expressed.
"I'm not really known for my contested ability. I prefer to get the ball on the outside a little bit more. I'll take that contested possession-wise, but it certainly didn't feel like that on the field whatsoever."
Although Riddell's ascent has been tracked for some time, the 2020 All Australian and three-time VFLW Team of the Year member stressed again that being lept out had helped her make the leap as a Kangaroo.
"I was super shattered not to be picked up those first couple of years, but I think it was a blessing in disguise. I think I would have been really young and naïve of how to be professional," she stated honestly.
"I've been blessed with coming into a team where there was already a pretty established midfield, so I saw that as an opportunity to try and go on Emma Kearney, and try and go on 'Jazzy' Garner and Jenna Bruton and so forth and get the best out of my footy.
"Sometimes, I felt it was better to come into a team that I was the fifth-best or sixth-best midfielder to try and challenge myself and get the most out of it, rather than go to a club with a less established midfield. You might get easy games with that, but I saw it as a challenge to learn off the best in the game."
With an opening week win in the bag and a spotless Round 2 record since joining the competition, North will be riding high as they head into the weekend.
But while the return of skipper Emma Kearney is sure to have smiles on dials in and around Peel Street, a dreaded trip to face the Crows in the City of Churches awaits Riddell and her Roos.
Although the two sides haven't met since 2020, the coal face collector claimed that the Arden Streeters were ready for their latest dual.
"We're actually quite excited for the challenge. It'll be good to get away and go down to Adelaide on Sunday," Riddell said in an upbeat manner.
"They're an amazing side. I think they were probably one of the best performers on the weekend…and they're, pretty much, full-strength as well. It's going to certainly be a challenge for us. They're a fast-moving team. They like to go long and direct and get the ball down."
Riddell went on to explain that their upcoming battle with the best was the perfect opportunity for the expansion side to shed an unwanted tag.
"We've always been seen as a really talented group, but we haven't actually beaten the best sides," she admitted.
"This is a really good opportunity to show our best footy against one of, if not, the best sides in the comp.
"We want to try and prove that perception wrong."
Riddell and the Roos are scheduled to face the Crows at 2:40pm ACDT this Sunday on the noticeably narrow surface of Norwood Oval.