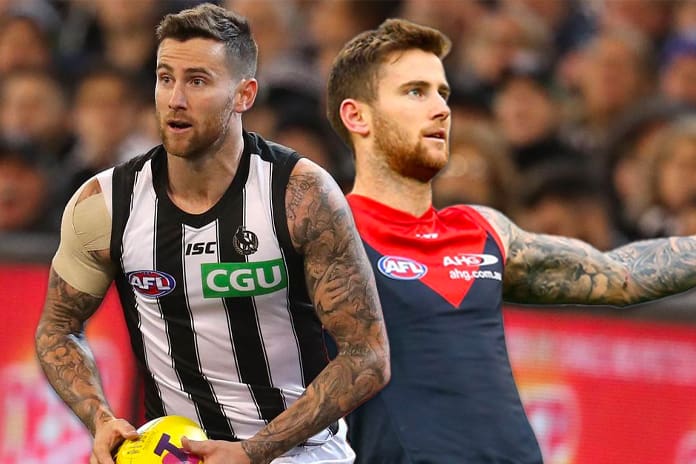 High-flyer Jeremy Howe will run out for AFL game 200 when Brisbane hosts the defender's Magpies on Thursday night.
But well before he was taking Mark of the Year contenders on weekly basis on the MCG, Howe was an apprentice electrician in Dodges Ferry - a town of just over 2000 people on the south-east coast of Tasmania.
Former Demon Jordie McKenzie, who played 79 games for Melbourne between 2009 and 2015, is one of Howe's best mates, and the pair lived together not long after Howe moved to Melbourne after being drafted with pick 33 in the 2010 National Draft.
McKenzie spoke with Zero Hanger to give an insight into what Howe was like in his early years, although it took some time: "Most of the anecdotes that come to mind definitely aren't fit for a public forum," he laughed.
"One of my favourites from the early days though would be when he'd get a call on a Sunday from his mates at the Lewisham Tavern.
"They'd be full of grog and they'd go around reeling off all the boys that were there - 'Pepper', 'Chicken', 'Plugger', 'Junkyard', 'Bullick' amongst another 30 blokes who were also called something that definitely wasn't on their birth certificate.
"'Howie' would put the phone down shaking his head with a look on his face suggesting he's missing a once in a lifetime opportunity ... only for the same thing to happen again the next Sunday!
"But that sums up 'Howie' pretty well - he's moved from Tassie to Melbourne to live the dream as an AFL player, but he's just flat he can't be at the pub with his mates on a Sunday."
As an electrician who had nearly finished his apprenticeship before moving to the mainland, Howe was a little green when transitioning into the elite AFL system.
"He never used to set an alarm, I found it staggering," McKenzie recalled.
"Then he slept in one recovery and I think that changed his approach to the alarm."
Howe also took a while to understand the diet of an elite athlete - although he had a simple way of getting around that.
"He was sharp enough to just eat what others were eating," McKenzie chuckled.
Despite his greenness when he moved over, Howe's ability was never in question.
"The most talented person I've seen in everything, along with LJ (Liam Jurrah)," McKenzie said.
"Table tennis, golf, change room cricket ... We'd go 10 pin bowling and he'd smack everyone there too.
"Even in all the running - he'd win all the sprints then still be in the top few in the 3km."
Howe debuted as a forward in a Melbourne win against the Bombers in Round 11, 2011 - the same game Melbourne skipper Max Gawn made his debut.
Less than two months earlier, he lined up in a VFL Reserves match for a Casey Scorpions team that went down to Port Melbourne by 77 points.
Alongside him in the forward line that day was Brendan Fevola, and yours truly.
After 100 games in the red and blue, where he had transitioned from a forward to a defender, Howe traded red and blue for black and white.
But while much has changed on-field for Howe between that Casey Scorpions reserves game in April 2011 and his 200th AFL appearance on Thursday night, off the field he's still the same bloke who hated not being at the pub with his mates.
Howe is incredibly close with his first cousin, Australian cricketer Matthew Wade, and had a Boxing Day tradition of getting together and tipping a few beers back while watching the cricket.
While Howe has notched up 199 AFL games since being drafted in late 2010, Wade has gone on to play 36 Test matches for Australia - including four Boxing Day Tests.
But while their respective sporting commitments mean the Boxing Day tradition can be harder to uphold, McKenzie says they still try to make it happen wherever possible.
"I haven't got a heap on that, which is probably for the best," McKenzie laughs.
"It still happens here and there I think, and I'm pretty sure it's still a bloody big day!"