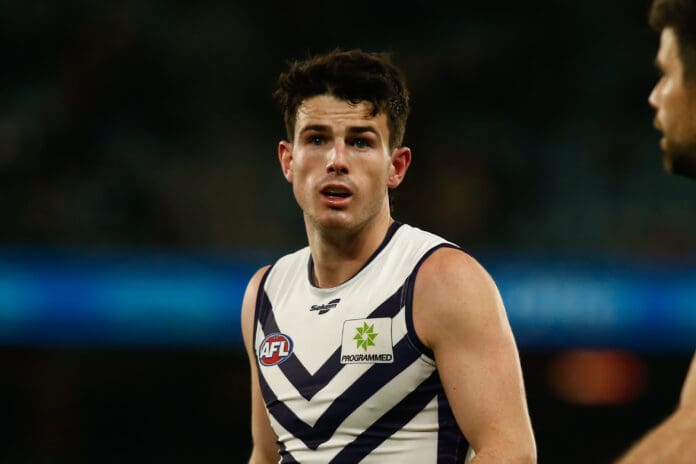 Fremantle's Andrew Brayshaw has avoided any charge by the AFL's Match Review Officer for an incident involving Bulldogs midfielder Tom Liberatore from Friday night.
The incident in question took place midway through the fourth term of the match, with Liberatore suffering a concussion as a result of the collision.
The MRO assessed the incident but concluded it was not worthy of a reportable offence and offered the following explanation:
"The incident involving the Fremantle's Andrew Brayshaw and the Western Bulldogs' Tom Liberatore from the fourth quarter of Friday night's match was assessed," an AFL statement read.
"The ball bounces out of a stoppage away from Fremantle's Michael Walters and Liberatore, and towards Brayshaw. As both Brayshaw and Liberatore approach the ball, Walters applies considerable pressure to Liberatore's back as Brayshaw lowers to contest the ball and high contact is made.
"It is the view of the MRO that it was reasonable for Brayshaw to contest the ball in the way that he did and that contact was caused by circumstances outside the control of Brayshaw. No further action was taken."
The avoided charge means Brayshaw will be available to face Brisbane next week.
Meanwhile, Fremantle forward Sam Sturt can accept a $2000 fine with an early plea after being charged for tripping.
The MRO viewed the second quarter incident between Sturt and Bulldog Adam Treloar as Intentional Conduct, Loew Impact and Body Contact.