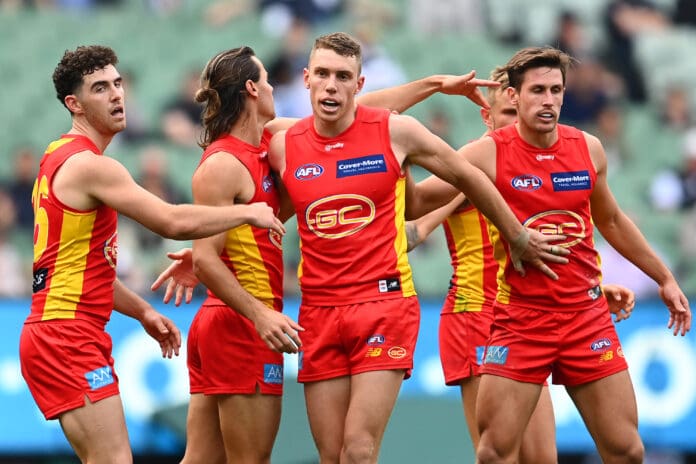 Out-of-contract Gold Coast spearhead Josh Corbett has made the Dockers aware of his desire to join their forward ranks, hungry for more time out on the park in season 2023.
The three-horse race of teams linked to Corbett meant Freo had to contend with Melbourne and Essendon in pursuing trade talks, searching for an agreement to secure the medium-sized forward's services, with the Dockers outgunning both in the end by persuading the 26-year-old to nominate the Perth side.
Corbett travelled across the country to view Fremantle's Cockburn facilities heading over for a tour last week as per The West Australian.
The Fremantle selectors' attraction to Corbett is pinpointed in the fact he presents as a handy replacement in their eyes for swingman Griffin Logue, traded to North Melbourne on Tuesday.
The Suns and the Dockers will now work in unison to package a deal that is lucratively sounding for both clubs involved, although a curveball could be thrown in with Jeremy Sharp wanting a move back to his hometown out West with a potential to bundle up the pair an option that is on the cards.
Corbett managed three games at the top level with an output of four goals bettering the ledger for the year, bookended by heavy contribution as a staple piece in his VFL sides birth into preliminary finals action.