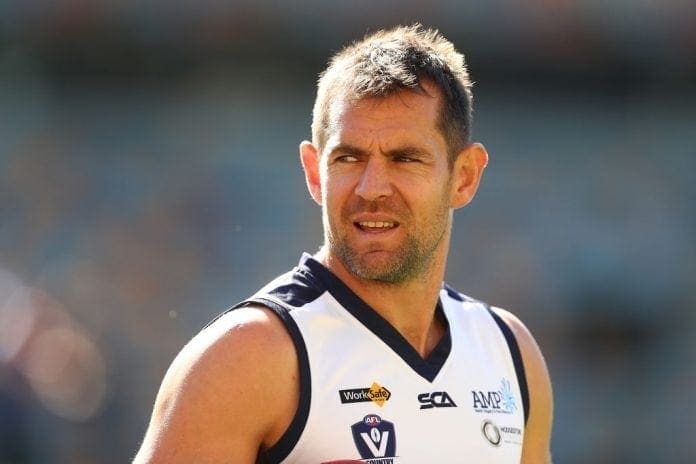 Luke Hodge has come out in support of the AFL's crackdown on umpire dissent, despite a controversial 50-metre penalty awarded against Brisbane's Harris Andrews on Thursday night.
The four-time premiership Hawk spoke on SEN's Crunch Time, supporting the notion behind the umpiring decision, but stressing the need for consistency across the competition.
"From what the umpire said … as soon as you put your arms out it's 50 as far as arguing and the perception against umpires," Hodge said.
"I actually really like the idea.
"If you look around country football there is such a shortage of umpires.
"With all the young girls out playing football there's so many more games and we just haven't got the umpires.
"Umpires are also walking away because of the abuse they get over the fence and I feel what the AFL has done to try and put back that respect for the umpires was really good."
Hodge pointed out that there remains confusion around the new rules, with the AFL struggling with consistent adjudication across nine games a round.
"I think the hard thing for players and for spectators is just the consistency of it," he said.
"I watched the Bulldogs and North Melbourne game and (Jack) Macrae in the middle (had a free kick) and he went to give the advantage and the umpire called the ball back and Macrae threw his arms out saying, 'why didn't you give me the advantage?' That was no different to what Harris Andrews did, so (shoudn't) the umpire reverse the free kick?
"If they're going to do it, they have to be consistent and do it to everyone because from Rounds 2-4 it was starting to come back in… the umpires were freeing up a little bit.
"They should at least give the players or the club a heads up if they are going to tighten it up again."
Following the incident during Thursday night's match, AFL journalist Jon Ralph spoke on Fox Footy, confirming that the league were in favour of such decisions.
"I've spoken to the AFL," Ralph said.
"Absolutely crystal-clear, they are backing the umpires to the hilt, a spokesperson told me the AFL fully supports umpires to continue to pay those free kicks.
"As they said, the crackdown has massive industry support, the players know what it is and it is unacceptable. They are going to have to get used to it, quick-smart."