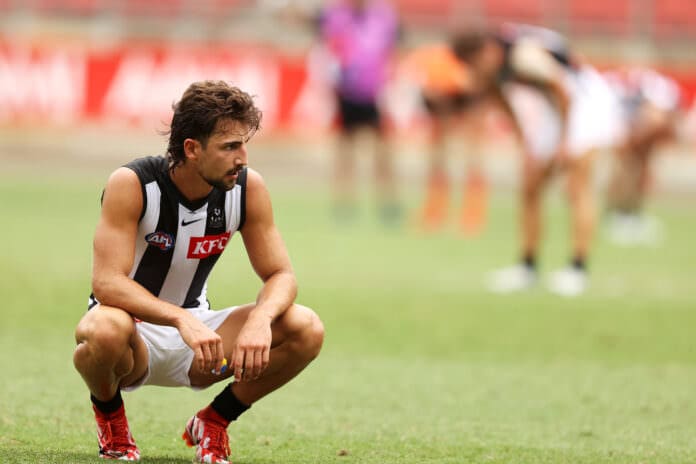 Collingwood's battle with illness has continued to impact Craig McRae's plans ahead of the Magpies' Round 20 bout with Carlton, with as many as four players needing to train away from teammates this week due to a bug.
Josh Daicos, Isaac Quaynor, Bobby Hill and Cooper Murley were all absent from training on Wednesday due to illness, however McRae is confident he won't be forced into any changes come selection.
Issues surrounding illness at Olympic Park have been occurring for the Magpies across the past 12 months, with star midfielder Jordan De Goey battling ailments of his own last week prior to his side's trip to face Port Adelaide.
McRae told reporters on Wednesday that the issue has continued to linger, with the club taking the right precautions to keep the rest of their squad in good health ahead of the weekend.
"Just another week in viral land that we live in. We've got four guys that are viral and we just don't want them in our building with a sniffly nose or a cough," McRae said.
"That's just what we do and we trust that they're going to be okay to play.
"... most guys that have been viral in the past 6-8 weeks have trained off-site. We'll do the same (this week).
"If we feel we need a little bit more (fitness training) we'll do that. That might be the case tomorrow to put them through their paces a bit."
While the quartet of unwell players are likely to be deemed fit in time for Friday's clash, McRae will be left to consider his options at selection this week as forward Will Hoskin-Elliott plans a return from a hand injury.
The Magpies recorded no injury issues from their win over Port Adelaide in Round 19, with midfielder Tom Mitchell tactical subbed out of the match as Oleg Markov was brought into the encounter.
The switch came a week after Mitchell was the starting sub for Collingwood, with McRae hoping to see the Brownlow winner return to his best as an inside ball-winner within his midfield ensemble.
McRae denied any chance of Mitchell being utilised in a new role, noting his star recruit has given the side flexibility in midfield and through in-game situations.
"He's an integral part of what we're doing," McRae said of the ex-Swan and Hawk.
"The game itself we felt like we had to get the ball to the outside and transition. We hadn't done that for three quarters, so we had to give up a little bit at stoppage to do that. There were conversations around five or six players as to who we could sub.
"There were small margins in the end in the decision we made and we stand by it. We wanted to get Oleg going to give run from half-back. That was a cost for Tom in this circumstance.
"He's an integral part of what we're doing and we're in this position because of Tom.
"We got him to the club to be a first-possession, clearance player that puts a lot of pressure on (the ball) if he doesn't get it. That's what he's here to do.
"We want him to play to his strengths and get him back doing that stuff."
The Blues are eyeing a sixth straight win on Friday night as they look to retain their place in the top eight, with Michael Voss' side seeking retribution after seeing their 2022 campaign brought to a close in a one-point loss to the Magpies last August.
Carlton's midfield has been their strength over the undefeated run, with McRae well aware of his upcoming opponent's strengths at the coalface.
"We spoke about their threats and that's definitely one of them," the Magpies coach said.
"Since we last played them they've changed the way they move the ball a bit, so we're conscious of that too.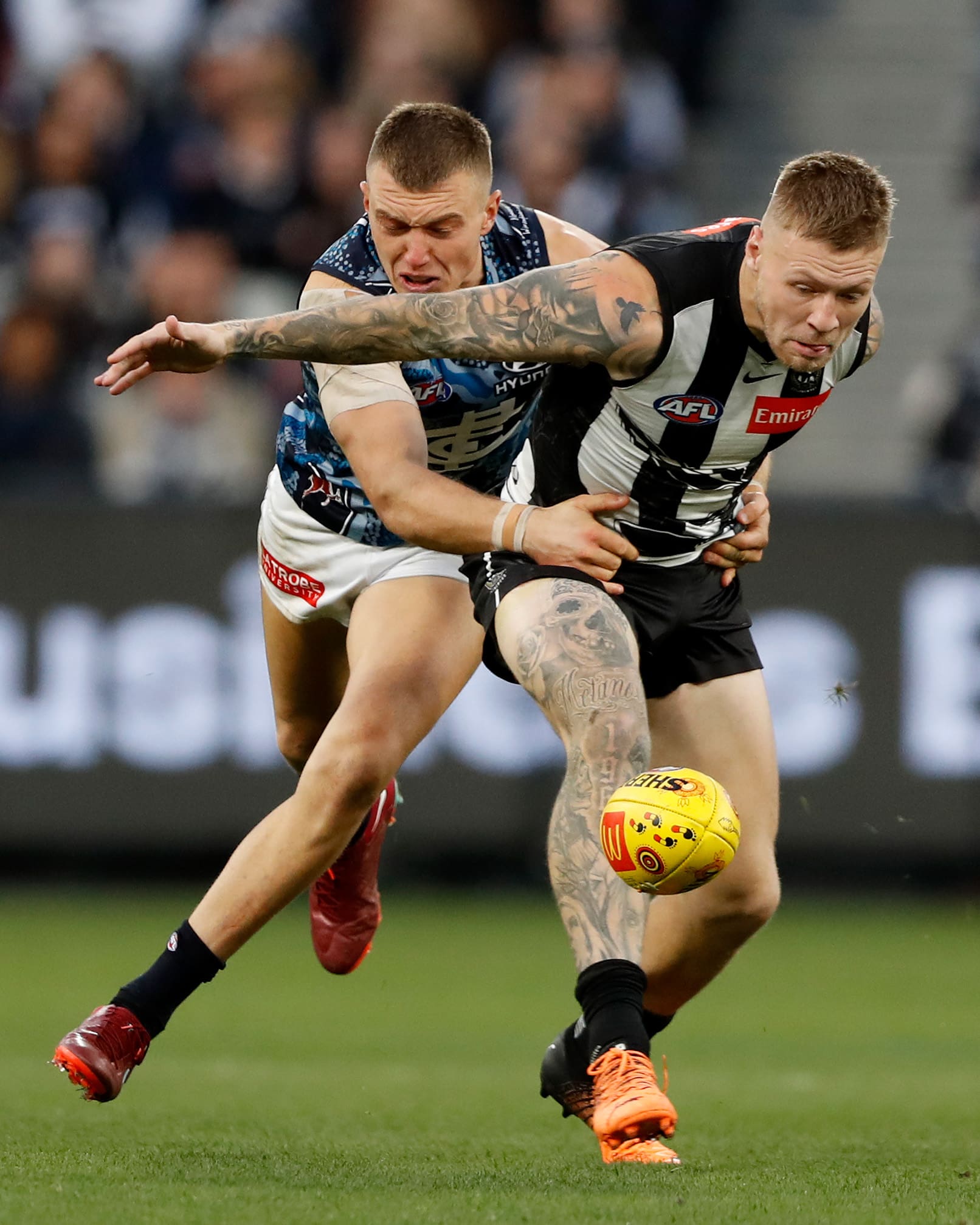 "They've got some real talent through (midfield). It's going to be a big challenge for our boys.
As for Coleman Medal leader Charlie Curnow, who is coming off a 10-goal haul against West Coast, McRae said it'll be a team effort to tame the Carlton spearhead.
"Good support and good pressure on the ball,"
"Darcy Moore played on him last time and played quite well.
"It's not just one guy, it's a team defence that stops goalscoring."
Collingwood and Carlton clash at the MCG on Friday night at 7:50pm (AEST).