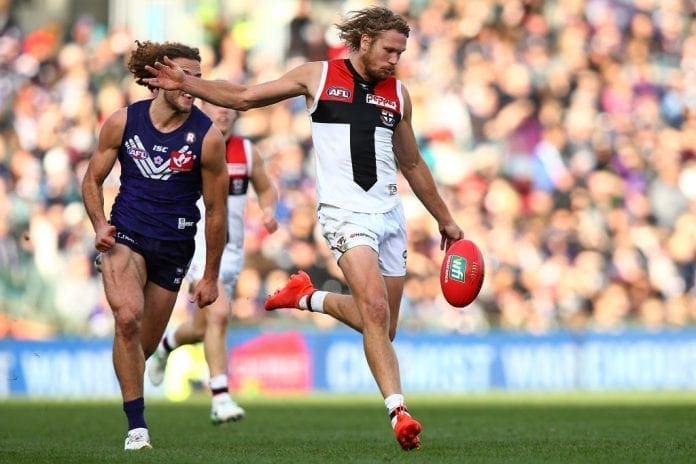 Former St Kilda defender Sam Gilbert has said that he believes the current Saints team is lacking confidence.
Brett Ratten's troops are 2-4 through the first six rounds and have come under scrutiny for the lack of competitive edge in recent weeks.
Speaking on the Unpluggered Podcast, Gilbert said they key difference between the team he played in three AFL Grand Finals with, and the current crop of players, was confidence.
"Confidence is a beautiful thing, if you could buy it you would. it's hard to get and when you've got it it makes footy a lot easier.
"Confidence is a beautiful thing, if you could buy it you would. It's very hard to get, and when you've got it, it makes footy alot easier."

200+ game Saint, Sam Gilbert, joins #Unpluggered: https://t.co/8soEfEcFXc #TogetherWeRise #stkildafc

— Unpluggered Podcast 🔴⚪⚫ (@unpluggered) April 29, 2021
"When you're confident you play your best footy and when you're not, footy becomes very, very hard.
"I was extremely lucky to have a successful side that gave me that confidence and obviously the Saints are probably not where they want to be right now, but it only takes a couple of weeks to get that confidence back and they can then use that as a drive for the rest of the season."
Gilbert was a key figure in the Saints' premiership tilts throughout the late 2000s, and said he still thinks about key moments from those games.
The running backman pointed out Tom Hawkins' infamous 'goal' in the 2009 AFL Grand Final which hit the post, but with no score review system yet, the decision stood to pay a goal.
"I think about Tom Hawkins hitting the post a few times, that didn't make me too happy.
"I think about Tommy Hawkins hitting the post… that didn't make me too happy."

Sam Gilbert on his @stkildafc career and THOSE #AFLGF moments:
🔴 SPOTIFY: https://t.co/90R4bw5a7Q
⚪ APPLE: https://t.co/7EQEZI6Nwk
⚫ GOOGLE: https://t.co/SCI0m6nyqj#TogetherWeRise #Unpluggered pic.twitter.com/XQ70kZqsRP

— Unpluggered Podcast 🔴⚪⚫ (@unpluggered) April 29, 2021
"You do think about your own performances a lot and it's not always positive about those games."
SEE ALSO: Saints coach Brett Ratten confirms Paddy Ryder will return against Hawks
"I think once you finish (playing) you start thinking less about your personal achievements and more about the team, the 2009 and 2010 Grand Finals come up in your memories more than (your) positive or negative performances."
The intercept defender was thrown forward in the second-half of the 2010 drawn Grand Final and provided a point of difference as the Saints finished strong against Collingwood.
A key goal late in the third quarter from Gilbert seemed to be the impetus to get Saints fans believing a second flag may finally be on its way to Moorabbin.
"I was lucky enough to kick a goal in the drawn Grand Final which is a memory I'll always cherish, but just making Grand Finals and being apart of the parade and being there on that day is a very special feeling that I'll always have."
A few changes at half time from coach Ross Lyon and soon everything was pointing to the relentless Saints running all over the tiring Pies in the second half.
GODDARD!! 🙌

Relive Brendon Goddard's incredible leap from the 2010 drawn Grand Final. pic.twitter.com/m8ubShKeym

— AFL (@AFL) August 22, 2018
When the game ended in a draw, Collingwood captain Nick Maxwell famously criticised the lack of extra time.
Many believe the Saints would have ultimately won the game if there was extra time as there is now, but Gilbert is one of the few Saints people on the day who was happy to call it after four quarters.
"You definitely felt the momentum shift, I think there was always that feeling (within the group) that we lost the year before, and we knew how much that hurt, and that was a driving factor as well for a lot of players out there."
When asked by the Unpluggered Podcast hosts how he felt about extra time, Gilbert responded: "I was in a full-body cramp at that stage, I would've been no help."
After three failed attempts at premiership glory, the Saints went down a new path not long after, and when Ross Lyon departed for Fremantle it was over to Scott Watters to take the reigns.
Watters infamously had some troubles with key relationships at St Kilda and didn't always have the full backing of an experienced playing group.
Gilbert, however, said he had no issue with Watters, but said the stark differences between Watters and former coach, Lyon, may have been a reason he and the playing group didn't click.
"It was hard when you've had Ross Lyon and you've got so much respect for Ross, Scott came in and probably wasn't what we were used to.
"His coaching style was extremely different, for me, I didn't have any bad feelings towards Scotty, he was totally fine to myself… I don't think the team played well underneath him but that wasn't to say that he wasn't doing his best to drive the performance.
"I think a lot of us were probably stuck on having Ross there."
Listen to the full interview with Sam Gilbert on Unpluggered Podcast via the player below!
The Saints play Hawthorn in the Blue Ribbon Cup on Saturday afternoon at Marvel Stadium.