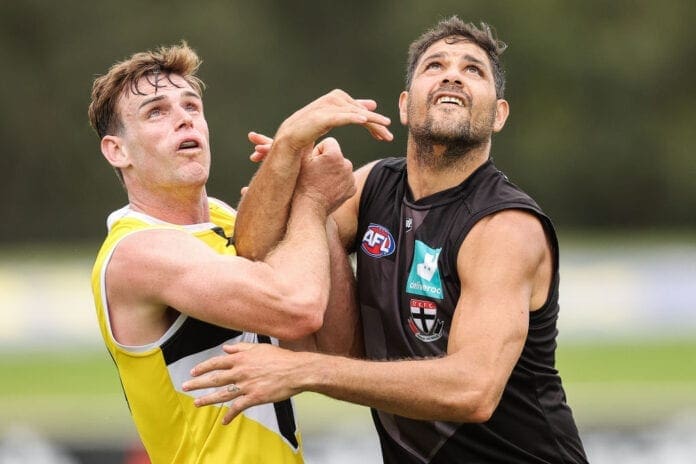 St Kilda coach Brett Ratten has confirmed that Paddy Ryder will return for the Saints in their crunch clash against Hawthorn.
The Saints have missed Ryder in a difficult start to the season, currently sitting 2-4 off the back of some very heavy losses.
Speaking to reporters on Thursday, Ratten declared Ryder was ready to play week.
"He's ready to go, he said it's great to be back. It's been a while for him playing senior footy, since last year in that final against the Bulldogs," the Saints coach said.
Brett Ratten confirms Paddy Ryder will be in the side this week for the Saints. @zerohanger

— Jake Benoiton (@Jake_Benoits) April 29, 2021
"So for him to be back and he played well last week. He won't be perfect, but to have our ruck combination out there, I think it'll give us a lot of confidence around the midfield."
Jack Billings has been dealing with a foot issue and left the track early, but Ratten said that Billings would be available.
Ratten also said Brad Hill and Jack Billings will both be right to go. @zerohanger

— Jake Benoiton (@Jake_Benoits) April 29, 2021
"He could've trained if we wanted him too, it's a six-day turnaround. It's like if we look after him and it'll be gone next week, he hasn't missed a training session all year so if he does a little bit of a lighter session on a six-day break I think that's fine."
SEE ALSO: The AFL's best and worst kicks in 2021
Jake Carlisle also left the track early after doing some one-on-one marking, and his availability will depend on how his back pulls up.
"He did some marking with the other talls and he came off with a spasm in his back, we'll just asses that and see how he is."
Now in his second season at the club, star wingman Brad Hill has been under pressure this season coming off a poor 2020. And Ratten was questioned as to whether Hill's teammates were doing enough to help him.
"I think at times he's been in good spots and we haven't given him the ball and other times he's had the ball and others have been in good spots," he said.
"With our group at the moment, everyone is trying to fix it themselves and we need the to think of others and still be in that team mode. It's not going to help us, we need to do it collectively."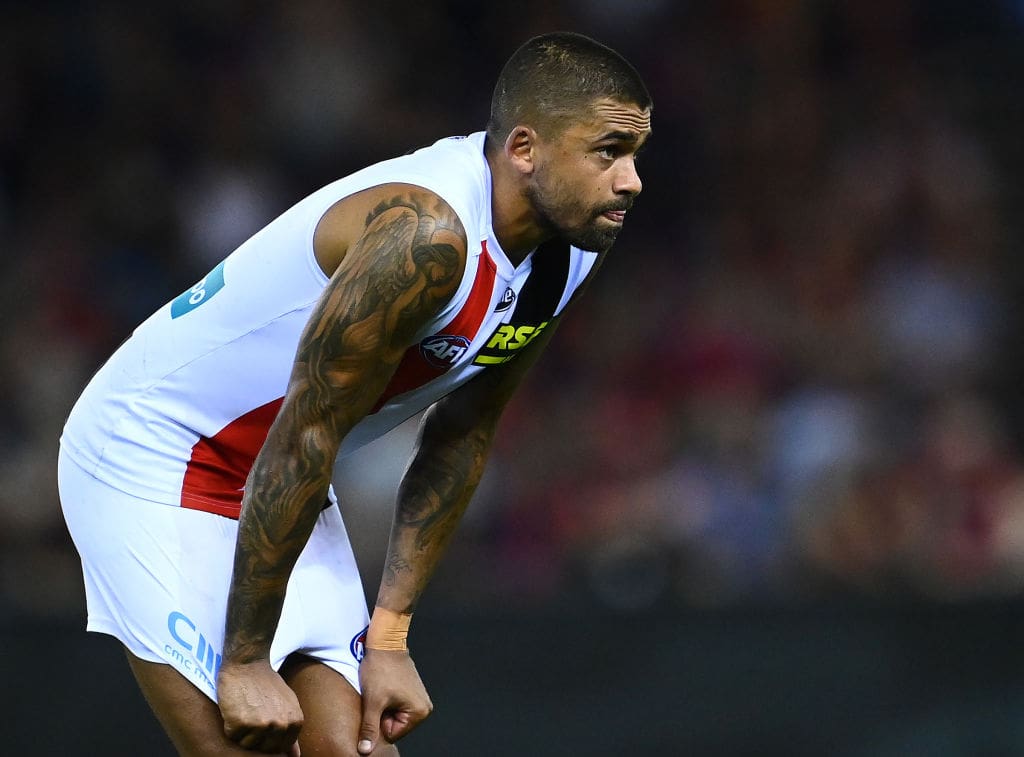 Last time the Saints met the Hawks, Ratten's former mentor Alistair Clarkson questioned whether the Saints game-style will hold up in big games.
Ratten today said there was no animosity between the duo.
"We went to Liam Shilels' wedding and we had a good chat, we've seen each other at coaches meetings and had a laugh and a chat, it's all good."
👀 "It feels like hes put his own ego ahead of the team..." - @VAMH26

👀 "You can't pick him, surely?"
- @nicksplitter

👀 "I don't get it, it's like bush footy."
- @Darren_Parkin

Who are the boys talking about on the pod this week? 🧐

LIVE NOW. #Unpluggered pic.twitter.com/KpcDrM9gKY

— Unpluggered Podcast 🔴⚪⚫ (@unpluggered) April 29, 2021
Co-captain Jarryn Geary returned to the track today and was buzzing around, although he is still a way off playing.
Ratten said the Saints had been missing Geary's leadership and his ability to get his teammates up and about.
"He's a lunatic, that was his first session. He's an elite runner and he's so energetic and he's running around like a 22 or 23-year-old.
"That's the kind of person we've missed, he's been the skipper of the football club for a long time but his energy and what he does for others just by his presence brings something out in a teammate and we've missed that."
Jimmy Webster will also come back in the side with James Frawley to return via the VFL.