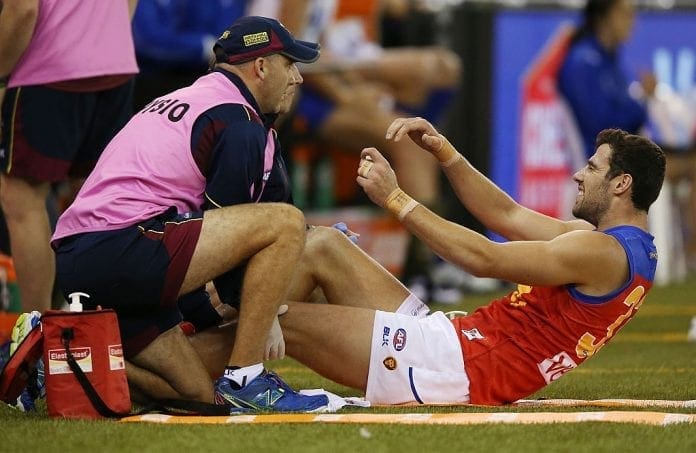 Ex-Brisbane forward Michael Close is suing the AFL, the Brisbane Lions and Etihad Stadium according to the Herald Sun, following an injury he sustained in round two of the 2015 home-and-away season.
Playing at Etihad, Close suffered an ACL injury during the round two clash, and says the surface was to blame for the injury - one he believes he's never fully recovered from.
Close only managed 27 games for the Lions and played just 13 matches following the injury, before being delisted by the club at the end of the 2017 season.
"During the second-round match, in the course of his employment, Michael Close when attempting to mark the football, fell on unstable and ­irregular playing surface of the arena at Etihad Stadium and twisted or overextended his left knee," a writ lodged with the Supreme Court says.
Had the injury not occured, Close believes he would have earned close to $400,000 last season.
Close believes that because of the injury he missed several match payments and added contract incentives, that would have aided his income during his AFL career.
The former Lion's writ says the stadium failed to provide a safe working environment, and also stated "following Michael Close's injury, the AFL caused the artificial and irregular surface to be removed from Etihad Stadium".
AFL spokesman Patrick Keane released a statement, saying the League was aware of Close's legal actions.
"The AFL can confirm that it has received proceedings lodged by Michael Close. The AFL will respond to those proceedings," Keane said.
"As a formal legal process is now underway in this matter, it is not appropriate for the AFL to comment further," he said.