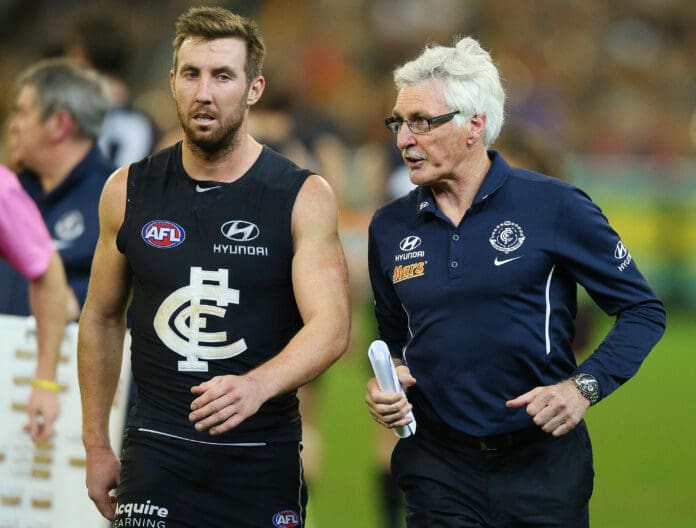 Former Carlton and Melbourne hard-nut Brock McLean has slammed former coach, Mick Malthouse, saying he came to the club for the wrong reasons.
McLean spent two seasons under Mick Malthouse during his controversial tenure at the Blues. The 157-gamer spoke about the appointment of Malthouse, who took over from Brett Ratten when he was sacked during the 2012 season.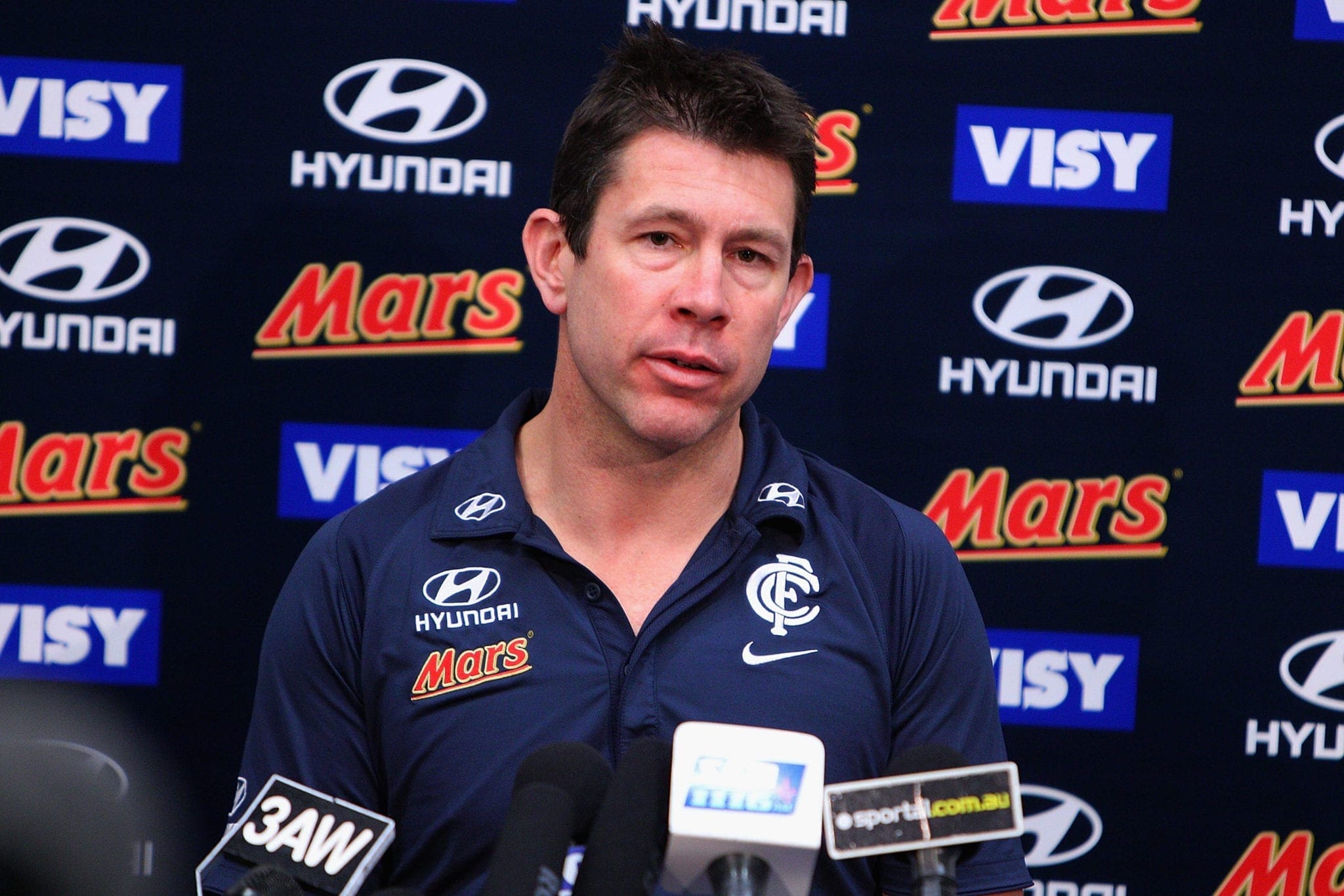 Speaking on Back to the Bench TV, McLean said that the decision to sack Ratten was a poor one and that the club hadn't done their homework when appointing Malthouse.
"I really don't think the club did its research enough and did its due diligence enough," said McLean.
"They made a knee-jerk reaction to sack Ratts (Brett Ratten) after we lost to the Gold Coast up there. We won 10 or 11 games that year and just had a bad run with injuries and they rushed in their decision.
"Their decision to appoint Mick without actually interviewing him or going through the whole sort of process was just a real, real shortcut way of getting a coach in.
"I just think from a lot of the stuff that Mick said within the footy club was just that he was there for the wrong reasons.
McLean said that while he understood why Malthouse felt he had a point to prove after his Collingwood departure, he felt that Malthouse had set the Blues back by the time he left.
"I really felt like he still had a bee in his bonnet from what had transpired at Collingwood and rightly so," the 35-year-old said.
"I can understand why he was feeling quite pissed off about that but he certainly wasn't the right fit for the Carlton Football Club and that showed in the way we played and it showed how far (backwards) the club went in the two or three years he was there."
McLean isn't the first former Blue to say the coaching games record holder had set the club back. Nick Graham recently spoke out on his former coach as well saying that Malthouse had done plenty of damage while at the Blues.
Speaking on the Real Talk with Beno podcast, Graham said Malthouse came to the Blues for selfish reasons.
"I think when he got to Carlton, I don't know if he was there for the right reasons and that probably showed amongst the group and hence why he probably had a few people offside," said Graham.
READ MORE: "Set the club back five or six years," former Blue blasts Malthouse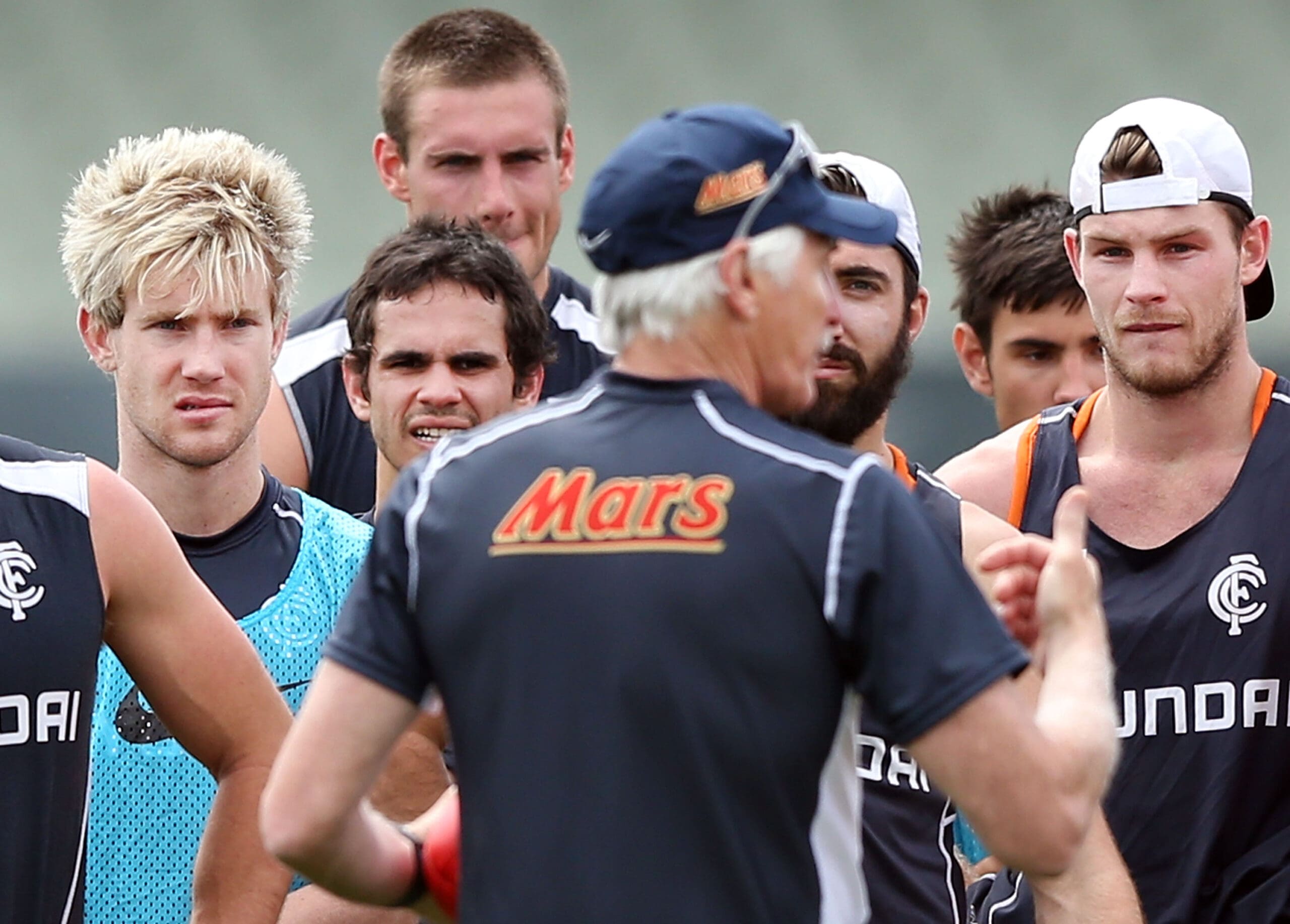 "Mick I think was really trying to hang on to his coaching career to hit that AFL games coached record and I think when he was there he was really big on playing the older guys because he wanted the wins under his belt to try and hold on.
"He probably set the club back five or six years, a very ego-driven man, Mick."