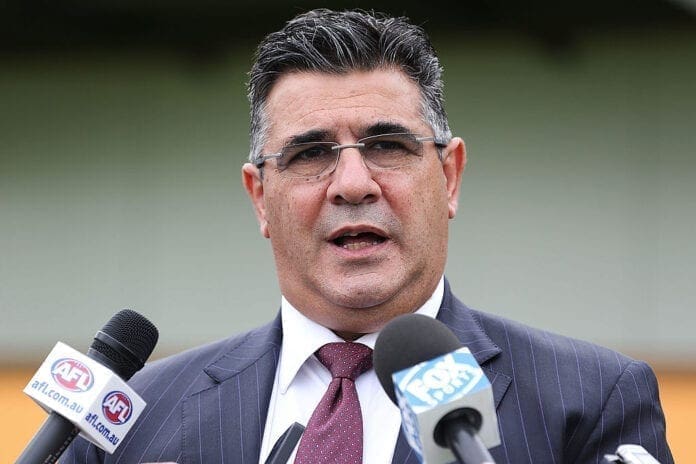 Former AFL chief executive officer Andrew Demetriou has publicly praised Eddie McGuire for his tenure as Collingwood President stating that the 56-year-old had a "profound impact" on both his club and the game, per The Herald Sun's Rebecca Williams.
Following his statement on SEN regarding McGuire's resignation from the position, the former league boss took aim at the 'Do Better' report, claiming that it required a "lot more detail" and that did not "subscribe to the theory" that the Magpies are a "racist football club".
LISTEN | Former @AFL chief executive Andrew Demetriou joined @GerardWhateley for an extended chat about his experience working with Eddie McGuire. https://t.co/BXEEbRZ6pj

— Whateley (@WhateleySEN) February 9, 2021
Demetriou also stated that McGuire's departure was "unfortunate" and not the way that the he "deserved to go out" after more than two decades in the role.
The 59-year-old former North Melbourne and Hawthorn footballer expressed that after reading the explosive report in its entirety, he felt that it contained numerous "unsubstantiated issues".
"I understand what the report was saying and I respect what the authors have written, but there were seven examples there over a long period of time – over 50 years – and there were some perceptions written about, unsubstantiated issues in there," Demetriou said.
"I thought the report needed to have a lot more detail in it to be honest.
"But the report doesn't lie about the issue. The issue is real and it's an issue we've got to confront continually."
Whilst presiding as the league's CEO between 2003 and 2014, Demetriou felt that both Collingwood and the game had made "significant progress" in regards to racism.
"I think the Collingwood Football Club has made huge progress over the years," he said.
"The report went back 50 years, it highlighted Syd Jackson. If you went back 50 years for every football club and most – if not all – organisations in this country well you would probably get the same outcome.
"When I was playing football I can't remember a day when I didn't get called an "f***ing wog" on the football field. We have made significant progress.
"I don't subscribe to the theory that it's completely broken and we're a racist code or Collingwood is a racist football club. There has been significant progress made.
"But it's a continuing process to keep dealing with these issues that crop up."
Despite his acrimonious exit, McGuire's impact on the code was lauded by Demetriou.
"There is no doubt he has been the highest-profile president that we have seen but not only has he been high profile, he has been a doer, he's been a heavy lifter, he has made a profound and significant contribution to the game," Demetriou said.
"I dare say off-field from a president and honorary role, I can't think of anyone that would have made such an impact on the game.
"He has been a big change merchant, a big advocate for the game, a big positive for the game. Notwithstanding that he's had issues, but everyone does … it's human nature."
In addition to these views, Demetriou divulged that McGuire had offered him the position of Collingwood CEO while the former player was working for the AFL Player's Association.
"He came to the club at a time the club was really struggling and it was on its knees financially and there was a lot of division at the club and issues off-field," Demetriou said.
"I remember that time pretty significantly because I had started at the AFLPA mid-1998 and probably the end of 1999 Eddie took me out for coffee in Bridge Road, Richmond, and offered me a job to be CEO of Collingwood while I was at the AFLPA.
"I didn't know at that point in time I was going to head to the AFL – I politely declined.
"But he must have seen something in me that he thought might work. But less than a year later I was at the AFL as general manager of football operations."
Continuing his warm tribute, Demetriou mentioned that McGuire was more than a man of his word.
"It was very clear. We were at a coffee shop in Bridge Road and he walked me out to his car … he wheeled out the plans for the Lexus Centre – and said 'this is what I want to build at Olympic Park and I want you to be part of it and this is where I want to take the club'," Demetriou said.
"He, like really good leaders, had a vision for the club that he saw probably more clearly than anyone else and he articulated that vision and he delivered on that vision.
"Everything he told me he was going to do at that time he did, he did it in spades and he did more."