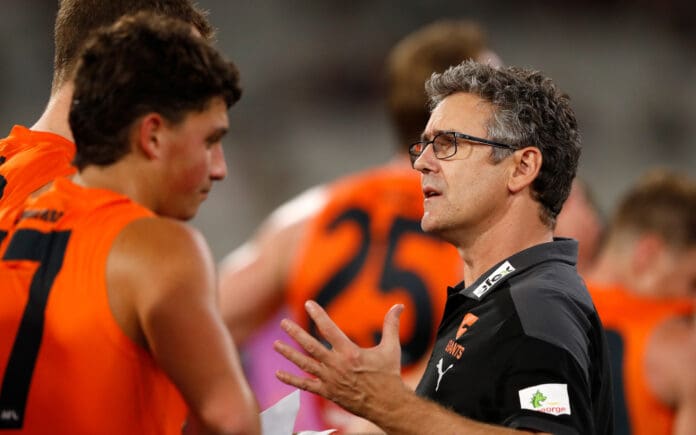 After making a semi final last year without a full-strength team, GWS were one of the teams to watch in 2022 as a potential dark horse flag contender.
It's apparent six rounds in that's no longer the case.
Their fixture hasn't been a gauntlet by any stretch - they've played teams such as St Kilda, Gold Coast and Richmond who were considered, at best, on a similar trajectory heading into the season.
Honestly, GWS look like a team with zero soul or energy.
They go quarters at a time without looking like scoring. Even when they do score, everything is hard work.
GWS rank 16th for points per game and are 11th for inside 50s (I50s) - they ranked 16th for goals per I50 heading into Round 6 (19.5%).
They aren't generating a sufficient number of I50s but also aren't potent enough to make the most of their limited chances.
They've mustered scores of 60, 53 and 54 in the last three rounds - arguably decent scores from an AFL team in the 70s, woefully poor in 2022.
‍There's a lot that isn't going right. Here are some of the key reasons for GWS's drop off:
Stagnant and unadventurous ball movement
GWS play with little dare or adventure when exiting their D50.
Off turnover, they are slow to transition into offence - often electing to go long down the boundary side rather than explore the corridor.
For the number of talented ball users and line breakers out of their back half, there's no speed on the ball with the Giants.
The lack of kicks through the corridor or overlap run with handball receives is staggering at times.
No one expects GWS to play like the Western Bulldogs, but some handball chains from the likes of Lachie Whitfield, Lachie Ash, Josh Kelly, Harry Perryman and Adam Kennedy are few and far between.
It's disheartening the amount of times GWS switch the ball from one side of their D50 to the other, losing territory in the process, before it ends up with a Keefe or Haynes who can't do anything but kick long.
‍The other issue is that GWS don't generate enough rebound 50s (R50s) - they rank 12th in the AFL averaging 38 per game, even though they are 8th in conceding inside 50s (I50s).
This is a culmination of two factors.
GWS are the worst team in the AFL at forcing turnovers (63 a game) and generating intercepts (67 a game).
Both of these are massive focus points in the modern game because they help teams generate easy scores in their forward half and also help create transition opportunities out of the back half.
When the ball enters GWS's back half, it usually doesn't come out.
‍Ultimately, it means GWS struggle to generate sufficient scores from their back half.
This limits their scoring upside outside of the common avenues to goal.
When other aspects of GWS' game are taken away from them and they don't have back-half scores to lean on, we start to see the scores we've seen in the last three weeks.
‍The Midfield Shuffle
‍GWS pride themselves on being 'bulls' on the inside, winning contested possession and playing a territory game in their forward half.
GWS are the best clearance team in the AFL and it seems to be the only way they look like winning right now.
The problem is, GWS don't know what their best midfield mix is and, quite frankly, play too many similar skill set players together.
‍Why Leon Cameron plays Kelly on a wing for a portion of the season before remembering that he's the one midfielder who provides a point of difference on the inside with his class and vision is beyond me.
Tim Taranto has shown to be quite one dimensional but he's been elite this year as an inside, defensive-minded midfielder.
Yet against St Kilda, he played predominantly as a high half-forward and sometimes even deep forward - attending only 32% of centre bounces.
‍But that's the difficulty, Taranto's similar to the other midfielders in Green (who's gone past him), Stephen Coniglio, Callan Ward and Jacob Hopper - it's a logjam and they lack pace as a midfield group, and it shows.
‍It gets back to a broader issue with GWS where it seems like offensive creativity isn't celebrated or endorsed.
‍What has happened to the exciting run and dash from Ash that we saw in his first few years?
Right now, he's playing as a nullifying tagger.
What about Perryman's ability to be a dangerous, goal-kicking wing who worked the angles well on either side of his body?
He's now a lock-down defender.
Coniglio and Whitfield, while both have looked better in recent weeks, are shells of their former dynamic selves.
‍Defensive lack of discipline and organisation
‍For all of their scoring issues, GWS aren't defending the ground well either.
Some of it is structural, other times it's odd coaching moves - like deciding to play Lachlan Keefe on Max King rather than Sam Taylor - but some of it's just a lack of concentration and discipline.
‍I'm certain GWS would have reviewed throughout the week how much St Kilda like to use handball receives from their back half to get pace in the game.
GWS would have also been aware that they are practically the worst team in the AFL at conceding points from defensive half chains (17th with 42.2 points a game).
‍But sure enough, GWS paid St Kilda zero respect with it. This is from two of their leaders and it's inexcusable:
First, Whitfield turns his back on Jack Sinclair and allows him to tick lead into dangerous space for a mark.
At the same time this is occurring, Coniglio lets Paton walk right past him while he defends grass in a nothing area of the ground.
Paton then runs unattended for the handball receive and has the time to kick over GWS' press to Membrey, resulting in an easy goal.
This was in the first 10 minutes of the game, and these errors happen weekly.
‍This 2022 version of the Giants is a far cry from the 'Ferrari' we used to label GWS.
Albeit personnel has changed, there are still a number of players from that prelim side with a crop of talented youngsters around them.
‍Personally, I think it's time for Cameron to go.
I hate making the coach a scapegoat for a team's poor performance but it's clear GWS need a breath of fresh air.
He's been at the club for nine years now and took them to a grand final with many other finals appearances.
But GWS are battling.
It's time for a change and for GWS to explore a shift in game style
Get back to what made them so tantalising to watch and difficult to plan for.
‍Adelaide in Adelaide doesn't get any easier.