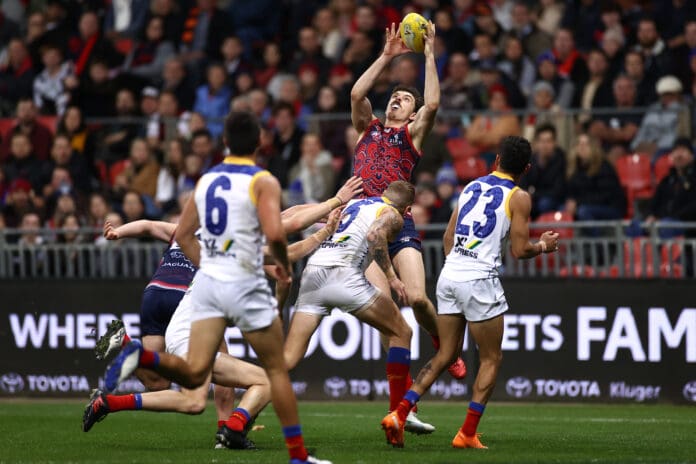 Jake Lever is an All Australian defender this year and one of the best in the AFL. The plaudits should come his way given he's one of the most impactful players on one of the best teams in the AFL. Yet, it feels like he isn't getting as much credit as he deserves. This is especially the case when you begin to put his year into context. Lever has averaged 4.2 intercept marks and 10.6 intercepts a game (Ranked 2nd and 1st in the AFL).
Per Fox Footy, no other player in AFL history has averaged more than four a game for an entire season since statistics have been recorded (both Lever and Liam Jones are on track to break this). It's a historical feat for a defender that was first maligned and questioned when he came to Melbourne. Part of the scrutiny was warranted due to how much Melbourne paid to acquire Lever (two first round picks). Yet, his form and more importantly his chemistry with Steven May are key reasons why Melbourne are a genuine premiership contender this year.
Much of Lever's intercepting dominance is by design. Melbourne will often set up with a loose behind the ball given Lever's marking ability and his ability to read the play. We explained earlier this year how Melbourne have tried to manufacture this as much as possible. But for this to be an advantage for Melbourne, it requires a player who has both the smarts and timing to pull it off. Lever has perfected this role.
For NFL fans, Lever plays like a free safety. He roams an area of space to close down leading lanes or create hesitancy for the ball carrier when they look up and see Lever. Adelaide overassessed the ball by hand multiple times on the weekend because each time they'd look to kick, there was Lever in the perfect position to impact ahead of the ball.
Look at how he dictates Cripps's decision making by hedging into Darling's leading space. Lever defends both the corridor option and the boundary. He forces Cripps to think twice and ultimately hold onto the ball. This is a win for Melbourne in most instances given it was a fast play scenario for West Coast.
(Yes, Cripps then kicks this goal with the wind behind him.)
Melbourne has full confidence in Lever's ability to read the play and provide an overall advantage to the team. Melbourne dare teams to allow them to generate a +1 with supreme confidence that Lever's influence will outmatch any oppositions extra at either the stoppage or their own +1 defender. Lever's role is even more effective when Melbourne put enough pressure around the ball, as they have for most periods of this year.
What about when Lever can't play as the extra? The intercepts still arise in a normal defensive scenario because Lever is aggressive in his starting position. He likes to play in front of his direct opponent and launches to mark. Lever has full confidence in his ability to read the ball better in the air than his opponent. Even when it isn't in his opponent's immediate vicinity, he has conviction in his decisions and backs himself to come off his own man to impact another contest.
The knock on Lever has always been his one-on-one defence.
He may have been poor to begin his career, but it's overstated now. The numbers suggest in defensive one-on-one scenarios Lever is solid with a contested defense loss rate of 29%. Whilst Harris Andrews, May, and Jones have lower loss rates, Lever is around the mark or better than Sam Taylor, Sam Collins, and Dylan Grimes. Lever can get pushed off the ball by stronger forwards at times but it's not a common occurrence nor is it a weakness. It's more that he is so much more dominant as an intercept 'come off his man and mark' defender than he is assuming a one on one lockdown role. I have no doubt that May could play this role to the same level if not better than Lever. But May is a far better one on one defender thus providing better balance to Melbourne's defence. This attests more to the all-round brilliance of May as both a one on one and intercept defender than to Lever's inability to defend 1v1.
There's no selfishness to Lever's game. He doesn't launch for his marks when he is out of position. He often correctly decides when to spoil instead of mark, understanding that in certain scenarios a throw-in is a better result for Melbourne than a risk that a difficult intercept mark isn't taken and the ball remains alive at ground level.
Lever averages 6 spoils to go along with those intercept numbers. Only 4 other players average 3+ intercept marks and 6+ spoils a game – Andrews, Jacob Weitering, Jones, and Taylor. All four are All-Australian possibilities. So not only does Lever generate counter-attack opportunities through his marking prowess, he defends strongly in the air when required.
Lever's ball use is sound for a key position player. He has a nice step out of traffic to give himself extra time and is reliable enough by foot (80% kicking efficiency). Believe it or not, Lever's capable ball use is important considering he constantly wins possession back for Melbourne with his intercepts. He is commonly the first player in a new potential scoring chain so it's essential that Lever can hit targets in order for Melbourne to take full advantage of their +1.
Here's a prime example of this.
Lever reads this Ben Keays kick before anyone else and drifts back to mark. But then he also has the vision and ability to hit this aggressive kick and set up a scoring opportunity.
At the time, the price paid for Lever was a massive overpay by current AFL trading standards. Today, Melbourne would feel as if they easily won the trade and it's hard to argue with them. Lever is a genuine matchup nightmare for opposing teams as a defender! Most haven't figured out how to quell his influence even with a forward tag. But how to stop his impact is a difficult problem for teams to solve. Teams have tried to isolate Lever away from the immediate vicinity of marking contests but Lever has shown that he'll zone off on that player at every opportunity he gets. Getting the right match to make Lever accountable is difficult because he dictates who he plays on. If it isn't a lead-up forward that the opposition has emphasised going through it won't make Lever accountable. He matched up a number of times on Murphy and McAdams on the weekend and knew exactly when to peel off them and impact in the air. Teams need to go in with a clear match-up and plan for Lever otherwise he will continue to have a significant impact in the finals.
Outside of everything he does individually, the Demons would note that he provides so much more. Don't be surprised if Lever is Melbourne's next captain. He's a general on the field and is always coordinating traffic from behind. This year, Lever has been interviewed a few times post-game and he always seems to have lost his voice. His communication out on the ground is remarkable – it's noticeable live at the ground. Melbourne are so organised as a back six group and Lever is the key reason why. How Melbourne is positioned behind the ball and how organised they are can't be measured by statistics but it's evident that Lever puts his stamp on the game both through his own play and his voice. The trade was worth it simply because of Lever's leadership alone.
Jake Lever is arguably the most important player on the Demons for opposition teams to solve in the finals.
Will teams allow Melbourne to generate Lever as the +1? Or put attention into him and not allow him to be comfortable in his free safety role?
Lever is a master at this and will play even more of a pivotal role in the finals given the added pressure around the ball and higher amount of stoppages. It's an exciting next month for the Melbourne Demons. They should be considered the favourite to win the flag from here.
Jake Lever is having an historical season – one that may result in the first Melbourne premiership since 1964. He has a chance to have a big say on whether that day finally eventuates.
This article was originally published on Footy Talking Points.