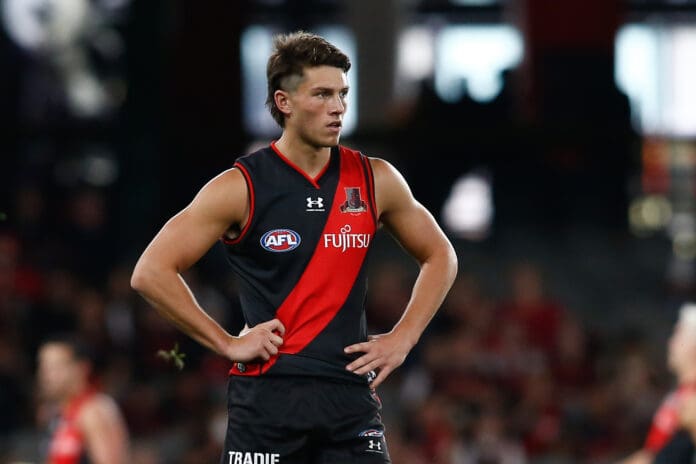 Essendon were deplorable against Fremantle. They allowed the Dockers to dictate the game in the second half without any show of fight. I praised Fremantle last week for the subtle tweaks and improvements they've made to their defensive structures and it was apparent on Sunday.
Well, today it's very much the opposite with Essendon. But to save you all from reading another lengthy bashing of the Bombers, I am going to list some key statistics that really emphasise where things are going wrong and why (spoiler alert: there's a lot going wrong).
‍Essendon's midfielders refuse to defend with little to no organisation around stoppages. They rank dead last for stoppage clearance differential in the AFL, meaning they have the largest discrepancy in stoppage clearance losses each week (-6).
| | |
| --- | --- |
| Statistic | |
| Stoppage Clearance Differential | 18th |
| Contested Possessions | 17th |
| Tackles | 18th |
Of course, winning the clearance battle isn't everything. Melbourne are miles ahead of the competition and even they are poor in the clearance battle. But they are one of the best teams at winning the ball post clearance.
Essendon are poor in both areas, mostly because their shape and balance around the contest is uncoordinated and disorganised. Midfielders like Darcy Parish, Andrew McGrath and Dylan Shiel are 'bees to a honey pot'. They all hunt for the ball and rarely have the awareness to hold their shape when a teammate is in a better position to win the initial possession.
There are countless occurrences this season where Essendon's inside mids disregard the importance of the sweeper role, don't win the initial possession and allow their opponent to exit through the front of the stoppage.
Naturally, this means Essendon are playing a game of 'all or nothing' where they either win the initial possession inside or are completely exposed on the outside. But that's not even the case.
They are ranked 17th in the AFL for contested possessions. They aren't winning the disputed ball.
It gets worse. Their pressure is non-existent and they are failing to do the simple things, such as checking an opposition's run after they dispose of the ball or to locate a man outside their own D50 - defence 101 kind of stuff.
These efforts were common on Sunday:‍
Essendon are ranked 18th in the AFL for tackles even though they gather 18 fewer disposals on average a game. A team that gives up ten unanswered goals has holes everywhere but when that same team is giving up on average over 100 points every week, that isn't an anomaly, it's a problematic trend.
It starts and ends with the midfield and plenty of blame can go to Essendon's midfielders, but not all of it...
| | |
| --- | --- |
| Statistic | |
| Tackles I50 | 15th |
| Shots per game | 14th |
| Contested Possessions | 15th |
| Tackles I50 | 17th |
‍Essendon cannot lock the ball in their forward half. Guys like Archie Perkins, Matt Guelfi and Alec Waterman are high half forwards that provide little pressure once the ball hits the ground, resulting in easy exits for opposition teams.
The statistics back it up, with Essendon ranking 15th for tackles inside 50. Turnovers are king in modern football and Essendon's forwards and midfielders don't generate nearly enough when they don't have the ball. They are 17th for turnovers caused. That's the key difference between a team like Fremantle - who are generating easy scores by being one of the best forward half turnover teams.
An interesting thing to consider and a likely reason for this disfunction is just how inexperienced Essendon's forward line actually is. At one point on the weekend, they had Peter Wright, Perkins, Nik Cox, Waterman and Ben Hobbs all in the same forward line. None have played over 100 games and most aren't even close to 50. Essendon are setting them up to fail with a lack of direction and leadership down there.
Further, Essendon are one of the worst inside 50 differential teams in the AFL, averaging seven less a game. This is reflected in their shots on goal, averaging only 22.6 shots a game (4th worst in the AFL).
The Bombers aren't giving their forwards sustainable opportunities but they aren't taking their limited opportunities either. Not a good combination for kicking a winning score.
| | |
| --- | --- |
| Statistic | Percentage |
| No. of quarters won | 30% (6/20) |
‍The most damning statistic of all: Essendon have only won 6/20 quarters this season.
This is a BIG warning sign for Ben Rutten. This isn't a slow start nor a tough fixture situation. Whatever defensive philosophy he came into the season with is unidentifiable watching this team. What were the key points of emphasis and improvement areas that Rutten flagged in the pre-season?
‍There is little structure or balance with their midfielders. Their forwards don't emphasise covering off exits, leaving their defenders on an island. They simply do not defend sufficiently for long enough, especially when momentum is against them.
‍This isn't a quick fix either because there are so many issues to remediate. It's old school but Rutten needs to strip things down to a basic level defensively.
‍Midfielders are given defensive starting points and told to beat their individual opponent. Changes are made to their forward structure to ensure that there's enough pressure around the ball when it hits the ground and taht their talls are bringing the ball to ground (something they were poor at allowing Alex Pearce to mop up everything that came in).
‍We are only five rounds in but it feels like we are quickly approaching a fork in the road moment for Essendon's long term vision come ANZAC Day. The AFL competition can leave you behind in a heartbeat.
Essendon better figure it out quickly or that's exactly what will happen.