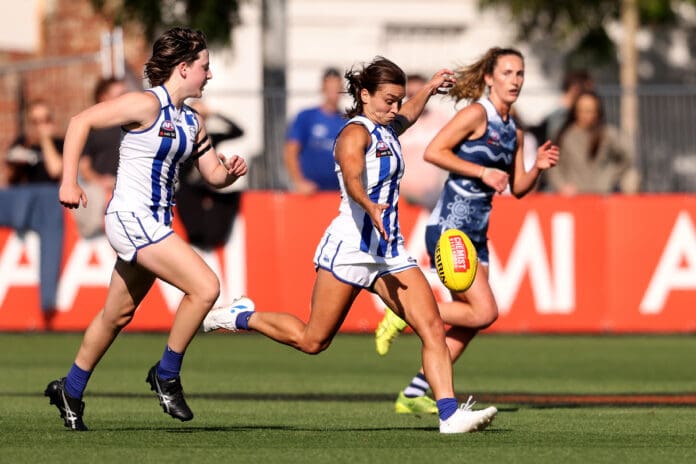 The Coaches' votes for the opening round of the 2022 AFLW season have been released, with five players managing to poll a perfect 10 votes from the weekend.
Each round, coaches from both sides will award votes the those best afield to culminate the AFL Coaches Association AFLW Championship Player of the Year, with votes awarded on a 5, 4, 3, 2, 1 structure.
The first round saw a Tigers star put the rest of the competition on notice, while some household names at the Dockers, Kangaroos, Crows and Giants were also awarded best-afield honours.
St Kilda v Richmond
Tigers midfielder Monique Conti ran the show on Friday night, putting together a stunning stat-line to the tune of 29 disposals, 17 contested possessions, nine clearances and seven tackles to claim unanimous polling of 10 votes.
Attacking Richmond trio Courtney Wakefield, Katie Brennan and Meagan Kiely were also among the vote-getters after combining for six goals.
10 Monique Conti (RICH)
8 Tessa Lavey (RICH)
3 Courtney Wakefield (RICH)
3 Katie Brennan (RICH)
3 Meagan Kiely (RICH)
2 Gabby Seymour (RICH)
1 Sarah D'Arcy (RICH)
North Melbourne v Geelong
Equalling the all-time possessions record of 35 touches saw Ash Riddell claim 10 votes by the coaches, with the Kangaroos star having also amassed 22 contested possessions.
Jenna Bruton was also among the top accumulators and won six votes of her own, while Cats best and fairest Amy McDonald was also among the best despite the loss.
10 Ashleigh Riddell (NMFC)
6 Jenna Bruton (NMFC)
6 Amy McDonald (GEEL)
4 Georgie Prespakis (GEEL)
3 Madeline Keryk (GEEL)
1 Emma King (NMFC)
Western Bulldogs v Melbourne
Coaches struggle to split the likes of Eden Zanker, Tyla Hanks and Ellie Blackburn from Saturday night's showdown between the Demons and Dogs, with the former coming out on top with nine votes.
Demons forward Hore was rewarded with three votes for her two-goal effort, while defensive teammate Libby Birch was also among those to poll following a strong effort down back.
9 Eden Zanker (MELB)
8 Tyla Hanks (MELB)
7 Ellie Blackburn (WB)
3 Kate Hore (MELB)
3 Libby Birch (MELB)
Fremantle v West Coast
A three-goal outing against arch-rivals West Coast had Ebony Antonio secure 10 votes in the Western Derby, while star teammates Emma Swanson and Kiara Bowers managed to poll six votes each.
Dockers skipper Hayley Miller and forward Gabby O'Sullivan were also among the vote-getters.
10 Ebony Antonio (FRE)
6 Emma Swanson (WCE)
6 Kiara Bowers (FRE)
4 Gabby O'Sullivan (FRE)
4 Hayley Miller (FRE)
Adelaide v Brisbane
Anne Hatchard was seen as best afield in the grand final rematch on Sunday, having recorded 26 possessions, 366 metres gained, seven marks and seven tackles in the impressive outing over the Lions.
A four-goal haul from Ashleigh Woodland has her sitting atop the league's goalkicking leaderboard, while also being among the top bracket for coaches votes after securing eight to her tally.
Despite the 30-point loss, Lion Orla O'Dwyer amassed four votes as the only Brisbane player to poll.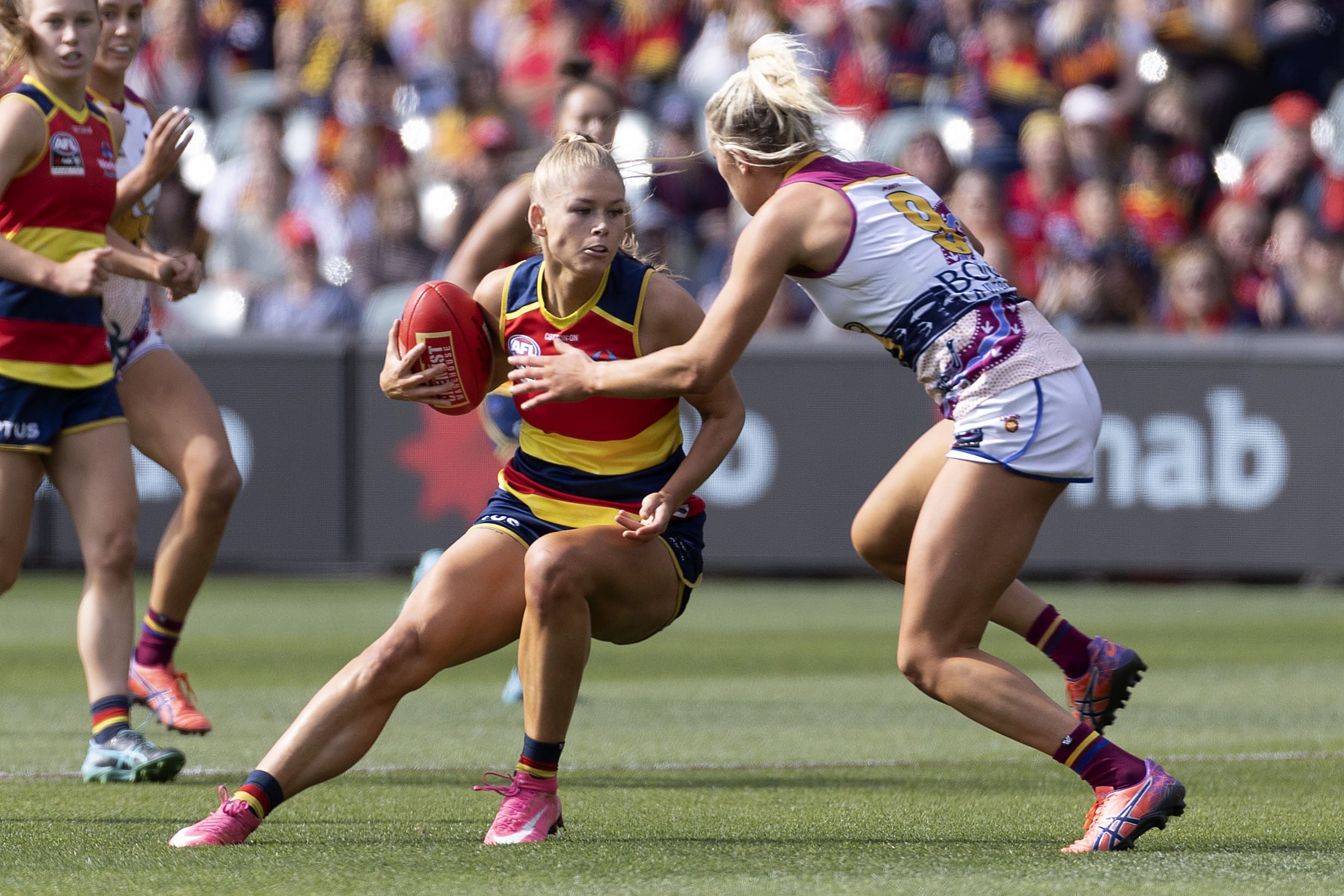 10 Anne Hatchard (ADEL)
8 Ashleigh Woodland (ADEL)
4 Orla O'Dwyer (BL)
3 Rachelle Martin (ADEL)
3 Eloise Jones (ADEL)
1 Chelsea Biddell (ADEL)
1 Ebony Marinoff (ADEL)
Carlton v Collingwood
Magpies onballer Jaimee Lambert was seen as best-on-ground from Sunday's four-goal win over the Blues, with teammates Sarah Rowe, Ruby Schleicher and Jordyn Allen also polling votes.
Carlton ruck Breann Moody notched up five votes for her dazzling performance, while midfielder Madison Prespakis came away with a sole vote.
8 Jaimee Lambert (COLL)
7 Sarah Rowe (COLL)
5 Breann Moody (CARL)
5 Ruby Schleicher (COLL)
4 Jordyn Allen (COLL)
1 Madison Prespakis (CARL)
Gold Coast v Greater Western Sydney
Giants star duo Alicia Eva and Alyce Parker stole the show on Sunday night, coming away with 10 and eight coaches votes respectively.
The duo were key in GWS' 15-point win away from home to the Suns, with Haneen Zreika also having a large hand in the victory to poll six votes.
10 Alicia Eva (GWS)
8 Alyce Parker (GWS)
6 Haneen Zreika (GWS)
4 Kalinda Howarth (GCFC)
1 Lauren Bella (GCFC)
1 Rebecca Beeson (GWS)
Leaderboard
10    Ebony Antonio    FRE
10    Monique Conti    RICH
10    Alicia Eva    GWS
10    Anne Hatchard    ADEL
10    Ashleigh Riddell    NMFC
9    Eden Zanker    MELB
8    Tyla Hanks    MELB
8    Jaimee Lambert    COLL
8    Tessa Lavey    RICH
8    Alyce Parker    GWS
8    Ashleigh Woodland    ADEL
7    Ellie Blackburn    WB
7    Sarah Rowe    COLL
6    Kiara Bowers    FRE
6    Jenna Bruton    NMFC
6    Amy McDonald    GEEL
6    Emma Swanson    WCE
6    Haneen Zreika    GWS
5    Breann Moody    CARL
5    Ruby Schleicher    COLL