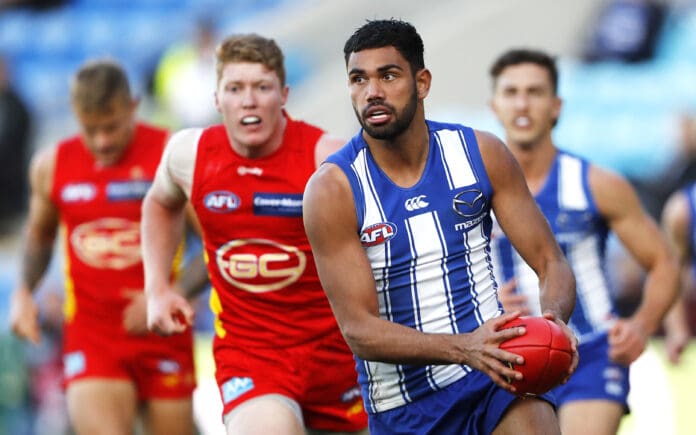 North Melbourne have confirmed Tarryn Thomas has again been ruled out of playing for the Kangaroos at either AFL or VFL level for the foreseeable future after failing to meet expectations in relation to his respectful behaviour and education training.
The club has noted they are aware of further allegations made against Thomas this week that alleged the young Roo has acted inappropriately towards women.
North Melbourne have placed Thomas on a new plan "to address his issues of accountability, remorse and behaviour", with the 22-year-old having failed to meet expectations after being placed on a behavioural training program last month.
"Thomas' failure to meet expectations around his education program means the club will now create a new plan to address his issues of accountability, remorse and behaviour change," a club statement read.
Thomas will not be involved with the Kangaroos' playing group, with the club mulling their next plan of action.
"We reiterate the strong stance that North Melbourne takes towards respectful behaviour towards women," CEO Jennifer Watt said.
"We are still committed to supporting Tarryn however it is clear he must show further progress before he can return to play matches for North Melbourne."
Thomas joined the Kangaroos as a first-round selection at the 2018 National Draft as a Next Generation Academy prospect. He has played 57 games for the Kangaroos at AFL level in four seasons.
In a separate matter, Thomas was charged with one count of threatening to distribute an intimate image by Victoria Police in January. That case is still pending.
North Melbourne will face Fremantle at Optus Stadium on Saturday night for their Round 2 match of the AFL season.