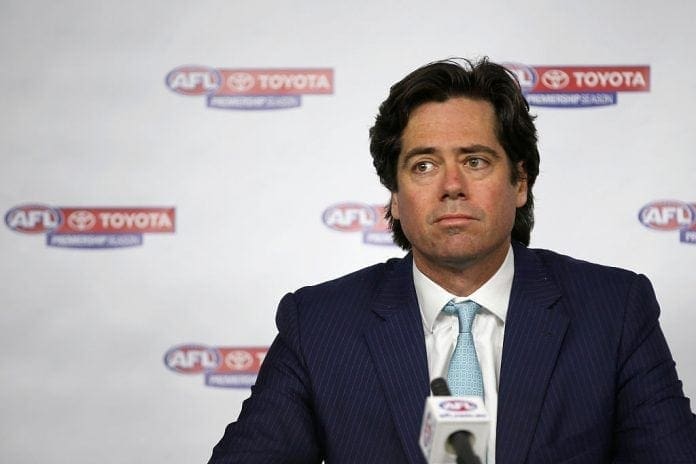 The radical 17-5 fixture proposal still remains a possibility for 2018.
AFL CEO Gillon McLachlan said that while is a long shot to be introduced next year, it still remains on the cards.
The 17-5 fixture would see every team play each other once in the first 17 rounds of the season, with the ladder then broken up into three groups of six for what would essentially be five weeks of play off rounds.
The top six teams would play off for the top-four spots, teams 6-12 on the ladder would play off for the final two spots in the top eight and the bottom six would playoff to decide the order of the draft for that year.
The thinking behind the proposal is to ensure matches towards the end of the season remain relevant, with attendances and TV audiences greatly diminishing when two teams who cannot reach the finals play against each other in the later rounds.
"It is an incredibly important piece of work that is being done," McLachlan said.
"[It] doesn't guarantee that we will get there but the [working party is] looking at how they deal with the issues that are being raised.
"2018 would be pushing it.
" [but] it is a process that theoretically has an eye to 2018."
[polldaddy poll=9660580]