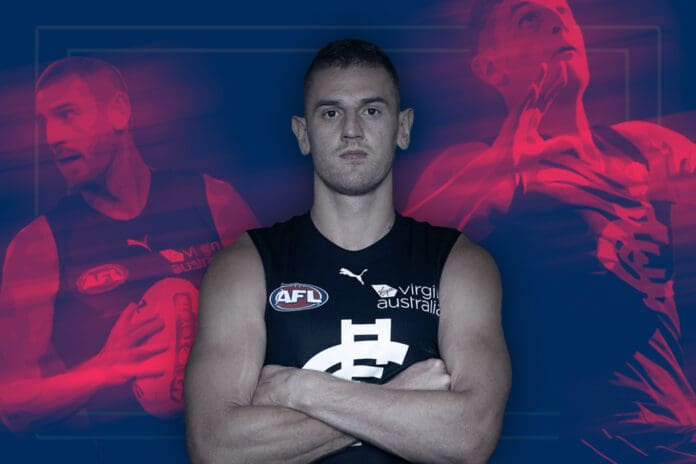 Carlton defender Liam Jones has opened up on why Sir Doug Nicholls Round means so much to him.
The AFL will celebrate the Indigenous community and their contributions to the game across two weeks in Rounds 11 and 12 this year.
Speaking exclusively to Zero Hanger, Jones spoke about his family and their ancestral origins.
"My family originates from the Halls Creek area in the Kimberleys, that stems from my grandmother Daisy Kija who was a part of the stolen generation," Jones said.
"She was taken from Turkey Creek to the mission in Moola Bulla.
"I've got family stemming from Broome all the way up to Northern Territory, Nan made her way up to Darwin and met my Pop on the beach and then my Dad was born and raised in Darwin."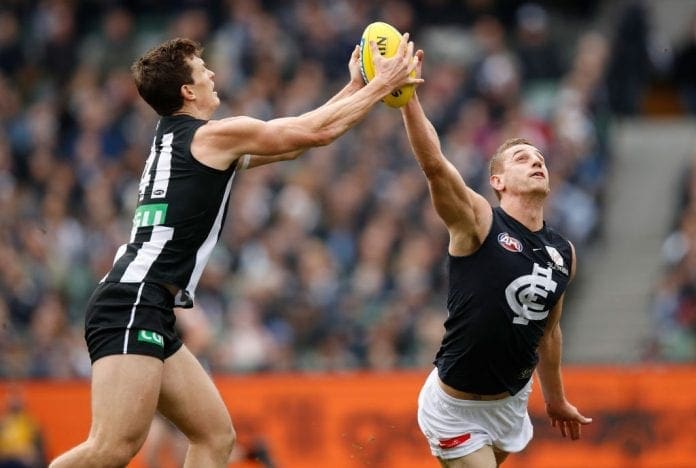 Jones was voted into Carlton's leadership group this year and has been heralded by his teammates for his ability to lead by example.
The 30-year-old said that even before he was a leader he has always tried to help educate his teammates about indigenous culture.
"The thing that I try and get across to the group is that it's not disrespectful to ask questions," he added.
"So I try to urge the group to ask as many questions as possible because I'm still learning so much about my culture. The players are really inquisitive but I think they feel comfortable to ask questions and educate themselves.
"With education comes knowledge and understanding and respect for the Indigenous people."
This year Sir Doug Nicholls Round will be celebrated over two weeks as the round continues to grow every year. Jones spoke about how important the Round is to his family.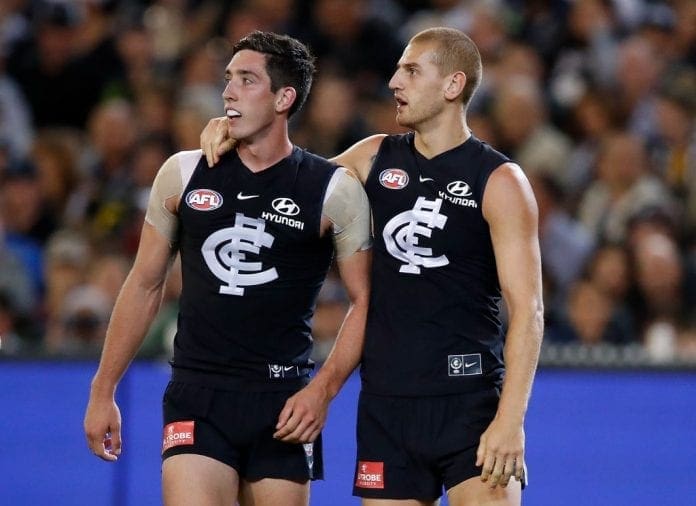 The forward-turned-defender told Zero Hanger that he loves making his family proud and loves the way the Round is celebrated every year.
"It means a lot, if I ever get up to the Kimberleys or speak to family on Facebook they're just so proud seeing me run around on TV," Jones said.
"To represent the beautiful artwork on the jumper and get your boots painted up is so special and I hope my family and wider indigenous community around Australia are proud that the culture is being celebrated."
Eddie Betts has long been a leader and role model for indigenous players across the league for years now. Betts has always been adamant that education is the key.
They played in different eras, but Carlton favourites Syd Jackson and Eddie Betts became team-mates today to help promote Indigenous Round.

But the cultural influence on the game can never be fully celebrated until racism is abolished. @TJch9 #AFL #9News pic.twitter.com/FgfIL2I9JV

— 9News Melbourne (@9NewsMelb) May 25, 2021
Jones said that Betts' leadership around this space has been valuable to himself and others at the football clubs since the forward's return to the club.
"He's been great, taking a step back and seeing how he manages situations and how driven he is to change within the community is really inspiring," Jones said.
"He's someone to learn off, he is very educated and more experienced around the negative circumstances as well. He is a fantastic role model for myself and others, he never holds something against someone through all the bad times that he has had within footy."
Jones praised Betts' ability to still play football and entertain people despite not always being shown respect by fans.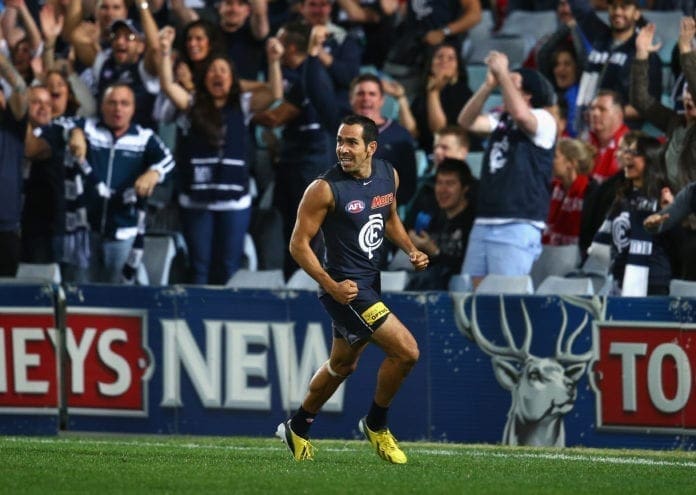 "He's still out there showing off his skills and driving the message home that he's a proud indigenous man."
Carlton unveiled their 2021 indigenous jumper this week. They will wear the jumper against the Swans in Round 11 and the week after against the Eagles.
The jumper was created by artist Laura Thompson who worked with Carlton's seven Indigenous players- Eddie Betts, Liam Jones, Jack Martin, Zac Williams, Sam Petrevski-Seton, Madison Prespakis and Natalie Plane - to design the jumper.
Only good vibes. 🔥 pic.twitter.com/zgf2INAlZB

— Carlton FC (@CarltonFC) May 25, 2021
Jones explained what the jumper stood for and what it represented.
"We had Laura Thompson in today to educate us around the artwork, the jumper represents us," he said.
"Laura had a word with us, it represents all us Indigenous players at Carlton. The men and the women.
"It represents Wurundjeri Country which was important to the artist. It connects us too our families, all our mobs names are on there as well."