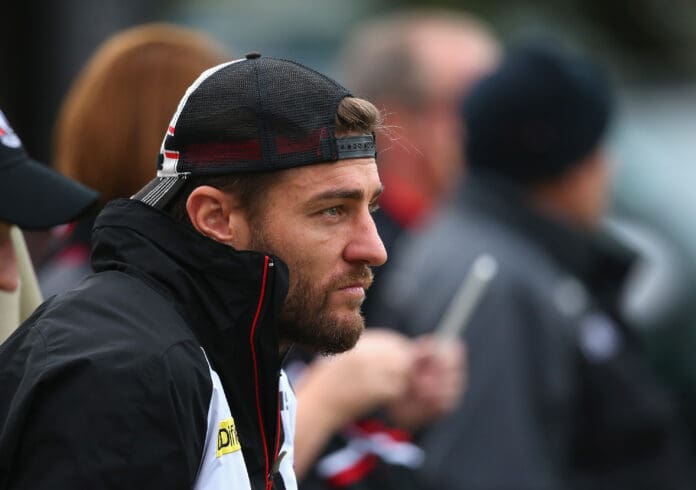 Former St Kilda defender Sam Fisher will fight allegations that he was involved in a cross-border drug trafficking scheme.
The one-time All-Australian and dual Saints best and fairest winner appeared in the Victorian County Court on Thursday to hear details of his future trial.
Fisher will be required back in court in February of 2024 before his estimated 10-day trial commences in April.
The 40-year-old pleaded not guilty to eight charges in December of 2022, one of which included drug trafficking.
Fisher, 40, was arrested in May of last year for his alleged involvement in a scheme that saw Western Australian Police seize one kilogram of methylamphetamine and 34 kilograms of cocaine.
The shipment in question is alleged to have a street value of more than $230,000.
The ex-Saint is said to have played his role in accepting regular shipments of illicit substances sent east across the Nullarbor.
Fisher was bailed and released from custody last July before checking into a rehab facility in an effort to aid with drug dependency issues.
"I've been in better positions in my life," Fisher told 7News earlier this year.
"There's been times where it hasn't been easy since coming out of rehab. Addiction doesn't discriminate, it's a disease
"I can't look too far ahead and I can't look behind too far, all I can do is control what I can in the present moment and that's doing the next best thing every day.
"I probably knew that I needed to go to rehab before I ended up in jail. I didn't have the courage to probably come out and admit that."
Prior to his commitment to abstinence, Fisher is said to have been using 30ml of GHB and methamphetamine on a daily basis.
Fisher was drafted by St Kilda from SANFL outfit West Adelaide with the 55th pick of the 2003 AFL Draft, playing 228 games for the Saints between 2004 and 2016.