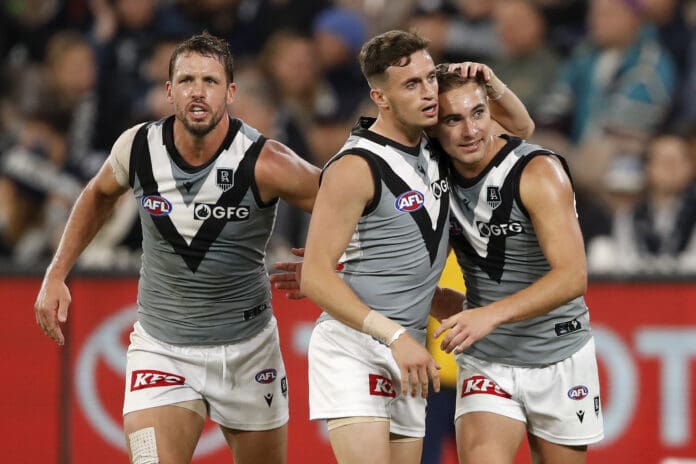 Whether it be on a playing list or in the coaches box, former Port Adelaide forward Boyd Woodcock is adamant his life remains within the AFL landscape.
After being delisted by the Power at the end of last season after three seasons and 12 appearances, the North Adelaide product has since ventured to Queensland for a fresh start in his professional career.
Being swept into the unknown in the wake of a surprising axing at Alberton, Woodcock soon had to weigh up the next chapter of his life, deciding to return to his roots with the Roosters or venture interstate.
Either way, Woodcock remained adamant the next step he took wouldn't conclude his dream of still featuring in the AFL.
Now with Southport for the 2022 season, taking on both player and coaching duties at the club, Woodcock is giving himself the best opportunity to use the VFL as a springboard back into the national competition.
Speaking to Zero Hanger this week, the Sharks recruit is planning to place his best foot forward in hope of rekindling his AFL career in the near future.
"It's the best job in the world. You get to do what you love every day," Woodcock said on his time with Port Adelaide.
"I want to get back into the AFL system. I want to be playing AFL footy. So for me, this year is about getting the most out of myself individually and the most out of the team as well.
BOYD WOODCOCK
Forward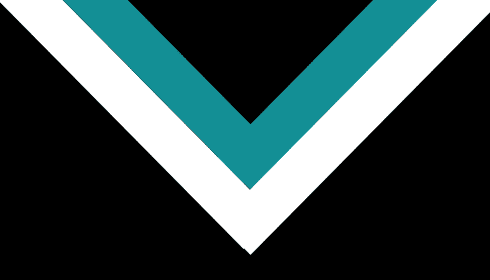 Port Adelaide

2021 SEASON AVG

10.3
Disposals

3.5
Marks

0.6
Goals
"In an ideal world, I get to win a VFL premiership and get drafted again, but who knows what will happen in the future. At the moment, I'm just focusing on getting myself fit and playing some good footy for Southport."
With clubs now having access to recruit outcasted past players across several avenues throughout the calendar year, opportunities will continue to arise for those that keep the flame lit on their dream of returning to the top flight.
Whether it be through the Mid-Season Rookie Draft, the Supplemental Selection Period, the off-season drafts, delisted free agency or as a potential top-up selection, Woodcock is solely focusing on the parts of his destiny he can control.
"That's the good thing about the AFL now, there are so many opportunities," he said.
"With COVID as well at the moment, I'm pretty sure they're looking at pre-supplementary lists. If positions were to become available for example at another club and they have me on their list, I could play AFL there.
"There are obviously lots of different pathways back into the AFL system, and I'm just doing what I can to get the most out of my body at the moment, training well, focussing on having a good season and controlling what I can control."
In what would be a benefit for players chasing a career lifeline, an AFL top-up player pool would come to the detriment of state league clubs who often heavily rely on their top bracket of players.
For the Sharks, their list is littered with ex-AFL figures, including Billy Gowers, Jacob Townsend, Jay Lockhart, Seb Tape, Jacob Dawson, Brayden Crossley, Zac Foot, Jesse Joyce, Ryan Davis and Woodcock, among others.
The club's general manager in Jarrod Field has already flagged an AFL opportunity may arise for some members within Southport's squad, with Woodcock bullish on a number of his teammate's chances of potentially gaining a second chance in the league.
"Jarrod Field spoke to the boys and said that there's a potential that that could happen and if the boys are happy to go along with it, then let him know," Woodcock revealed.
"[Dawson] has been a real standout, he's a class player. Billy [Gowers], obviously, he's just a big bull that goes about his work and get it done.
"There's honestly so many good players at Southport and we have such a deep list and it's really exciting to see what we'll be able to do this season in the VFL. We have around 20 ex-listed players so we'll be able to give it a red-hot crack."
In hope of increasing his own brand, Woodcock is set for a return to the midfield as he begins his new life as a Shark.
During his time at Alberton Oval, Woodcock was mostly utilised as a small forward, a position he deems one of great difficulty to master.
The tenacious goalsneak was moved into midfield throughout matches in the SANFL last year, a move that was highlighted by a 43-disposal effort against South Adelaide in August.
A return to the engine room could give Woodcock the best chance of reinventing himself for the AFL, with further exposure around the contest set to be a great benefit for his development and career with Southport.
"Originally, I was a midfielder and I had a couple of opportunities in the back end of last season to play midfield and I played some really good footy," he said.
"I'm just looking forward to getting my hands on the footy a bit more.
"Half forward is a very, very tough role to play and I love playing it, and that's probably what I am at the AFL level. But for me, it's just about going back and getting my hand on the footy and, and doing some good things."
Following his departure from Alberton Oval, Woodcock was left torn between remaining in his home state of South Australia or opting for a change of lifestyle in venturing to the Gold Coast to join Southport.
With his partner Olivia, a Stawell Gift runner, heading to the Sunshine State, Woodcock's decision was made a degree easier.
While the lure in returning to North Adelaide often crossed his mind, a clean slate and new beginnings with Southport arose as the preferred option.
"I had a big consideration to stay in South Australia. It's my home. It's where I grew up. It was just time for me to have a different lifestyle," Woodcock said.
"I just wanted to experience something new and find the passion that I sort of was beginning to lose in footy. I wanted to find that again.
"Southport gave me a really good opportunity and my partner was moving up here coincidentally so it sort of just all worked out really well.
"It was a tough decision to make because I won a premiership with North Adelaide prior to getting drafted and I'd love would have loved to have gone back there and they would have loved to have me, but for me, it was just about doing [what's] best for my mental health and sort of getting the most out of myself and experiencing something new.
"North came to me as soon as they found out [I had been delisted]. I didn't even bother speaking to any other SANFL clubs. If I was to play SANFL I would have only played for North Adelaide.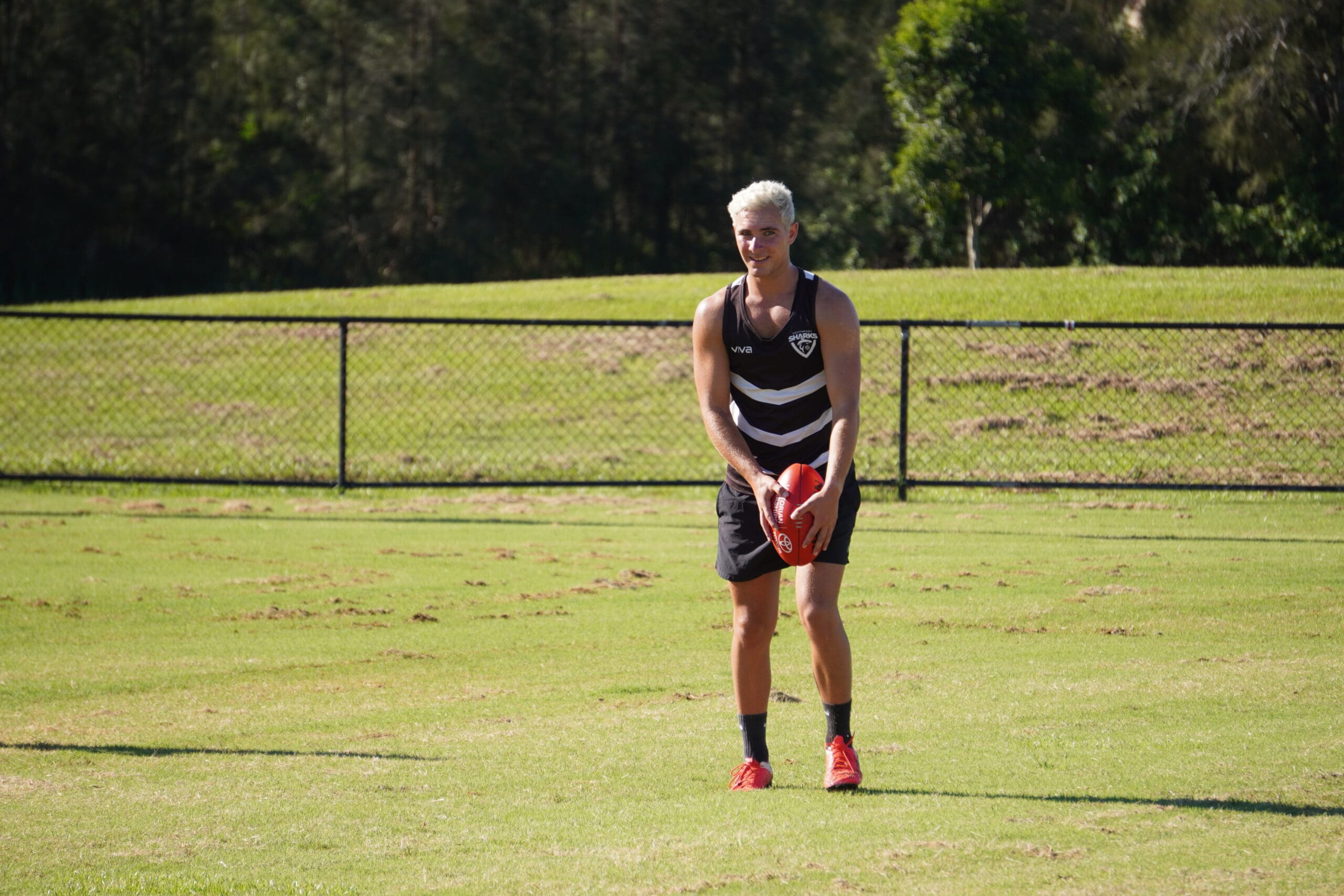 "It was between North and Southport. There were some other clubs interested elsewhere as well, but for me, it was just between those two. I just wanted to have a good opportunity to play in the VFL whilst also leaving the Gold Coast.
"It made sense to me."
The 21-year-old is also set to step into a mentoring role through the NDIS as he shares his year with the Sharks, where he will also be assistant coaching for their Women's side.
Holding aspirations to remain in football for the long haul, Woodcock is hopeful that the traits and challenges that come with mentoring can translate into his raw career as a coach.
Having enjoyed the short few months he's spent in Queensland, Woodcock expressed his excitement in balancing work life with football commitments - training, coaching and playing almost every day of the week.
"I'm loving the life up here. It's really good. I just got a new job as well working with Being Mentors with the NDIS," he said.
"I'm coaching the women's side as well. I'm assistant coach for the women's side, I'm there Monday, Tuesday, Wednesday and Thursday, with the girls and then working casually as well.
"That's the path I kind of want to get into in the future. I want to stay in the football system for as long as possible.
"If I can start coaching when I'm 21-22, by the time I've finished my footy career I've got eight to 11 years experience and can go straight into a role which would be ideal."
Having worked alongside teammate and the Sharks' QAFLW coach Ryan Davis, his own senior coach in Steve Daniel and Sharks assistant and former Port Adelaide coach Matt Primus, Woodcock has the right names around him to ignite a potentially promising coaching career.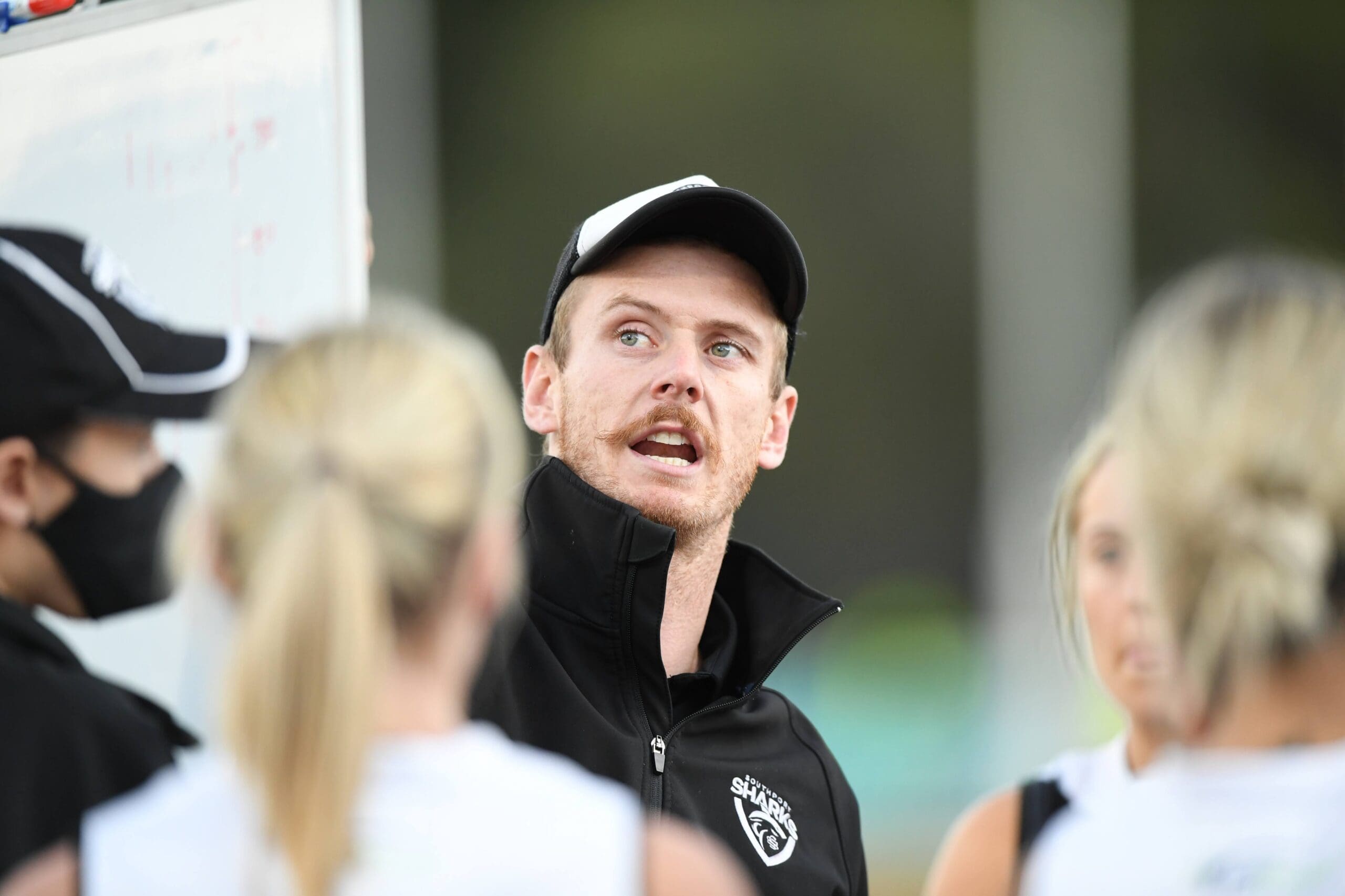 Between work and the support he gains from his own mentors, Woodcock is hoping to pave a coaching career that is fruitful to himself and those he works with.
"Ryan's been really good. He's a great coach, and he's really good with relationships. I learn a lot off of him with that sort of stuff," he said.
"[Daniel] and [Primus] have given me the opportunity to run a few drills at training, take a few, that makes me better with my communication in that sort of aspect as well.
"I want to stay in football and that's why I've gone into working with the NDIS, because I'm working, mentoring and building relationships. It gives me good lessons that I can take into my coaching."
Woodcock and the Sharks will enter the 2022 VFL season as a favoured side for the premiership, with Steve Daniel's team having amassed a 9-1 record before their opening campaign in the new-look name was cut short.
Southport's first match for the season will take place at Punt Road as they travel to face Richmond on Sunday, March 27.