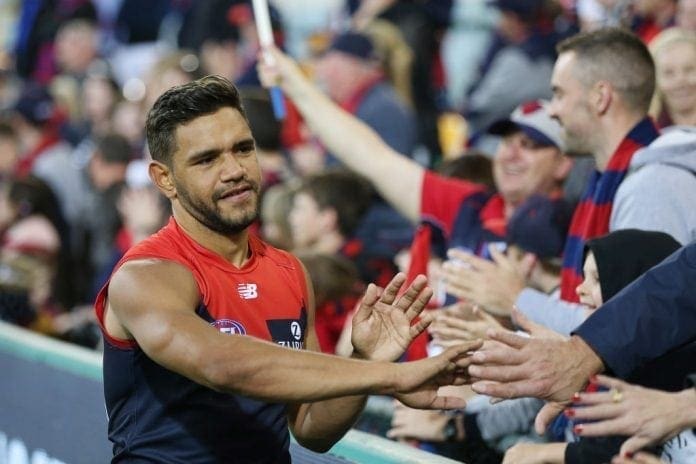 Northern Football League side Bundoora have secured the services of ex-Melbourne player Neville Jetta for 2022 on a part-time basis.
Jetta, who played 159 games for the Demons before retiring, will join former Bombers star David Zaharakis and ex-Tiger and Bulldog Sam Lloyd as prior AFL players to play for the club.
Bundoora confirmed Jetta's multi-year signing last week on their social media.
"Bundoora FC would like to welcome Neville Jetta to the bullring for season 2022 and beyond," the announcement reads.
"After being drafted with pick 51 in the 2008 Draft, Nev went on to play 159 games at the Melbourne Football Club culminating in selection in the 2017 All Australian Team and in 2018, he was awarded life membership at the Melbourne Football Club."
While the 32-year-old will only play for the club when available following his recent appointment as a development coach and VFL player at Collingwood at the end of last season, Bundoora head coach Michael Ryan is looking forward to Jetta's impact beyond this season.
"We think the biggest benefit of having Neville on board is from a leadership and coaching perspective on the training track and hopefully from 2023 and beyond we might be able to see more of him," Ryan said told the Whittlesea Leader.
"He was a brilliant footballer at the Demons and he knows the craft really well and along with our backline coach Neil Gloury our back have got a lot more education."
As Jetta's appearances will be limited in 2022, Ryan is hopeful the ex-Demon will be able to get on the field during the season despite VFL fixture uncertainties.
"Neville might be available for between three to five games but at the end of the day, it's all subjective at the moment," he said.
"The VFL haven't released a full fixture at the moment, it's a bit of a rolling fixture in terms of the way Collingwood has set their matchdays, so we're sort of in their hands
"Any game he is available we definitely look forward to having him play for us."
Jetta and Collingwood will kick off their VFL season against Werribee on Saturday, April 17 at Avalon Airport Oval, while Bundoora will play 2021's ladder leaders West Preston-Lakeside in Round 1.