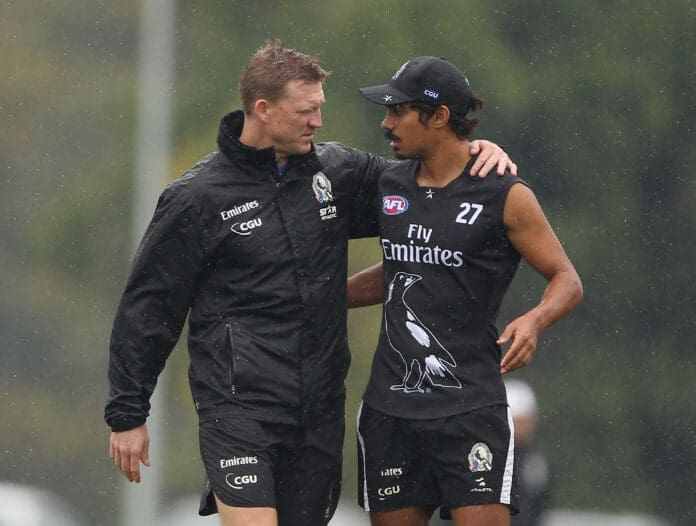 Former AFL player and current ABC presenter Tony Armstrong is set to return to football, signing with the Barwon Heads Seagulls in the Bellarine Football League for the rest of the season.
Armstrong retired from AFL in 2015 after playing 35 games for Adelaide, Collingwood and Sydney and played for and coached Lara in the Geelong Football League until 2019 where he hung up the boots due to an increasingly busy career in the media.
However, Armstrong's media commitments have now opened up availabilities for him to return to footy after three years, and the 32-year old is excited to put the boots back on.
"I've been thinking about it on and off for a little while, just the itch in the back of the head," Armstrong told The Geelong Advertiser.
"I've never worked harder I don't reckon, however the timing of my work itself gives me a bit of time to perhaps play some footy.
"I'm really excited to have a kick … and get to know a new bunch of boys."
Armstrong will line up alongside former Collingwood teammate Nathan Brown, a prospect that was a key factor in getting Armstrong down to Barwon Heads for the rest of the season.
"Just the opportunity to get to play with him again and … starting a bit further back down the ground, that obviously sets me up perfectly to be able to hit up the big fella," Armstrong said.
"Why wouldn't you want to … he's very dominant, I think he kicked seven on the weekend, he's a gun.
"If I can chuck a couple down his throat, that'll make my day."
Armstrong joins a strong Seagulls lineup, as the team is coming off a 102-point win on the weekend for their ninth win in a row, and the former AFL player is keen to add to their strengths for the rest of the season.
"They look really, really good … they just seem like a really good footy club who want to get good people involved first and foremost," Armstrong said.
"I think once you do that … across the board, the results tend to look after themselves I've found and it seems like this is no exception.
"I'm just looking forward to having a bit of a kick and having a bit of fun, I haven't played footy in the best part of three years I don't reckon, I'm genuinely like a little kid, I'm so excited for it."
Seagulls head coach Don Donati spoke on Geelong radio station Bay 93.9 on what he expects Armstrong's availability to be like for the rest of the season.
"He's had the itch for a fair while, and I'm pleased to say last (Sunday) night he indicated he wanted to play," Donati said.
"His commitment is that he'll be available to play every week.
"He's as keen as mustard to play."
Barwon Heads face a big challenge on the weekend, hosting Torquay who sit one place above them on the ladder in second position, with a 10th win in a row on the minds of Armstrong and the playing group.