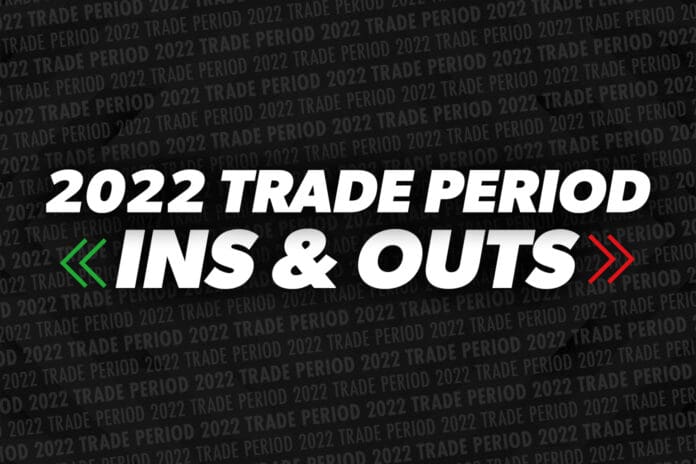 The 2022 AFL Trade Period has officially reached its conclusion, with a plethora of star players finding new homes across the off-season's exchange windows.
Big name stars have crossed borders, as have plenty of first-round picks, including Pick 1 in this year's AFL National Draft.
Here's what all 18 clubs have done in this year's trade period.
VIEW EVERY DEAL WITH OUR TRADE CENTRE
Adelaide 
In - Izak Rankine, Pick 46, future fourth-round selection, future third-round pick
Out - Billy Frampton, Pick 5, future third-round selection and future fourth-round pick
Brisbane 
In - Jack Gunston, Josh Dunkley, Pick 35 (compensation for McStay), 36 and 56, future third-round pick, future second-round pick
Out - Daniel McStay, Tom Berry, Pick 15, 46, 48, future first-round, future second-round pick, future second-round pick (from GWS), future fourth-round pick
Carlton 
In - Blake Acres, Pick 49 (compensation for Liam Jones), future fourth-round pick
Out - Will Setterfield, Pick 68, future third-round pick,
Collingwood 
In - Bobby Hill, Daniel McStay, Billy Frampton, Tom Mitchell, Pick 25
Out - Brodie Grundy, Oliver Henry Pick 43, future second-round pick, future third-round pick
Essendon 
In - Will Setterfield, Sam Weideman, Pick 37, 54, 68, 72 future fourth-round pick
Out - Future fourth-round pick, Aaron Francis, Pick 37, 42
Fremantle 
In - Luke Jackson, Josh Corbett, Jaeger O'Meara Pick 44, 67, future second-round pick, future third-round pick, future third-round pick and a future fourth-round pick
Out - Griffin Logue, Darcy Tucker, Blake Acres, Lloyd Meek, Rory Lobb, Pick 13, future first-round pick, future second-round pick, future second-round pick, future third-round pick, and a future fourth-round pick
Geelong 
In - Jack Bowes, Tanner Bruhn, Oliver Henry, Pick 7
Out - Cooper Stephens, Pick 18, 38, 48 and 55, future second-round pick, future third-round pick, future fourth-round pick
Gold Coast 
In - Ben Long, Tom Berry, pick 46, future second-round pick, future third-round pick, future third-round pick, future fourth-round pick
Out - Josh Corbett, Jack Bowes, Pick 7, 25, 32, 36 and 56
GWS 
In - Toby Bedford, Pick 1, 15, 15, 18, 19, 31, 43, 53, 57, future first-round pick, future second-round pick
Out - Tim Taranto, Jacob Hopper, Bobby Hill, Tanner Bruhn, Pick 3, 12, 21, 41, 44, 53, 63, future second-round pick, future second-round pick (from Collingwood)
Hawthorn 
In - Karl Amon, Cooper Stephens, Lloyd Meek, Pick 41, 48, 51, future second-round pick, future fourth-round pick
Out - Jack Gunston, Tom Mitchell, Jaeger O'Meara
Melbourne 
In - Brodie Grundy, Josh Schache, Lachie Hunter Pick 13, 27, 37, 44, third-round compensation pick(no.52), future first-round pick, future second-round pick
Out - Jayden Hunt, Luke Jackson, Toby Bedford, Sam Weideman, Pick 27, 33, 43, 53, 67, future third-round pick, future fourth-round pick
North Melbourne
In - Griffin Logue, Darcy Tucker, Pick 2, 3, 40, 43, future first-round pick, future third-round pick
Out - Jason Horne-Francis, Pick 1, a future second-round pick, future third-round pick, future third-round pick (from Fremantle) and a future fourth-round pick
Port Adelaide 
In - Jason Horne-Francis, Junior Rioli, Pick 33, 43 and 53, future second-round pick, future third-round pick
Out - Karl Amon, Pick 8, 43, 57, future first-round pick, future second-round pick and future third-round pick
Richmond 
In - Tim Taranto, Jacob Hopper, Pick 53, 63
Out - Pick 12, 19, 31, future first-round pick
St Kilda 
In - Zaine Cordy, Pick 32
Out - Ben Long, future fourth-round pick
Sydney 
In - Aaron Francis, Pick 42
Out - Pick 37, future fourth-round pick
West Coast 
In - Jayden Hunt, Pick 8, 12, future second-round pick, future third-round pick
Out - Junior Rioli, Pick 2, 40
Western Bulldogs 
In - Liam Jones Rory Lobb, Pick 21, future third-round pick, future second-round pick, future third-round pick, future fourth-round pick
Out - Josh Schache, Lachie Hunter, Zaine Cordy, Josh Dunkley, Pick 30, future second-round pick, future third-round pick, future fourth-round pick