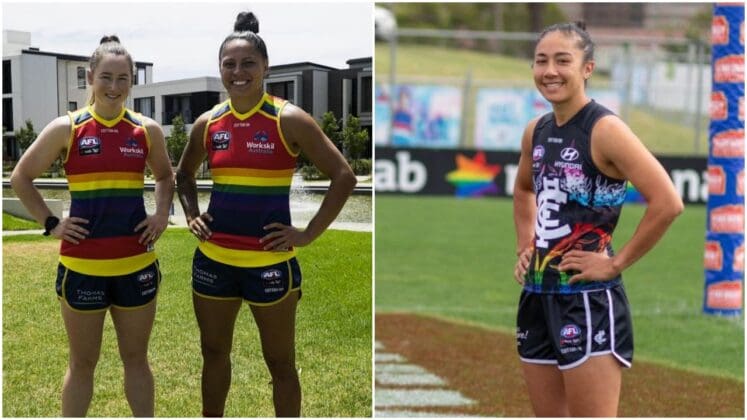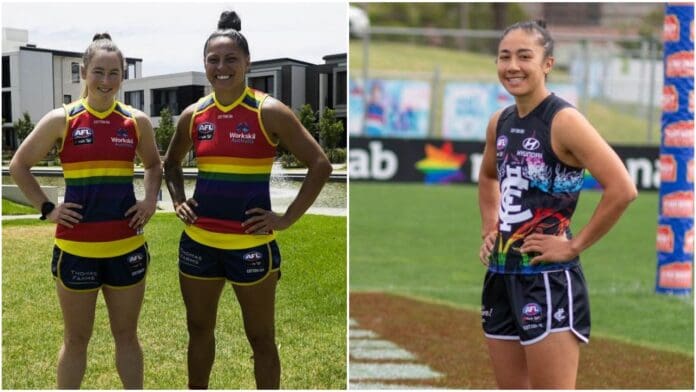 AFLW Pride Round has become an annual celebration of diversity and inclusivity by recognising those who identify as a part of the LGBTQIA+ community. 2022 will see the second official AFLW Pride Round take place.
The Pride match was originally a contest between Carlton and the Western Bulldogs, but it has since grown to become a competition-wide event.
With 13 teams creating a Pride-inspired jumper to wear during Pride round, we take a look at the 2022 guernsey editions for each club.
Adelaide
The Crows will wear this jumper in their Saturday afternoon clash with North Melbourne.
Pride Round ❤️🧡💛💚💙💜

Guernseys on sale now: https://t.co/jOFqry11uL#weflyasone pic.twitter.com/oRxZi5nWQ6

— Adelaide Crows AFLW (@CrowsAFLW) January 18, 2022
Brisbane
Brisbane will wear this jumper in their first home game for 2022 in their Saturday night clash with cross-town rivals Gold Coast. The Lions have already worn this jumper in 2022 when they played Adelaide in Round 1.
Pride guernsey on our backs today. Stay tuned for Phoebe's guernsey preso 😍#AFLWCrowsLions pic.twitter.com/oV0vBHUVA4

— Brisbane Lions AFLW (@lionsaflw) January 9, 2022
Carlton
The Blues' fifth pride jumper was designed by the club's Carlton Pride supporter group. The design is inspired by the themes Growth, Struggle and Transgender.
"The second thing we wanted to represent was the struggle of that growth... The group really identified that is has been a battle" Ashleigh Hills, Carlton's Creative Manager, said to Carltons Media team.
Carlton will don their jumper in the Pride match against the Bulldogs on Sunday afternoon.
Darce. 🤝🏳️‍🌈 pic.twitter.com/mXHj5ZUeFR

— Carlton Women's (@carltonfc_w) January 18, 2022
Collingwood 
The Magpies will run out in their inaugural Pride guernsey, designed by players Brianna Davey and Sarah Rowe, in this weekend's match against Geelong.
Collingwood star Sabrina Frederick fronted the media to share her experience as a part of the LGBTQIA+ community.
"I've been raised to be a very open person, I'm very proud of who I am and I'm not ashamed of anything that I am, I've always gone about my life that way," Frederick said.
"I think AFLW is the benchmark when it comes to inclusivity, that's why it's so significant, because it goes much further than pride- it's how inclusive we are as a community."
Introducing our #AFLWPride guernsey for this weekend 😍 pic.twitter.com/72Y7HdxRpO

— Collingwood AFLW (@CollingwoodAFLW) January 18, 2022
Fremantle
Fremantle forward Gemma Houton shared her thoughts on the club's first ever Pride jumper with the club's Media team.
"I think the jumper is amazing in how it looks and what it represents for the Queer community," Houghton said.
"There's an awesome meaning behind it which makes it really special to me and this group."
Fremantle will take on the Tigers at the Swinburne Centre this Saturday.
This weekend... #AFLWPride 🏳️‍🌈#foreverfreo pic.twitter.com/qu1KCurSsd

— Fremantle Dockers (@freodockers) January 17, 2022
Geelong
The Cats will wear the same guernsey as they did in 2021. Captain Meg McDonald spoke on the significance of this jumper to the playing group.
"To our AFLW team, we're so happy to be a diverse group and to make sure inclusivity is a focus for the entire club, so it's so wonderful that we can celebrate and be part of the round, and that we can pull on the jumper again and raise the flag today." McDonald said.
The Cats will host the Pies in the opening match of the round on Friday night.
Our AFLW Pride range is on sale now through The Cats Shop!

🛒 https://t.co/6VSlFEBYvE#WeAreFootball pic.twitter.com/7N9ygxS2SV

— Geelong Cats Womens (@catswomens) January 18, 2022
Gold Coast
Gold Coast forward Sarah Perkins shared the excitement of the group as their first-ever Pride guernsey was revealed.
"The inclusiveness that we all feel, to have it reach the wider community of the LGBTQI+ community and keep getting that visualisation out there is really important for us as a club (to show our support)" Perkins said.
"It's the first Pride guernsey that I've ever been able to play in so I'm really looking forward to it."
Gold Coast will play in the Qclash against Brisbane on Saturday night.
Unveiling our first ever Pride Round guernsey! We'll be wearing it in the QClash at Metricon Stadium this Saturday 😍🌈

👉https://t.co/jXqqvmO6LY pic.twitter.com/ajMVstZQSz

— Gold Coast Suns (@GoldCoastSUNS) January 17, 2022
Greater Western Sydney 
The Giants revealed their first-ever Pride jumper on Wednesday, however won't be wearing the jumper in their Round 3 clash with North Melbourne, and will instead be wearing the jumper for the first time next week when they host the Bulldogs.
Melbourne
The Dees' 2022 Pride jumper is designed by former Melbourne forward Tegan Cunningham. This is the club's first pride guernsey and it celebrates the diversity within the club as well as the wider AFLW community.
Melbourne will wear their jumper in their clash with St Kilda this Saturday.
Our 2022 Pride guernsey - celebrating diversity within the club + the league. 💛 pic.twitter.com/2tHIgAFmss

— Melbourne AFLW (@MelbourneAFLW) January 17, 2022
North Melbourne
North will wear their new Pride jumper when they take on the Giants on Sunday afternoon.
North Melbourne Chief Executive Ben Amarfio spoke at the reveal of North Melbourne's inaugural Pride jumper.
"The Pride guernsey is a representation of our past, our present and our future" Amarfio said.
"We are proud of our club culture, one based around respect, dignity and inclusion and this guernsey is a great representation of our North Melbourne community."
The Rainbow Roo is here!

The @NorthAFLW Roos will light up Arden Street on Sunday in the club's first Pride guernsey! 🌈

Read more 🗞 https://t.co/6emyQE9wFQ pic.twitter.com/9XXvhXDuIR

— North Melbourne (@NMFCOfficial) January 18, 2022
Richmond
Richmond's jumper was designed by captain Katie Brennan and vice-captain Sarah Hosking. The story told is unique to the playing group.
"This jumper is about pride and the community, and the bigger picture of everyone finding somewhere to belong," Sarah Hosking explained.
"But more than that, it also encompasses what it means to our playing group to wear a Richmond guernsey.
"This jumper tells a story of a young girl who is finding her way and is on a journey. It means something to everyone in our playing group and is a story about where we come from and where we have to go."
Richmond will host the Dockers this Saturday evening at Punt Road.
Roar Store have just restocked our inaugural Pride Guernsey in selected sizes online 😍

🛒 Get in quick before they sell out again - https://t.co/CfHltfouNq pic.twitter.com/zbnYSWFob0

— RichmondW (@RichmondWomens) January 18, 2022
St Kilda
The Saints unveiled their 2022 Pride jumper for this weekend's clash against Melbourne on Friday, which is of a similar design to the their AFL side wore in the Pride match last year.
Acceptance, visibility, community 🏳️‍🌈🏳️‍⚧️

We're proud to reveal our 2022 Pride Guernsey, which will be worn tomorrow afternoon against Melbourne.

— St Kilda FCW (@stkildafcw) January 21, 2022
West Coast
West Coast will be the only team not sporting Pride colours in their match against Adelaide, however they lit up the training track with Rainbow colours in the lead up to Pride Round.
PRIDE 🌈

We're celebrating inclusion and diversity with our AFLW Pride Round training singlet! pic.twitter.com/HB2PCXz0XF

— West Coast Eagles (@WestCoastEagles) January 18, 2022
Western Bulldogs 
The Bulldogs' fifth Pride guernsey is designed by Natalie Gills and incorporates the traditional rainbow Pride flag colours intertwined with the club's red, white and blue.
The Bulldogs and the Blues played in the first Pride match back in 2018 and they will face off again in Pride Round this Sunday.
Designed to showcase our ongoing commitment to progression, inclusion and gender diversity through the progress pride flag converging with the famous Bulldogs Hoops.

The meaning behind our 2022 AFLW Pride Guernsey 🏳️‍🌈 pic.twitter.com/1FyVs7WaWS

— WesternBulldogs AFLW (@BulldogsW) January 19, 2022