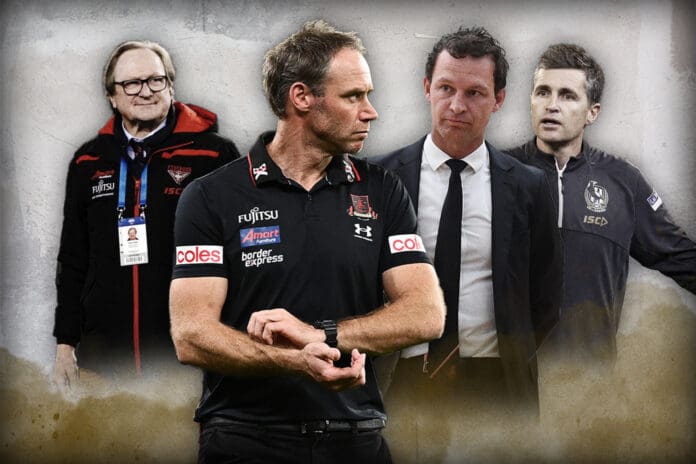 The cheap glue has failed, and the wallpaper that Essendon applied to its cracks over a recent seven-game period has been effortlessly peeled away.
And it has revealed a damning picture of a club in crisis.
The cracks are so big, you could drive a Humvee through them.
There were strong indications as to the sheer size of these cracks in the first half of the season when the Bombers only managed two wins from their first 12 games, with yet another campaign dead in the crib.
But perhaps by virtue of the fact that he was only in his second full season as coach, and having just guided his team to a shock finals berth in his debut year, Ben Rutten was afforded some leeway.
And, true to form, as they had done in four of the previous five seasons, in a trend that predates Rutten's arrival at Tullamarine for the 2019 season, the Dons got their act together when the horse had bolted, and the pressure and burden of qualifying for the finals had dissipated and freed them up mentally (could there be a surer sign that a footy club isn't mentally equipped for what it takes to be successful?).
Sure, some of those recent late-season flurries resulted in finals qualification, but on each occasion, it also ended with an elimination final smashing – hardly the recipe for sustained success.
Fast forward to 2022, and in Round 14, Essendon defied the odds to defeat sixth-placed St Kilda. Wow! Good effort.
Two weeks later, they accounted for sixth-placed Sydney. That's right, the same Swans who are currently second and appear to be Geelong's biggest threat for the premiership. Well, maybe Rutten has got what it takes after all.
They backed that up by handing the (depleted) Brisbane Lions just their second home-and-away loss at the Gabba in 35 games, putting a dent in Gold Coast's finals hopes to the tune of eight goals and, after losing to another top-four contender Collingwood with a kick after the siren, they trounced lowly North Melbourne.
Not bad, eh? Surely enough proof the club is back on track?
Well, the corners of the wallpaper started giving way against GWS in Round 21, and Port Adelaide brutally finished the job on the weekend, laying bare the endemic issues that have plagued the success-starved club for nearly two decades. The chickens certainly came home to roost.
It wasn't 100 per cent clear that Rutten had lost the players against the Giants, but there could be no other conclusion drawn against the Power as the Bombers, who incredibly headed into the game as favourites, crashed to an insipid 84-point shellacking at Marvel Stadium.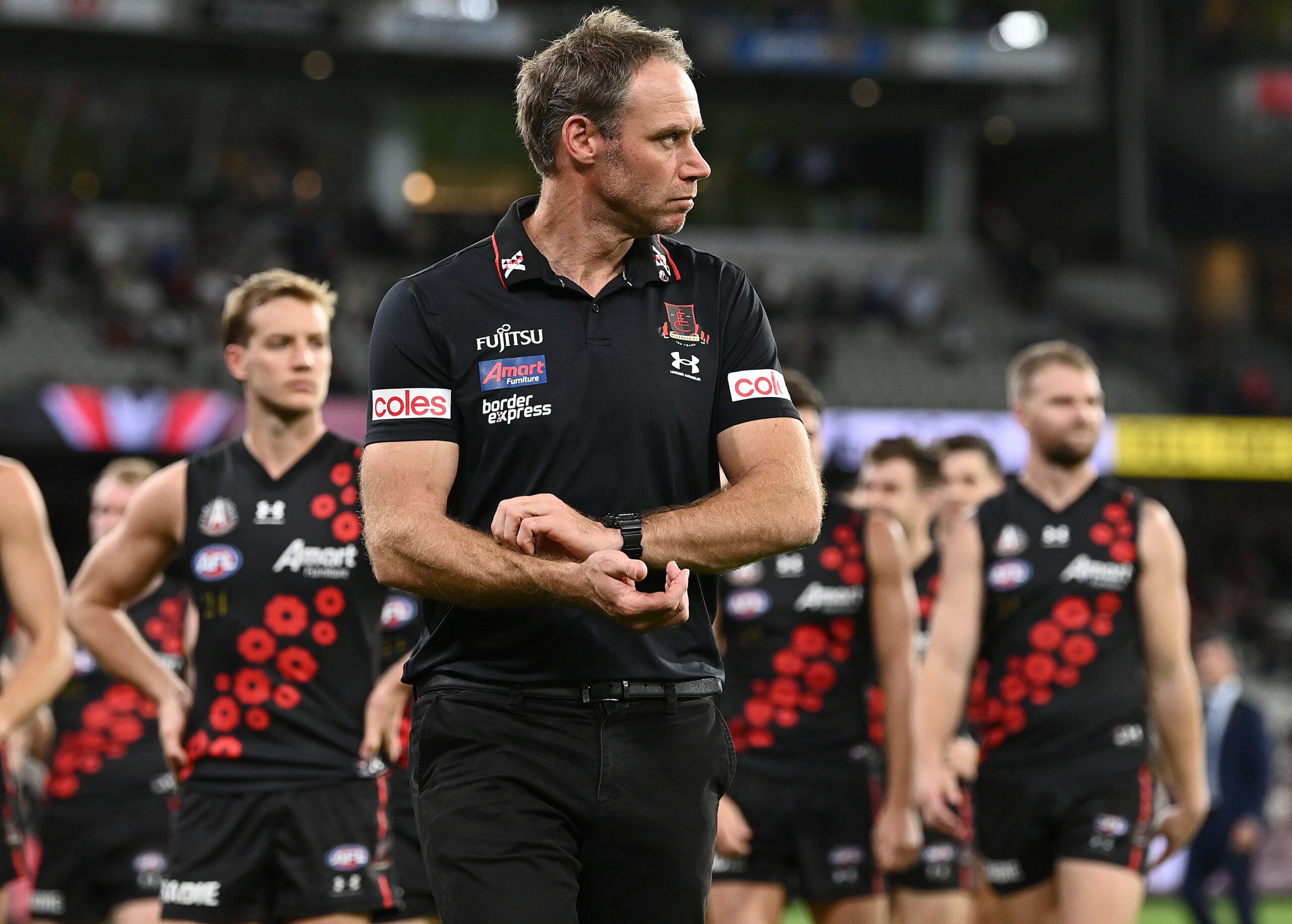 There was no effort, no accountability, no intensity, no care, no pressure, no defence. They were lucky to avoid a 100-point defeat.
If ever you want to send a message to your board that you want a coaching change, that's how you do it.
It truly was a coach-killing performance, and instigated a day of high drama at Tullamarine on Monday as president Paul Brasher stood down, replaced by former Channel Ten head of sport David Barham.
Enough was enough. The board underwent a civil war and then a coup in a desperate bid to get this staggering giant called Essendon back onto its massive feet.
Years and years of mediocrity, political manoeuvring, power games and questionable football department decisions, which have been key drivers in transforming Essendon from a ruthless club to the meek and passive one that it currently is, were not going to be tolerated anymore.
And by the end of the day, the Bombers had thrown their hat in the ring for four-time premiership coach Alastair Clarkson – the only man available on the market that really is capable of dealing with the myriad issues plaguing the club and returning it to its former glory. That's how dire the situation has become.
Essendon is now just a nice club, lacking any semblance of a hard edge out on the field – a far cry from its last premiership era which included the likes of Wallis, Hardwick, Solomon, Barnard and the Johnsons.
They say the fish rots at the head, and the board has to take responsibility for the culture of mediocrity and blandness that has been allowed to fester under their watch, reducing a once mighty club to a perennial also-ran that nobody takes seriously. That certainly includes CEO Xavier Campbell who would consider himself very lucky to see out much more of his newly-signed two-year contract.
His re-signing, after eight fruitless years in the job, in the wake of Essendon's putrid performance against Sydney at the SCG, which saw them slump to 2-7 and effectively ended their season, was the height of arrogance and tone deafness.
It was a shining example of everything that is wrong with the club - mates looking after mates, feathering each other's nests with the greater good of the club taking a back seat and signing off on things like not one, but two, internal reviews. Barham has finally seen to it for the club to undergo an external review. As he said in a statement, this is Essendon's "line in the sand" moment. Better late than ever.
You've got to feel sorry for Rutten. He seems like a lovely guy, but footy is a ruthless business, and he will ultimately become collateral as Essendon frantically chases Clarkson's signature. As of Monday night, Rutten was still Essendon's coach, but he cannot survive this.
The Bombers couldn't even get his sacking right. That's how much help they need.
And the fact that it took them so long to enter the race for Clarkson is another indictment.
While it's somewhat understandable given Rutten was only one-and-a-half years into his tenure, through no fault of his own, Rutten was a victim of circumstance. He just so happened to be in the role while one of the league's greatest ever coaches was a free agent, waiting to be courted. It was a once-in-a-generation occurrence.
And Clarkson was reportedly very keen on joining Essendon, so for them to dillydally while their season was basically already over really spoke volumes.
But the root of all of these problems can be found in the infamous supplement saga.
Once the final chapter of that lamentable period was finally written in 2016, Essendon became so image conscious, that any trace of the famed ruthlessness and hardness that may have carried over from the Kevin Sheedy era had been eliminated.
The Bombers became paralysed as a club, too scared to make tough, bold decisions that might have painted them in a bad light by the public. After all, their main mission was to be constantly liked after playing the villain non-stop for almost three years.
This unhealthy obsession with PR set the course for the dire predicament they now find themselves in.
It prevented them from making the hard, but right, call of sacking John Worsfold in 2019 following their 104-point loss to the Western Bulldogs in a game that saw them concede 21 consecutive goals.
Granted, it happened late in the year, and they had a finals series to prepare for, but a ruthless, driven club, would've seen the writing on the wall against the Bulldogs and would've made a change at the conclusion of that season which finished with another elimination final drubbing.
Moving on Worsfold at that time would've got the Bombers in the game for someone like Justin Longmuir, who is now regarded as one of the best tactical coaches in the league and has Fremantle playing for a top-four spot this weekend.
There's no doubt the Essendon board knew they had to do something about Worsfold, but they wanted to act in a way that wouldn't ruffle too many feathers while still maintaining a nice and likeable image. After all, they definitely didn't want to be seen disrespecting Worsfold, the man who guided them through the 2016 season without 17 players banned by WADA.
So they cooked up an ill-conceived, half-baked succession plan which painted them into a corner and left them little choice but to install Rutten as the man who Worsfold would hand the baton over to in 2021. How else could they hire someone for the role two years out? It could only be someone from the club, which drastically limited their options. And so they waved Longmuir goodbye.
A by-product, of course, was another wasted season in 2020 with the incumbent and future coaches both in the same box, leading to reports from players being confused at the mixed messaging they were receiving.
And now, before the second year of Rutten's three-year contract is even finished, the disastrous succession plan has died a brutal death, and another sorry chapter in Essendon's post-Sheedy era has been written.
How anyone who was involved in devising and/or ticking off on that succession plan can remain at the club beyond Rutten's imminent departure defies belief, and yes, that certainly includes Campbell and Brasher.
So here the Bombers are yet again finding themselves as the source of much derision from the footy world, waiting for a new messiah to come in and fix the joint up. They're a rabble. A shambles.
Once again, there will be no thorough process to seek their next coach. Although, in fairness, if Clarkson does end up getting the job, he is probably one of a handful of candidates who wouldn't need to go through one.
He turned the fortunes around of one other famous Melbourne club Hawthorn at a time when it was lacking direction. Could he do it again?
If he knocks back the North Melbourne offer, you wouldn't bet against him, but it is going to take all of his skill and knowledge as a coach to get the job done.