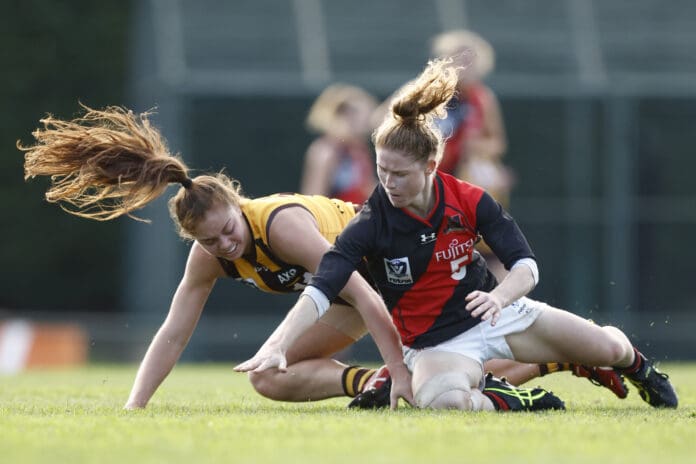 Hawthorn AFLW coach Bec Goddard has called for her club's inaugural game in the league to be moved from Port Melbourne's ETU Stadium to the larger Marvel Stadium just down the road.
The Round 1 contest will also see Essendon make their AFLW debut off the back of their successful VFLW campaign. The Bombers won the 2022 premiership after going undefeated, dominating from start to finish.
Sunday's VFLW Grand Final saw a packed crowd pile into North Port Oval in what may only be a sample size of the crowd that can be expected for the start of AFLW Season 7.
Zero Hanger spoke with Essendon on Monday afternoon with the club saying its priority was making sure fans can support the team and create an enjoyable environment.
"We just want the games to be played at a place where the Bombers family can get behind the team and create an awesome atmosphere, whether that's at Marvel or Port (Melbourne)," the Bombers told Zero Hanger.
Speaking at the fixture launch, Goddard called for fans to let their hip pockets do the talking and sell the game out between the traditional rivals, ideally putting pressure on the AFL to relocate the game.
"We've got great expectations of our fans," Goddard told media.
"We know that Hawthorn and Essendon traditionally hate each other with the passion of a thousand suns, and I'm so excited about the opportunity that we have to sell this game out.
"Huge numbers turned out yesterday and the ground was really creaking. If we sell it out, it's going to have to get moved to Marvel. I would love to see it move to Marvel and let our players in our inaugural teams and all of our fans be able to attend that game.
"I checked. There doesn't seem to be anything else on (at Marvel Stadium). So, hashtag move it to Marvel, the movement starts here."
Goddard's red and black counterpart Natalie Wood agreed with Goddard's thoughts saying that if push came to shove it may be something the league would need to address.
"I think there's a tipping point where that if families can't come along to watch the game because of the size, then perhaps that's when we need to look at 'is there a venue that best allows our families to come and attend?'"