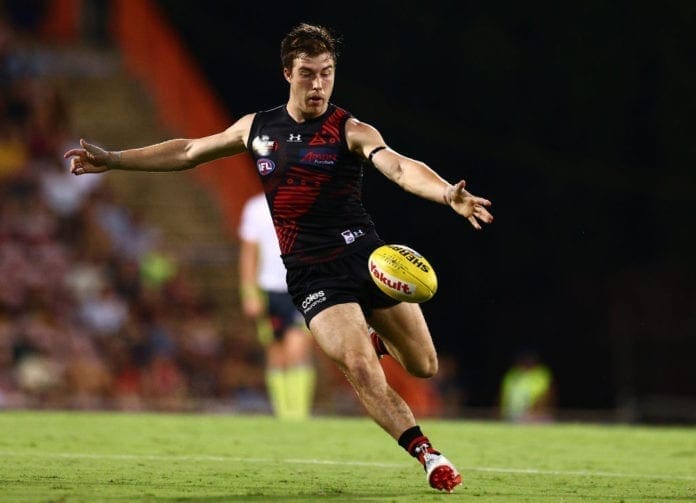 Essendon star Zach Merrett is unlikely to re-sign with the club until he sees a more positive direction, according to former teammate Brendon Goddard.
Merrett is out-of-contract next season and there have been whispers that he is frustrated about the Bombers' future, with Joe Daniher, Adam Saad and Orazio Fantasia all set to depart this off-season.
The 25-year old has emerged as a target for rival clubs, averaging 26.3 disposals and 4.3 marks per game in 2020 to finish second in the Crichton Medal.
Speaking on AFL Trade Radio, Goddard believes the star onballer wouldn't commit to a long-term deal unless he knows the club is heading in the right direction.
"I won't go into too much detail with respect for Zach, but he's got his concerns," Goddard said.
"We're not naïve here, we can all see it that he needs to improve in certain areas and he thinks he's identified the areas where it needs to improve and get better and he's a really diligent guy who thinks deeply not only about his own game, but about the club and about success.
"If I'm in his shoes, and I haven't talked to him about this particular instance, if the club were to put a deal in front of him, there's no rush to sign it.
"From his point of view, he's in a position where he's a really important player and will be for the next 10 years.
"He's in a position as a potential future captain where he's said 'personally, selfishly, I need to see these areas improved and for us to be on the right path and for there to be some confidence that we're on the right track'.
"He'll do his part, his own backyard will be clean I guarantee you that, 'and if I start to see those things I'll commit to the club'.
"There's no reason for him as a player to rush into a five-year deal if you've got concerns."
"My interest in sport lies just as much off the field as it does on it."

Zach Merrett opens up about his 'shock' omission from Essendon's leadership group and how his mum is one of his greatest inspirations: https://t.co/7DQ2KOAqmE pic.twitter.com/AaZf2FniSq

— Herald Sun Sport (@heraldsunsport) September 5, 2020
Goddard even agreed with Merrett's decision, saying he wouldn't be committing long term either as "loyalty is a two-way street".
"I wouldn't be (signing). Not with the concerns he has and if any other player has major concerns with the direction they're heading in, I don't think it's really clear at the minute unless they've discussed that with him in the last few weeks, but I don't think that they have," he said.
"He needs to be filled with confidence that this is the right place for him, particularly on such a long deal. It's a big commitment from a player to sign that.
"Selfishly from a player point of view … as you get older you understand loyalty is a two-way street … as you get older it becomes a business and life decision and the club will be the first to cut you off at the knees as Adam Treloar is going through at the minute.
"He's got his concerns and from all Essendon people, us included, we need to see improvement."
Tim Watson wants to hear from Zach Merrett's management. pic.twitter.com/bB6Lf50d70

— AFL Nation (@AFLNation) October 19, 2020