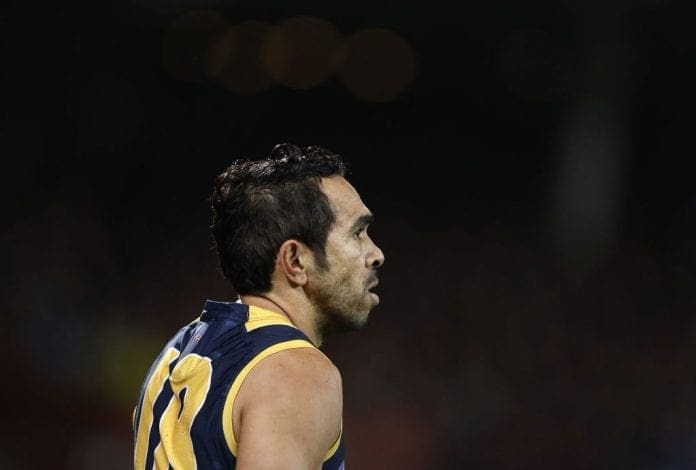 Former Adelaide fan favourite Eddie Betts has lifted the lid on the Crows' now infamous pre-season camp which took place in the wake of the club's 2017 AFL Grand Final defeat.
Betts has used the pages of his upcoming autobiography, The Boy from Boomerang Crescent, to reveal the details of the camp, with the 35-year-old labelling the camp's freelance operators and subsequent activities as "disrespectful".
Now over four-and-a-half years removed from the Queensland-based camp, one in which members of the Crows' playing list and members of staff were reportedly asked to sign non-disclosure agreements, Betts' break of silence paints a picture of a club willing to win at all costs.
Within an article authored by Jack Latimore of The Age, the legendary small-forward spoke of feeling "brainwashed" by items on the camp's itinerary.
The Wirangu, Kokatha and Guburn man also stressed that the co-opted use of a 'talking stick' had been more than cause for concern.
"The camp ended up appropriating a First Nations peoples' ritual of a 'talking stick' and attempting to apply it to all of us, even the non-Indigenous players and coaches," Betts delineated.
"In my view, the talking stick was used incorrectly, and I was not aware that any Elder had given permission for it to be used either.
"There was all sorts of weird shit that was disrespectful to many cultures, but particularly and extremely disrespectful to my culture."
While the discomfort of Richmond's theme song being played on repeat and an inability to shower were labelled as irksome, Betts stressed that his breaking point was met after sensitive information he divulged in confidence was used against him in barbaric exercises.
"Things were yelled at me that I had disclosed to the camp's 'counsellors' about my upbringing. All the people present heard these things," Betts wrote.
"I was exhausted, drained and distressed about the details being shared. Another camp-dude jumped on my back and started to berate me about my mother, something so deeply personal that I was absolutely shattered to hear it come out of his mouth.
"Then we started an exercise that consisted of role-playing our responses to our partners … one of the responses suggested to us was, 'I feel like a better father and husband, having come from this camp.'"
After returning to the club's West Lakes base, Betts alerted the club to the distress of First Nations players, ultimately believing his leadership position was lost due to the qualms he stressed.
"After a meeting with all the Blackfullas at the club, I decided to address the playing group and talk about how I found the camp, mainly addressing the cultural safety implications for us brothers," Betts revealed.
"I sought permission to remove all the Aboriginal boys from any further interactions with the 'leadership specialists' and their mind-training exercises.
"I told the club I wouldn't be involved in any more mind-training exercises at all."
While past reports have stated that Betts and his teammates had signed an NDA prior to undergoing the rigours of the camp, it is unknown whether the 350-game star could soon be caught in legal crosshairs.
Although Betts was unwilling to name camp curators 'Collective Minds' within his life story, the consultancy firm that had begun working with the Adelaide Football Club ahead of the 2017 season were tasked with hiring those that conducted the camp.
Betts' autobiography, released by publishers Simon & Schuster, is set to hit bookshelves on Wednesday.