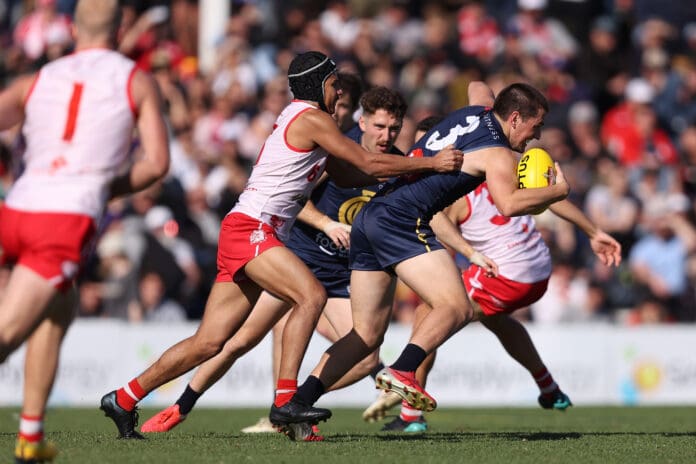 Round 13 of the WAFL Season was an absolute cracker in what was slippery and gloomy conditions all around Western Australia, but the footy was at a great standard.
Claremont committed another thieving effort to stay atop the ladder ahead of East Perth, while East Fremantle shattered West Perth's premiership defence. Round 13 had plenty to offer.
Read up on who stood out this weekend in the WAFL.
SUBIACO VS PEEL THUNDER (44-58)
Peel Thunder kept their stranglehold on the double chance with a 14-point win over Subiaco at Leederville Oval.
Having started the second half two goals down, Peel reeled in the Lions on the slippery ground despite having ten fewer inside 50s and 14 fewer handballs.
For the victorious Thunder, it was a captain's game for Ben Hancock who led from the front with 27 Disposals, 9 marks, 7 tackles and played a huge hand in the Thunder's change in fortunes.
The Thunder midfield got some valuable drive from Corey Wagner (24 disposals, 4 marks, 2 inside 50's) and Nathan Wilson (21 disposals, 4 marks, 3 inside 50s).
Up forward Ethan Stanley and Sebit Kuek each scored two vital majors when the game was in the balance.
Subiaco again had struggled inside their forward 50 with Ben Sokol only held to a goal despite having 14 disposals.
Leigh Kitchin was sensational however, the veteran's 26 disposals, 6 marks, 4 tackles and 4 inside 50s were a testament to his experience, he had backup from Taj Schofield who returned to form with 23 touches and 6 inside 50s.
The Hickmott boys were quieter than usual for their standards, both with less than 20 touches, having been well held by the Thunder's centre rotation.
SWAN DISTRICTS VS EAST PERTH (32-80)
East Perth continued their rampaging form this season winning their sixth consecutive match, this time over Swan Districts by 48 points at Steel Blue Oval
After a scrappy first half where East Perth only kicked 3.10 to half-time, the Royals kicked away with an eight goals to three second half to secure the win that keeps them in second place while Swan Districts' finals hopes are all but finished.
East Perth's service towards their forward 50 was clinical, winning the count by 15 for the game and players like Angus Scott (36 disposals, 8 marks, 4 tackles, 4 inside 50s) and Angus Schumacher (32 disposals, 8 marks, 6 inside 50's) were crucial in East Perth taking the game on their terms.
Hamish Brayshaw led the charge, seeing plenty of the footy in another classic display with 34 disposals, 12 marks, 1 tackle, 5 inside 50s and 3 goals up forward, proving why he is one of the Royals' keys in the middle.
East Perth's forward line had another avenue to goal in Thomas Medhat who kicked a vital three goals from 12 kicks in a strong showing inside 50.
Swan Districts had few positives in what was a poor showing at home, Jesse Turner's solo effort was brilliant, recording 44 disposals, 5 marks, 5 tackles and 5 inside 50s.
Aidan Clarke's game again was solid as he amassed 31 disposals and 6 marks and bought the ball inside 50 eight times, but he had little support from his fellow wingers when it mattered most.
Up forward there was little productivity with Jesse Palmer & Christopher Jones each held to just one goal.
WEST PERTH VS EAST FREMANTLE (50-91)
East Fremantle's win over West Perth in Joondalup may have put the reigning premiers out of the race to defend their title.
The Sharks' 41-point win leaves them three games clear in fifth spot on the ladder, the second half saw East Freo kick six goals to two and blow the Falcons away. As for West Perth, it was their fifth loss from seven games at home in 2023.
East Fremantle dominated a lot of the game, showing more desire to take the win against a West Perth side who looked out of sorts this season.
Cameron Eardley, who usually plays his role down back, slotted into the middle and was on fire with 32 disposals, 4 disposals, 2 tackles and 3 inside 50s, leading the charge for an in-form Sharks outfit.
Playing a vital role in midfield, Milan Murdock also was prolific around the contest, collecting 30 disposals along with Kyle Baskerville, who amassed 29 touches on a solid outing.
Up forward, Jonathon Marsh was back in good form kicking three goals straight and plucking 14 marks from Joondalup's airspace.
West Perth had their usual suspects in midfield seeing a lot of the ball, Ben Johnson led the charge with 26 disposals but was not as effective as usual.
Support did come from Shane Nelson (25 disposals, 5 tackles, 7 inside 50s) and Nathan Murray, who keeps upping his work rate with 17 hard-fought disposals.
Tyler Keitel and Keegan Knott again struggled to find any scoreboard pressure in being held to just two goals between them.
PERTH VS WEST COAST (98-98)
West Coast actually have points, who would have believed that heading into their game against Perth, but that's how it turned out at Lathlain Park with a dramatic draw the result.
Having led by five goals at half-time, Perth looked polished, but the Eagles were by no means out of it. A nine-goal second half including THAT rushed behind saved the Eagles from a twelfth straight defeat.
For the Demons, Jack Cooley was brilliant once again around the midfield rotation with another 34 disposals and 7 tackles and had some suitable assistance in Jack Avery (30 disposals, 10 tackles) and Coburg recruit Charlie Thompson (28 disposals 7 tackles, 2 inside 50s) both producing a consistent effort in midfield.
The forwards needed some vital functionality inside 50 and on Saturday they were back in form as Michael Sinclair and Tarkyn Brogan-Henry kicked three goals apiece.
Ajang Ajang is possibly the WAFL's next imposing ruckman, he keeps getting better at his game, another 36 hitouts and 12 disposals is another positive step for Ajang's WAFL career.
Joshua Browne continued his consistent form at the Eagles as their leading midfielder, another 28 disposals and 7 tackles along with 6 inside 50s was another fine example of his service in the centre.
Jed Kemp was also effective from the middle with 24 disposals and 7 marks in tandem with skipper Jackson Nelson, providing the Eagles with heaps of opportunities further up the ground.
Zane Sumich's best performance this season was down to his leads and use of the body in the one on one contests, his three goals from nine kicks were vital in the second half.
SOUTH FREMANTLE VS CLAREMONT (56-60)
Claremont keep on finding ways to win the close ones and they did it again against South Fremantle, this time by just four points at a slippery Fremantle Oval.
The game was close all day, with the Bulldogs leading at every change. But from 14 points down at one stage, Claremont kicked two of the last three goals to steal the game and stay on top of the WAFL ladder.
For Claremont, it was a welcoming return for Ben Edwards, who showed his class in the midfield with 29 touches, 2 marks and 5 tackles, while delivering 4 inside 50s to the Tigers' forward line.
Jye Bolton (27 disposals, 4 marks, 3 tackles) and Declan Mountford (24 disposals, 3 marks, 9 tackles) both provided plenty of flare from the midfield rotation.
Bailey Rogers came up clutch in the second half to go with his 24 disposals, and he put through the match-winning goal with seconds to play, wrapping the game up for his side. Up forward Tyron Smallwood And Max Minear each slotted home two majors.
Down back Anthony Davis again played his role to perfection holding down the Bulldogs forwards in a tense encounter.
South Fremantle were the better side for most of the game and their midfield was a prime reason why, especially with Jake Florenca leading the charge.
Florenca's form since his return from injury has been massive, 29 disposals and 14 tackles was another good result for his hard work.
Jimmy Miller was the only forward for South Fremantle who was able to elude the clutches of the Claremont defence, his four goals from 11 kicks were commendable.