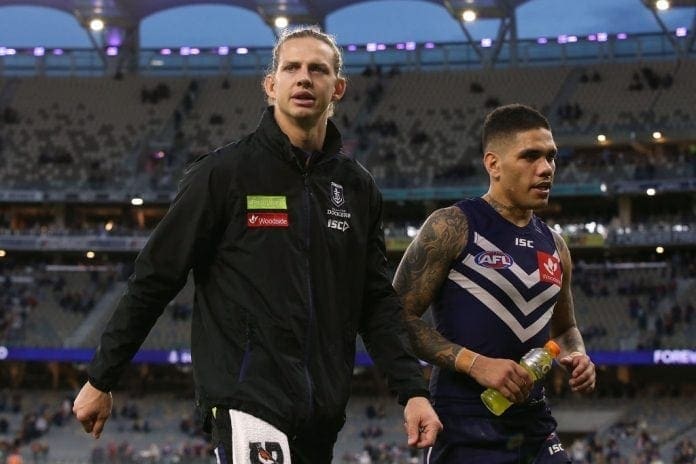 Fremantle captain Nat Fyfe has revealed his latest shoulder setback will require surgery in the off-season.
Ahead of his 200th match in purple, the two-time Brownlow medallist revealed on Gilly and Goss that he will still be able to play out the 2021 season, but won't be at peak fitness until going under the knife and recovering ahead of next year.
Fyfe miss two matches on either side of the Dockers' Round 14 bye with a dislocated shoulder, an injury the superstar midfielder is all too familiar with.
The 29-year-old has undergone four shoulder surgeries in his 199-game career, with a fifth set to come at the conclusion of this season.
Fyfe told SEN WA that he remains confident in playing out the season and aiding the Dockers in their push for a top-eight finish.
"I got through one (game), so that was a tick and I'll try and get through another seven and play some finals, but I'm not in ideal condition," he told SEN.
"I have played with a shoulder before and you've got to learn a slightly new way of going about it. I lose some of my strength, but I can pick up some other areas.
"I'm in good enough condition to declare myself able to play and I should be able to perform better than I did last week."
Fyfe revealed he was given the option to undergo surgery on his currently-injured shoulder eight years ago when he required surgery on his other shoulder at the time.
"Without giving too much away, it'll be a pretty standard shoulder operation. I've had the same one on my other shoulder.
"When I went in actually about eight years ago (the surgeon) said 'we might as well do both because you'll be back in here at some stage and he called it, so I'll be back in.
"That'll be my fifth shoulder (surgery) and hopefully it'll be my last.
"It shouldn't disrupt my off-season surfing plans."
Fyfe will line up against the Hawks for his milestone match on Saturday afternoon in Tasmania, becoming the 11th player in Fremantle's history to reach 200 matches with the club.